Outfits Of The Yesterdays (Winter Whites, Prints, and Pumps)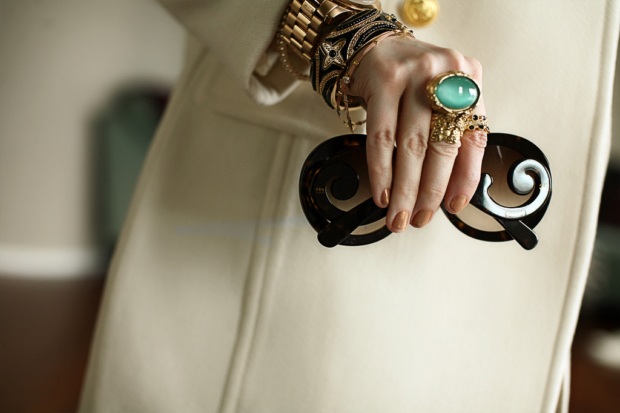 ♫: Don't Worry, We'll Be Watching You – Gotye
I had spent my entire life in Sioux Falls; my entire life in the exact same small house save for a quick stay on a concrete-bench-cleverly-disguised-as-a-cheap-canvas-sofa-from-IKEA in my sister's apartment right before I moved. My parents had sold that house, you see, sold 20 years worth of memories in mere minutes to a neighbor as soon as the FOR SALE sign had hit the lawn on a late summer day. He was a big, tan burly man with a black beard, a quiet voice, a small white maltese, a loud motorcycle, and a yippy-yappy red-headed wife.
"YOU'VE MADE MY LIFE A LIVING HELL!" I had heard him yell at his wife one day, several years prior. This was followed by a violent slam of the door as he stomped outside, holding the maltese. It is hard to look adequately angry when holding a small, fuzzy dog; it was the first time that I had ever heard him speak.
"We've always liked your house." he said softly that day in September of 2002, emphasized with a quick shrug as he pointed to the FOR SALE sign. He was still holding the maltese, had it wedged under his armpit in its usual spot, and I wasn't quite sure if he was speaking for him and his wife or for him and the dog. I will never know; it was both the second and the last time that I had ever heard him speak. "Well. I guess I can't really charge you much in realtor fees for…this." the realtor said to my parents, followed with a nervous laugh.
So we packed our bags, had a quick wedding for my sister in the garden my parents spent 20 years carefully constructing (which is still there just as we left it, by the way–the pond, the gazebo, and the row of colorful birdhouses my dad built), and that was it. We left.
"Colorado." I finally told her a few weeks later. Also awkwardly, but it was a pretty excellent answer.
(Brrrrrrave!)