Outfit Of The Day (Happy ♥ Day)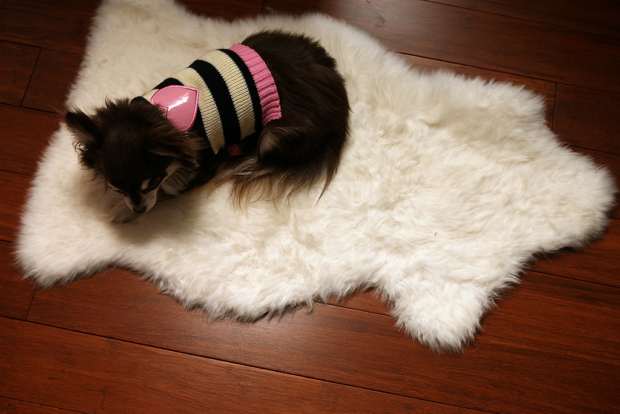 ♫: Love Interruption – Jack White
Oh, Valentine's Day. I will be the first to admit that it's not a holiday that ranks high on my list, for whatever cynical reason (the pressure! the tangible feeling that I should be wearing a feminist-cone-of-shame for even thinking about liking such a dangerously over-hyped, over-commercialized holiday! the people making fun of me for being the only human alive that actually likes conversation hearts!) but oh well. My feminist cone-of-shame is currently at the cleaners today I guess, thanks.

Anyway, there is lots to actually love about the day of love–like strawberry and fruit punch flavored Nerds, pretty flowers, and cupid having the super-sads:
I do think one of the best gifts to give and receive is to just spend time with those that you love, so I spent the past weekend with Husband. But it isn't always something we get to do this time of year. I sometimes work weekends, amongst other things, and he is typically busy coaching his competitive youth basketball league–all which can make alone-time pretty darn tricky.
So we decided to do something new for Valentine's Day this year, and on Saturday we hit up the Rialto Cafe for a Murder Mystery dinner + play. Nothing says love like death and murder, eh?  It was a riot though, and even though it was like negative 20 outside (brrr!) and the 16th Street Mall area was freakishly vacant for a weekend evening, we still had a blast. Good food, good people, good times.
On to what I wore. I originally grabbed
this Tibi dress
during one of Piperlime's recent big sales, and it has been hanging prettily in my closet since, waiting to be taken to the tailors since it is a bit too wide and long. Since it still hasn't made it that direction, however, I decided to wrap a skinny belt around it to help give it some shape and a slightly shorter length. I am not a always huge fan of belting shift dresses (it kind of takes away from the point, right?), and this dress definitely does not need it–but when in a impromptu lazy pinch, eh. It kindaworks.
(oopsies–the back of my head, it does exist.)
I also realize that I have gotten away from some more "personal life" aspects of this blog over the past year, for various reasons, but I went with Husband on Sunday to see some of his basketball games and I have a picture that I snapped that I would like to share.
Husband has been coaching the same group of boys for a few years now, and it has been crazy to see them grow up. I'm talking about height–nearly all of them are now taller than me and it totally freaks me out.
It is likely Husband's last year coaching this particular group, though, and while many of them are now surly teenagers I know they will still all be missed. Volunteering as a coach is something that Husband really loves to do, and seeing the enjoyment he gets from it more than makes up for any "alone time" we might not always have to spend with each other. Also, since we are remaining childless, I think it's a great way for us to still give to the community. It is so, so important.
For all the teasing I give to Husband on my blog, my heart swells with pride whenever a parent tells me how much they appreciate what he does and the time he gives…and when I hear the boys call him "coach".
Aw, sorry for the super-mush, and to make up for it I am preeeetty sure he is yelling and saying awful things to  them in this pic:
(and our pumped up kicks)
Are you doing anything fun to celebrate? Share in the comments & happy Valentine's Day, you guys!

♥