(Outfit Of The Day) DailyBuzz Style 9×9 Challenge: Neon + Neutrals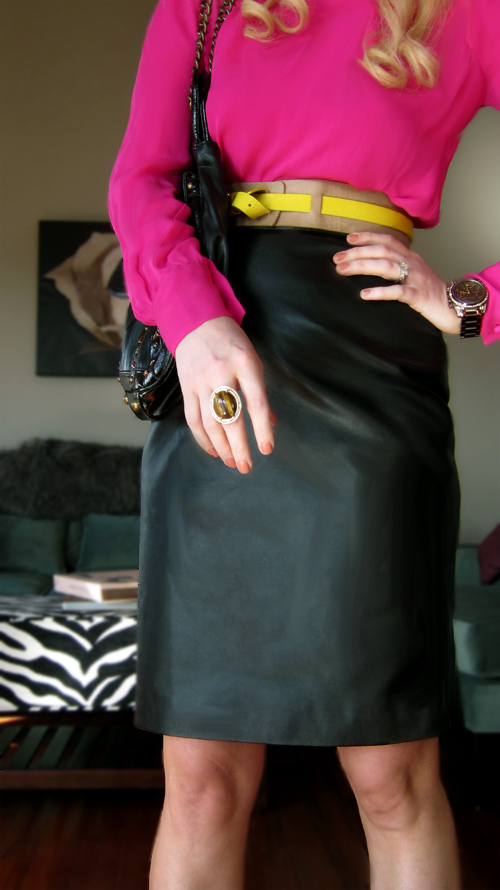 ♫:When I'm Small – Phantogram
It has been all over the runways for the past few seasons:
And has now been popping up left and right in magazines, fashion blogs, and retail stores aplenty.
Yes yes, I said it: it is easier to wear. Neon colors are blindingly bright and therefore can be pretty darn daunting to bedeck in large doses, but that's where the neutrals come in. The main trick is to mix the neon color with enough neutrals hues to subdue it to your own personal comfort (and taste) level; this helps keep the overall look chic, sophisticated, and hopefully tame. Try pairing neon greens with camels; neon pinks with taupes and grays; neon blue with corals or rusty reds, neon purples with mustardy or pale yellows, and neon yellows with navy and dusty olive greens.
The easiest way to work this trend is with accessories. If you usually reach for a brown or black belt to wear with your outfits, try swapping it with a neon belt instead. Try pairing sleek spring sheaths with a bold pair of pumps, and be on the lookout for cheap neon-hued jewelry at places like H&M, Forever 21, ALDO Accessories, and other 'discount' retailers. They have lots to choose from at the moment (especially in store), and you will get just enough wear out of those items to not feel too guilty for when the trend inevitably dies out or moves on.