(TREND WATCH) Spring 2012: Cap-Toed Pumps & Flats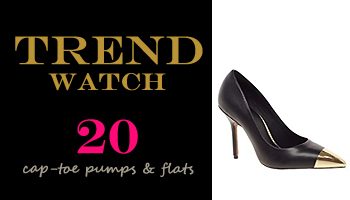 It is always fun to work in a pop of color (or glitz of glitter) into an outfit, and this year it's all about doing it via cap-toed flats, pumps, and booties.  From sparkles to metal to neon colors to even spikes–read on for 20 of my top cap-toe picks, perfect for fancying up anyone's feet!
TREND WATCH: CAP-TOE SHOES

Click any image below for more product information & happy shopping!