(Trend Watch) To The Max: 21 Mega Maxi Skirts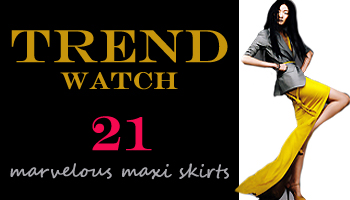 Maxi skirts (& dresses!) have been a pretty major trend over the past few years; helping to put a pinch of boho-chic influence on runways, magazines, celebs, and effortless-summer-chic lovers alike. But like any good trend, it has re-invented itself along the way–read on for my personal tips, tricks, and 21 warm-weather ready maxi skirts perfect for pulling off this trend!
TREND WATCH: THE MAXI SKIRT
What you need to know: Maxi skirts seem to go against everything we know about warm weather. They're long, after all, and skin-smothering too–making them not a likely wardrobe choice in the midst of tank tops, mini skirts, and short shorts. But they're actually a great choice for hot summer days!  Many skirts are made of incredibly light and breathable materials like jersey or chiffon, allowing them to swish as you walk and prevent your legs from overheating. 
How to wear this trend: Maxi skirts look great on almost everyone.  Yup- everyone.  If you're short in stature, make sure to pick a higher-waisted skirt to help lengthen your bottom half (long legs = illusion of height), and consider adding a wide belt with it to help emphasize your waist. If you're tall, just make sure you find a skirt with a length long enough to lightly skim the floor. It isn't always easy to find skirts that are long enough, but if you go short it can chop the legs up and look awkward.
If you're slim or ruler-shaped, consider pleated skirts (the puffiness will help define a non-existent waist) and if you're curvy, consider going with a fit-and-flare style to accent your best assets (and slim the rest!).
Pair maxi skirts with cotton v-neck t's, simple flat sandals, and braided belts for an easy casual chic look, or pair maxi skirts with silk blouses and pretty bangles to help dress them up.  Sheer, slit, and high-low hem maxi skirts are also a fun choice, especially  if you're more comfortable wearing short skirts. These skirts combine the best of everything–they're pretty, have less fabric (making them great for super hot days!) and juuust edgy enough to be interesting.
Happy shopping!