Outfit Of The Yesterdays: Fit To Be Tied + A Remodel Update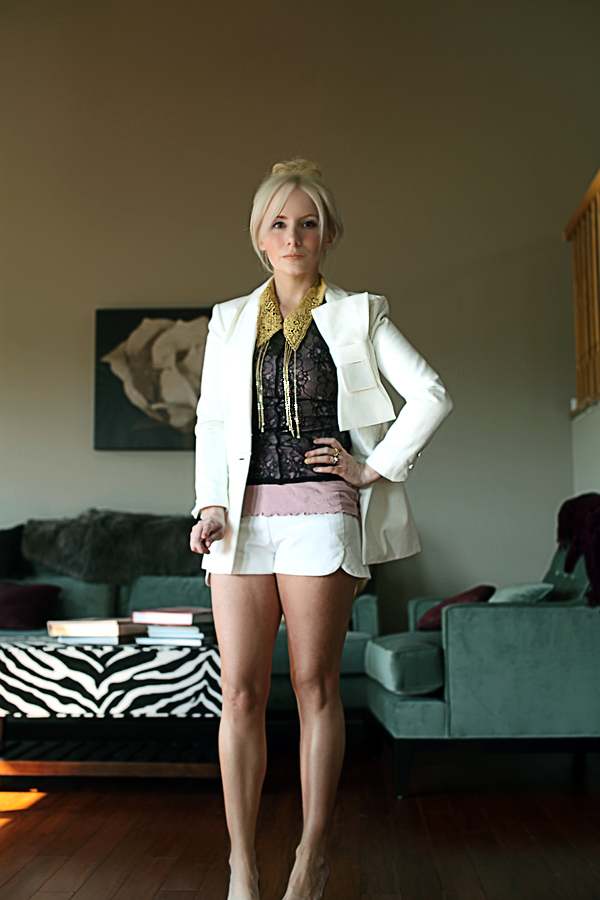 With the weather getting warmer, Husband and I have been back to actively compiling our "remodel-to-do" list for this summer. I posted a few months back that we had gotten rid of most of our old furniture during our new floor install last year, and so I have been extra focused on finding new furniture and figuring out exactly what we want.
I also mentioned, at some point in this whole lengthy process I am sure, that I've found this process to be pretty similar to the world of fashion. The colors and textures that I like to mix into outfits often work much the same as accents and finishing touches in a room.  And just like how putting together a good wardrobe with essential items is best done by planning ahead first ('cuz we all get bitten by the why-the-heck-did-I-buy-THAT-Target-Forever-21-cheap-clothes-bug) (only symptom: a total lack of impulse control and…a closet full of polyestered-chiffon?)…thinking about what pieces to add to a room well before buying them, using photography and a photo editor to get a good visual, and taking advantage of an online cataloging-tool like Pinterest to keep it all organized has personally been a great way for me to stay on track and keep things cohesive. 
I know it seems like a no-brainer, but we want to make absolute sure that we get items that both reflect our personal style and that we'll keep around for awhile–weekend warriors, we most definitely are not.
Also like fashion, it's a bit of a fun challenge to mix high and low decor together. We want our home to have some unique pieces, but some of the best items that I've found have also been the cheapest. I have been searching around on Etsy and digging around in a few local Denver vintage stores too, recently stumbling upon Lee Alex on Broadway. They have a robust selection of affordable mid-mod and new furnishings (and you can follow them on Facebook to see the loot right when they get it in, too–addicting!). Home Goods has also been a bit of an unexpected gold mine, as long as one can find the time to stay on top of their quick-moving inventory.
So! After finally finding our bed this past weekend (you can see it here, as it won't be in our home until July), I decided to scrape the West Elm Foxed Mirror Nightstands ($300 each) that I had wanted, and grabbed these Target glass accent tables  instead:
In spite of most of our bedroom still being a hodge-podge of random, temporary crap (pardon my use of lopsided photography as a desperate distraction)–I really like them. The West Elm nightstands definitely have a cooler, more industrial feel to them; but the Target glass accent tables are well made, extremely heavy and solid, come completely put together (yay!), and cost under $100 a pop. Target is also running a 15% off + free shipping promotion on furniture at the moment, making the tables $76.50 each if you buy them online.
$150 versus $600, free shipping included–it's a done deal.
I also picked up a few of these Privet Home faux-alligator frames too, to hopefully fill with a few photos from our Santa Fe trip & such:
And last but not least–one of these days I won't be standing next to the rugged, outdoorsy-elegance of an unfinished staircase. So let's cherish the little time we have left, eh?