(Outfit Of The Yesterdays) Peachy-Keen, Minty-Green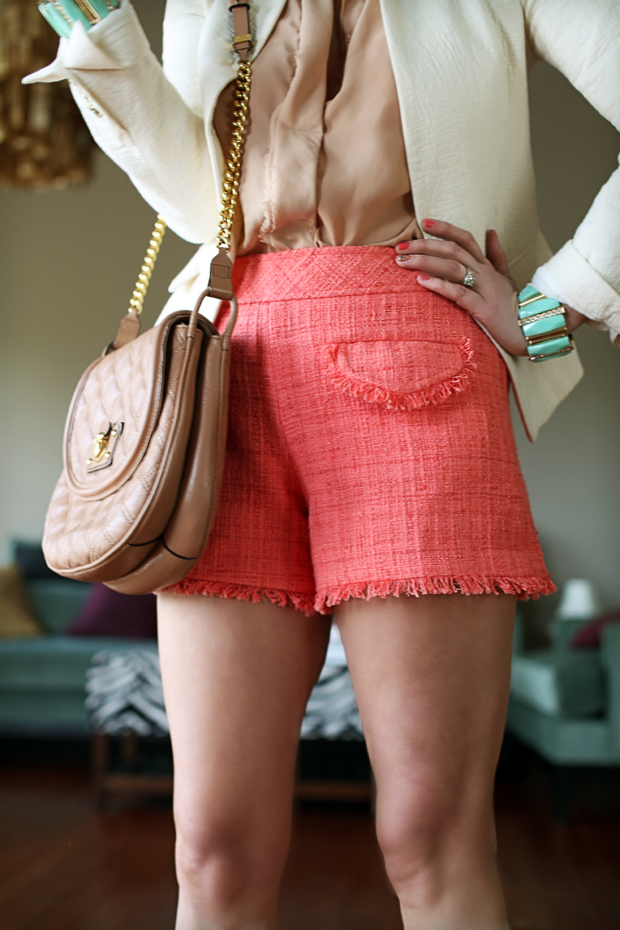 ♫: JUMANJI– Azealia Banks
One of my favorite places to get good deals on clothing is at Amazon.com. While I do not care much for the mega-retailer itself (I always strive to support smaller, locally-owned businesses when I can), and their website is one of the worst one out there as far as organizing a large pile of crap into something both easy to search and easy to shop, I think that is just it: their big pile of crap is not easy to search nor easy to shop, and so things tend to often go on clearance with plenty of sizes left.

I grabbed the coral Trina Turk shorts that I am wearing in my outfit below during such an occasion. I can't exactly remember what I was searching for when I happened upon them (…1,500 live ladybugs? Ninja grappling hook!); but they were 40% off and I had a 20% off coupon (get your own here) burning a hole in my e-mail inbox as well. 
I adore these shorts. Like most people, I usually associate tweed with being a fall/winter fabric due to its overall thickness, but these shorts are surprisingly soft and comfortable to wear even in warmer temps. They have a slightly higher-rise, which makes them great for pairing with blouses, and the 4-1/2″ inseam means they are longer but without being camp-counselor-ishly so.
Love.
---
And another quick outfit, too, on a weird and cloudy day:
Jacket: Emerson Made, old (similar at Express) (similar at UO + take 10% off with code "SPRINGIT")
Top: Isabel Lu, old (similar at Yoox) (similar by Tory Burch)
Shorts: J Crew Shorts in Lemon Zest (buy them here)
Shoes: Vince Camuto Prue Pumps (buy them here) (similar by Michael Kors)
Necklace: Forever 21, old (similar here) (and an option at Topshop)
Clutch: ASOS (buy it here)