(Travel) A Secret Sixth Anniversary Trip: Santa Fe, New Mexico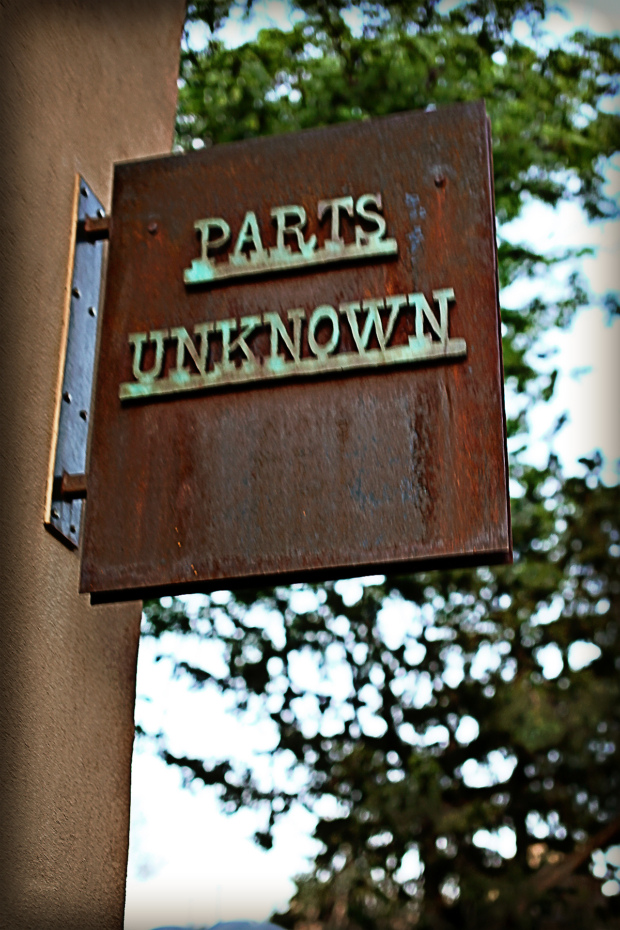 ♫: My Country – tune-yards
When you get married in a place like Hawaii, it can be a slightly arduous task to find things to do every year after that will rival such an experience. Not that every single anniversary needs to be an expensive blowout-party, mind you, but to at least do something noteworthy to mark the day whether by special trip, a dinner out, or a series of super secret hi-fives, knuckle-bumps, and chants. Whatever makes you and your partner happy, I mean–of course.
My own partner-in-crime had been planning a secret trip for our sixth wedding anniversary since late last year, dropping a series of hints and puzzle pieces along the way as he went. I honestly had no clue what was up his sleeves until last Friday night rolled around and we piled our luggage into the car; even as he pointed the car south I still couldn't quite figure out where we were going. Colorado Springs? Telluride? Texas? New Mexico? Arizona? Canada via Mapquest directions circa 2001 and a lot of oddly unnecessary u-turns?
We got sleepy as we drove late Friday, so we decided to spend the night at a Quality Inn in Raton, New Mexico–the only hotel with any vacancy in town. Who knew that Raton is such a hot and happening place?
It is also a little quirky and I will just leave it at that.

As we left Raton early Saturday morning and continued our trip further south,  Husband finally told me where we were headed: Santa Fe, New Mexico. It was a place both of us had never been (but had always wanted to see), and therefore an excellent choice for an anniversary trip.
If you have never been to Santa Fe, you are missing out–it is a neat and terrifically artsy little town. It's a lot smaller than I thought it would be (population: 75,000) and sits nestled near the Sangre de Cristo mountains at an elevation of 7,200 feet (Denver, by comparison, has an elevation of 5,280). Most of the town is made up of museums, old churches, art galleries, fun restaurants, and eccentric boutiques.
We spent the first night at the El Dorado Hotel & Spa, which is located only a block from the famed Plaza area. It is a pretty standard hotel: a little older but recently remodeled, with maybe the coziest beds ever. I mean it–our bed was like a fluffy cloud of fluffy-soft cloudness, and I could have slept in it forever.
The hotel itself had some interesting decor as well, which made me happy that I had lugged along my heavy camera for a little bit of play-time.
Once we settled into our room we grabbed some drinks at Agave lounge (Cinco de Mayo, after all), had a tasty late dinner at La Plazuela (located in La Fonda on the Plaza), and then bumped around the city to take it all in.
The next morning we lazily perused some of the numerous galleries and shops (again in the Plaza area):
And after all of that, we set out for the last part of the surprise trip: a two-night stay at a Hacienda Del Cerezo, which you can see on the very top of the hill below (and at the end of a long, bumpy dirt road).
Hacienda del Cerezo is a pretty little place, a 336-acre "hideaway" ranch that is quiet, reclusive, and serene. It is the dream-worthy vision of the two owners, a married couple; the wife originally from Europe and the husband from NYC.
The ranch is all-inclusive and can only house up to 10 couples at a time. There is an infinity pool that drops off to a view of the Jemez Mountains, four Arabian horses at the ranch for riding (we are both irrationally scared of allergic to horses so they uh, looked nice from a comfortable distance) and a private chef that cooks fully-loaded breakfasts, lunches, and five-course dinners. Many of our meals contained creative dishes made using ingredients from around the ranch as well, and my favorite dish was probably the asparagus flan: a dinner starter that was topped with mandarin oranges and puff pastry that somehow, inspite of being made of asparagus, tasted incredibly, deliciously good.
It was an absolutely amazing experience, through and through and through.
Going to Santa Fe? Here's What We Loved…
Pranzo Italian Grill: We grabbed a quick lunch at this 25-year old establishment and really enjoyed it. The service was great, the food had flavor, and they play Learn Italian tapes in the bathroom so I walked away both with a full belly and the knowledge to say, "This is good food, but my old girlfriend wants a different dataport in a new hotel room, you are not welcome." Italy, watch out.
Agave Lounge: A nice, chill place tucked into the corner of the El Dorado Resort & Spa. Comfy seating, good drinks, no formal dress required.
El Dorado Resort & Spa: Great location! Super comfy beds make up for the disappointing rooftop pool (it's teeny-tiny!) and its equally-miniature-sized hot tub. Even though the hotel lobby itself has had some recent renovations, it's hard to tell if they included the hotel rooms in it or not–they are not offensive, but a little well-worn and could stand to have some newer touches.
Wild Hog BBQ: Good bbq with six house sauces to choose from, but a bit bland on the inside for decor and aesthetic. Great for a quick lunch, nothing more.
Cielo Home: Great collection of unique candles, gifts, coffee table books, and decor. It's a bit pricey (aka: you might accidentally fall in love with a $400 throw pillow and it's a horrible, horrible feeling), but fun to peruse. Located next to Wild Hog BBQ.
Nuart Gallery: Located in the famed Canyon Road area, this carefully curated gallery of mostly mid-career artists like the awesome Erin Cone.
Monroe Gallery: Full of classic black & white photography with an emphasis on humanist and photojournalist imagery. Includes artists like Stephen Wilkes, Ormond Gigli, several famed LIFE Magazine photographers, and lots more (not to mention this hilarious shot of Sophia Loren + Jayne Mansfield). I could have spent hours here.
Canyon Road: Tucked further into town, this is a great area if you are looking for art galleries that provide a unique (but more secluded) experience.
Hacienda del Cerezo: Pricey and a little idiosyncratic, but worth it if you're looking for a ranch-adventure, a fabulous meal, a romantic get-a-way, or simply to try something new.
Local people randomly walking up to us to give directions/tips on what to see and do: I think Santa Fe is probably the nicest town I have ever visited.
---
So that's it! It was an amazing trip and since I know Husband often reads this–thank you, you are the best, I loved it, and I love you so much. Hasta luego, Santa Fe…until we meet again.