Important Note: Colorado Wildfires, Waldo Canyon Fire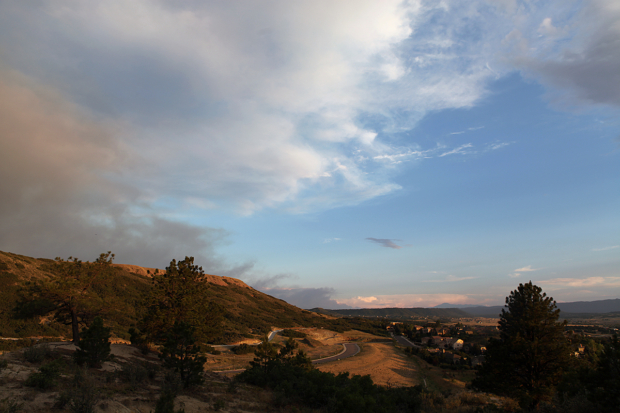 To Help & Donate:

Colorado Red Cross: coloradoredcross.org


Humane Society of the Pikes Peak Region: hsppr.org
Yikes. There are lots of people out of their homes in the moment here in colorful Colorado due to wildfires, and there isn't much to say at the moment except holy fucking scary and I am about .02 seconds away from reworking the beloved classic song (written in the popular 'hip-hop' form), "Make It Rain On Them Hoes" to "Make It Rain On Them Hills".  We desperately need a good rain song and dance at the moment, and so I'm gettin' my kazoo ready riiiight now.
I did climb up high (as high as I go–shush!) to snap a picture on Tuesday night as the Waldo Canyon Fire began to unfortunately burn out of control. Pike's Peak is off to the very far distance to the right of the center of this picture, and the plume of smoke to the left of the screen. This fire is about 40 (or so) miles away, which gives you an idea of how big it really is.
It is a somber realization to know that what makes for a (somewhat) interesting picture is unfortunately constructed from tragedy for so many people. Over 30,000 remain evacuated in the Colorado Springs area (total city population is just over 400,000, to put it in a bit of perspective) and over 700 firefighters and other emergency personnel are currently fighting hard and risking their lives to get the fire under control. Current home loss is unknown, as it's hard to tell with the amount of smoke and fire still in the area, but estimates are running at 300 to 400. It's impacted a lot more than homes, though, with many losing their businesses and livelihoods too–the Flying W Ranch being one of the more recognized. You can view more pictures of the fire on The Denver Post.
To make this all the more heartbreaking, the start of the fire is currently unknown and under investigation; at the time of this post, arson has NOT been ruled out. I have had a few readers write to me asking for ways to help out,, and so if you would like to help the more than 30,000 currently evacuated from their homes in the Colorado Springs area, please head to the Red Cross website here; you can also help the fuzzy furballs that were evacuated by going to the Humane Society of the Pikes Peak Region right here.  No kazoos or rain dances are required, and much love to you. ♥
xoxo – Chloe