Outfit Of The Yesterday: Uff Da & Yves Saint Laurent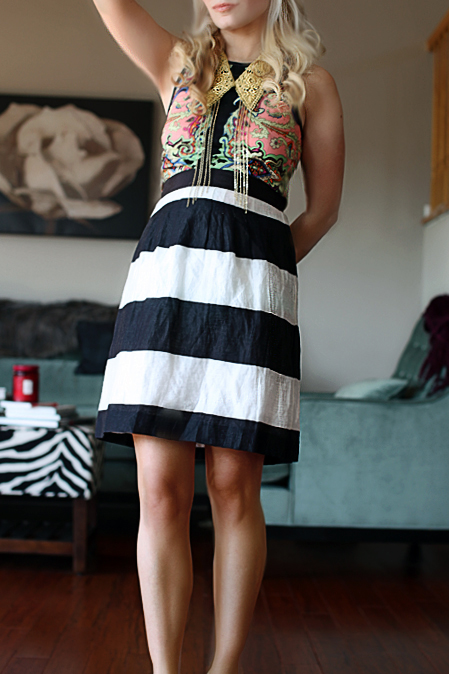 ♫: Don't Move – Phantogram
First things first! A reminder: the Yves Saint Laurent: A Retrospective exhibit at the Denver Art Museum will only be here for another two weeks, so if you are a (local) reader of this blog that has not yet seen it–go! It is well worth it, even if you aren't into fashiony-fashion. And I have also been meaning to write up a review of it, so let's have it.

Most hardcore fashion lovers know that Yves Saint Laurent is accredited with "inventing" the modern woman's wardrobe and creating a lot of trends that we still often see today (safari jackets, shift dresses, peacoats, over the knee boots, le smoking–just to name a few). He is also accredited with being a craftsman of color, using it in his designs in ways that, until then, had never been seen before in the world of fashion. But did you know that he was also one of the first designers to put models of various ethnicities on the runway? And that he was also one of the first couturiers to introduce a more affordable, prêt-à-porter (ready-to-wear) line, Saint Laurent Rive Gauche, back in 1966?  Indeed he was, and it is all explored in this exhibit of the much-celebrated fashion icon.

(Coincidentally, Saint Laurent Rive Gauche has recently been back in the news as  YSL's newest creative director, Hedi Slimane, announced Thursday that they will be drop the "Yves" and rename the company to Saint Laurent Paris.  A leaked internal memo from the company proclaims that this move "celebrates our legacy and heritage" and, according to a YSL spokeswoman to WWD, comes as a way to invoke the original principle and ideals of when Saint Laurent Rive Gauche was originally introduced while also respectively taking the brand into a new era. Oh….boy, I am still not a fan.) 

While the retrospective at the DAM is essentially about fashion (it contains over 200 couture pieces from a time span of about 40 years, after all)–it is full of much, much more. The exhibit opens with an Irving Penn portrait of the notoriously shy Saint Laurent, peering intensely at the viewer with one hand clasped nearly over his entire face, allowing only an eye and a small slice of his trademarked eyeglasses to peek through,. Along the way there are replications of his workshops, scraps of the fabrics he used, pictures of his French Bulldog Mujik, and even a peek inside Catherine Deneuve's clothes and costumes from "Belle Du Jour". There are also several small films, lots of personal photographs, and a few other artistic endeavors from the designer too–including the crude comic La Vilaine Lulu, which I loved looking at with my  13-year old niece (Lulu Mickey! Lulu Momie! Lulu…uhhh, nevermind.).
There are even a few couture dresses from his early days at Dior, which he helmed when he was only 21 years of age. Oh, the sweet smell of fashion and the realization that you haven't yet done shit with your 30-year old life–divine.

There is so much to love in this exhibit that it's almost mind-boggling to even have items of this artistry and magnitude in Denver so close; so nearly touchable. When I walk through the exhibit, I can't help but feel that I will likely never again be so close to things things so beautiful, so powerful, and so grand. Yet it isn't a feeling of loss or sadness, as one might assume; it is an oddly acute feeling of energy, of excitement, of inspiration, and of reverie. The clothing showcased in this exhibit changed things when Yves Saint Laurent put them on the runway, and they changed things for women all over the world, from all walks of life. That acute feeling is so powerful that you don't even have to personally wear the clothes; that acute feeling is everything that great fashion, at its very soul, should be. (Although oh, how I'd love one of those gowns, if only to eat bon bons and cheese while rolling around in a grassy field of chihuahuas all day, yes please.)
And just like how the exhibit begins with something intimate and personal in the form of a portrait by Irving Penn, the exhibit smartly ends with something intimate and personal as well–"La Coeur", which is a large, jewel encrusted heart that the designer always pinned to his favorite piece just before sending the models down the runway. The heart of the show, indeed.

Just like how IKEA, Sephora, antique stores, and three-story Forever 21's are great for happy husbands and over-caffeinated small children (are you delusional even if you realize it? maybe? yes?), I have found that this exhibit is probably best enjoyed by yourself or in a small group. Allow at least 60-90 minutes to see the entire thing, and be prepared for some lines as lots of people are heading out to see it one last time. The DAM has extended its hours over the next few weeks to accompany the extra traffic, so buying a ticket in advance is recommended, and you can check out the website here for full details. I plan on (hopefully) seeing it one more time, since the DAM is the only venue in the United States that will host this exhibit. Go Denver, woohoo.
On to an outfit! Temps here are still over 100 degrees, ouch. Uff da, I am so over it.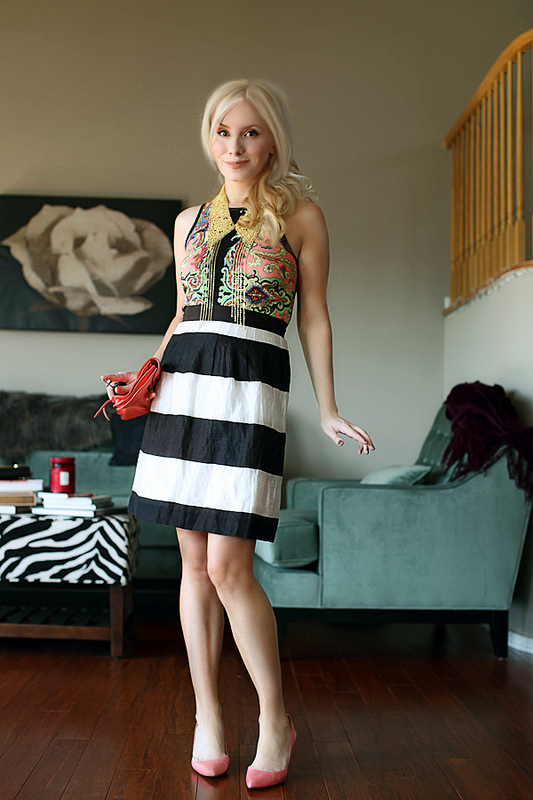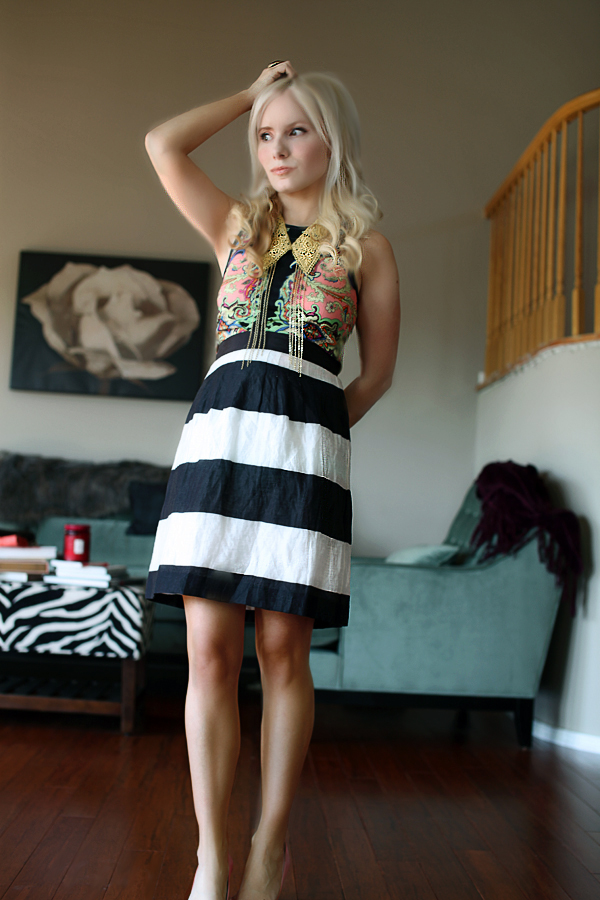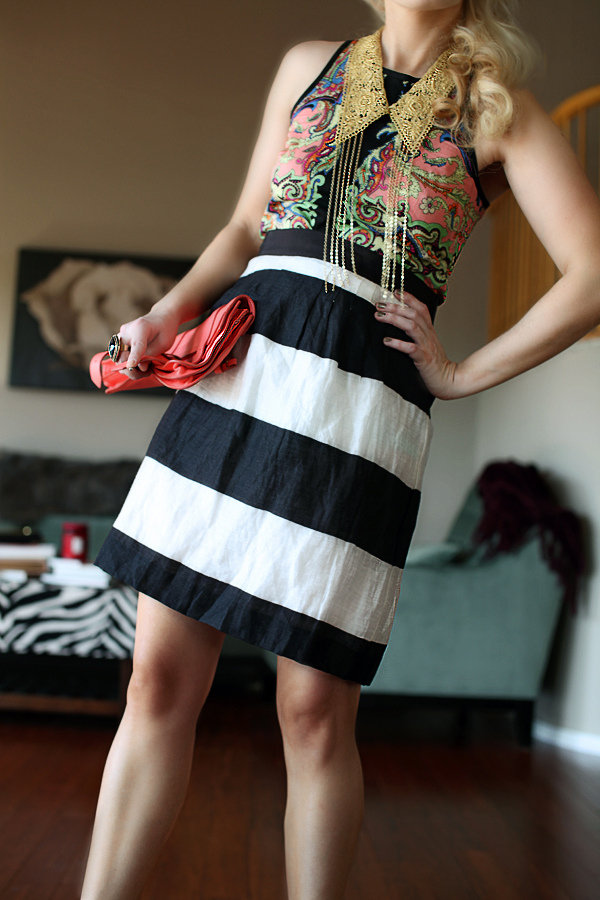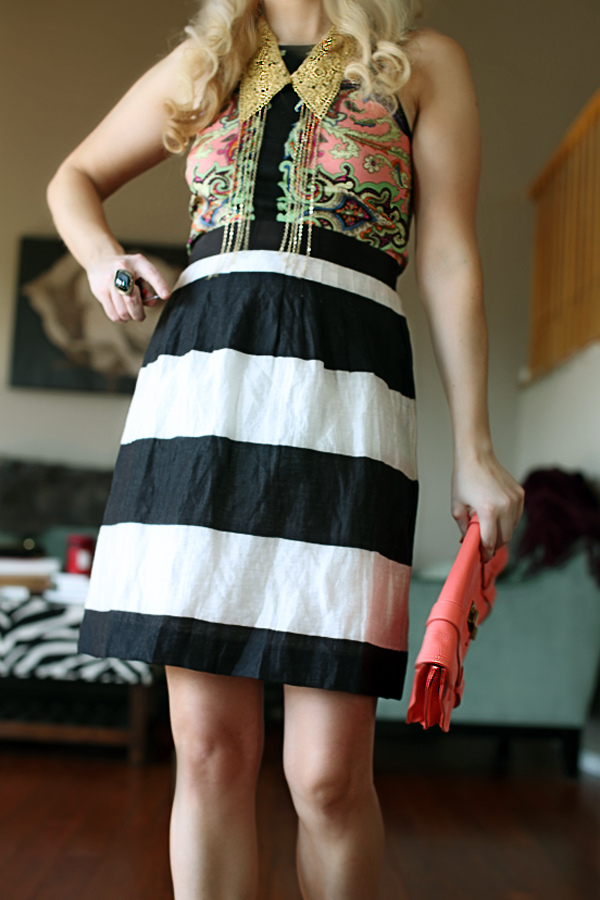 Top: Warehouse via ASOS (buy it here) (also available here) (similar at ASOS) (similar at F21)
Skirt: Ann Taylor LOFT, old (similar here) (similar at WHBM) (similar by Nanette Lepore)
Necklace: Etsy via This Ilk (buy it here) (similar at ASOS) (another option at ASOS, under $20) (similar at F21)
Ring: ALDO Accessories, old (similar at Urban Outfitters) (similar here)
Bag: Proenza Schouler PS1 in Neon Coral, old (similar here) (similar at J Crew) (similar at ASOS, under $50)
Shoes: J Crew Valentina Pumps in Vibrant coral (similar at J Crew) (similar by kate spade, on sale) (similar here)
Nail polish: Chanel Le Vernis in Graphite (buy it here) (similar by Essie)