Outfit Of The Yesterday: Rose + Ochre + Tiger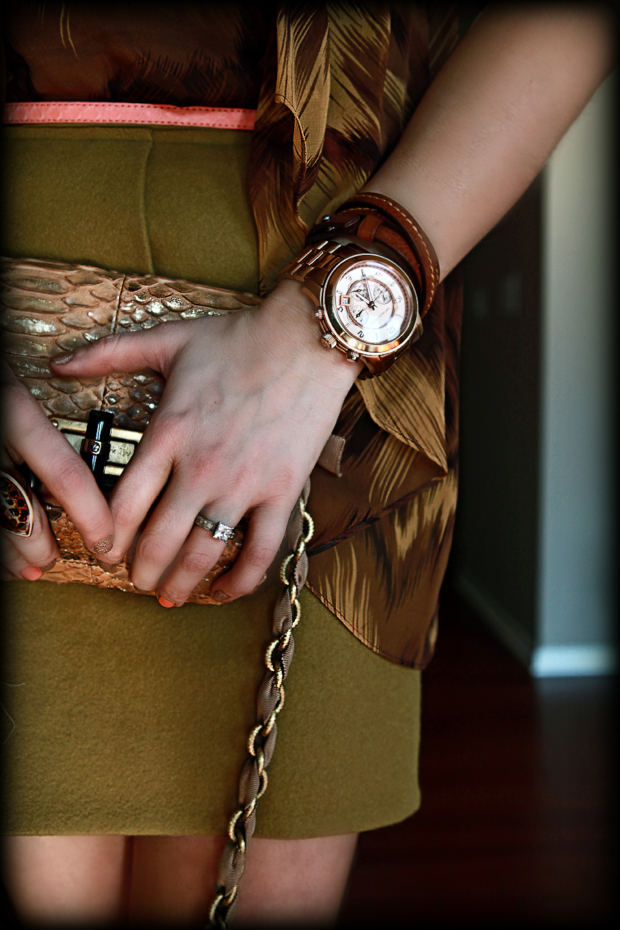 ♫: Simple Symphony, Op. 4: II Playful Pizzicato – English Chamber Orchestra & Benjamin Britten
(Note: After a crazy week on my end, winners for the LAB gift certificates will be up first thing tomorrow–stay tuned & thanks again to everyone that signed up!)
Husband and I had the happy diversion of hanging out with our niece recently, and like most almost-14-year-olds she loves to shop. Of course! And like most almost-36-year olds, Husband hates to shop. Of course. But last weekend Husband decided to hand the reins over to us two girls, with only one mission in mind: new clothes, new clothes, new clothes.
As most of adults know, no longer having the harrowing and despotic hallways of high school to inflict its wrath on our wardrobes means that it can be freakishly easy to get stuck in a fashion rut. It also apparently means that it can be freakishly easy to drag out the bright green Cross Colour jeans and matching ("matching") over-sized polka dot dress shirts to play the SURPRISE! GUESS HOW OLD YOU WERE WITH OUR FIVE YEAR AGE DIFFERENCE WHEN I ORIGINALLY WORE THIS OUTFIT GAME! when your wife comes home from work, late at night, ambush-style. Hoo boy.
(A lot of the time the answer is 12, most of the time it is disturbing in many, many ways; and every single time no one wins I'm just jealous that I didn't save any of my crazy crap so I can play the game back.) 
I digress! We had lots of fun shopping and even got Mr. Fancy Green Pants to try some new things. We also perused a few boutiques that I had never been to before, including Austin/Hauck (suits, business casual; downtown LIttleton area), and Division West (colorful t's, sneaks, and more; Cherry Creek North). Nearly all of the stores that we visited on our carefully-mapped shopping expedition sold men's apparel only, as Husband made the list and is clever. That's all I hafta say. Clever, hon. I love you. Always. Ahem.
We did a lot of walking and it was hot out, so comfortable flats and gauzy tops were a must. This is what I wore:
Top: Diane Von Furstenberg, really old (similar here) (similar under $50) (similar under $50) (last worn on the blog here, 2.5 + lots-of-red-hair-dye-years ago!)
Skirt: J Crew Felted Wool Mini, old (similar by Milly) (similar under $50) (longer option by Free People) (last worn here)
Belt: J Crew, old (similar here, on sale) (similar at ASOS, under $10) (last worn here)
Brown Wrap Bracelet: American Eagle Outfitters, old (similar at Piperlime)
Watch: Michael Kors Oversized Rosegold Watch (buy it here) (occasionally available at Overstock) (similar by Fossil for $155) (last worn here)
Shoes: Lanvin Gold Metallic Python Flats, old (similar here) (similar by Tory Burch) (similar under $100) (similar under $50 + free shipping w/ code "FSANN5″) (last worn here)
Bag: Lanvin Gold Metallic Happy Mini Pop, old (similar here) (similar under $200) (last worn here)
Nails: OPI Designer Series in Classic/ Essie Tart Deco
 If you could magically bring back ANY piece of clothing from your past and wear it now for fun, what would it be? Share in the comments! ❤
---