Outfit Of The Yesterday: Zig, Zag, Zig (+ LAB by Laura Busony Giveaway Winners!)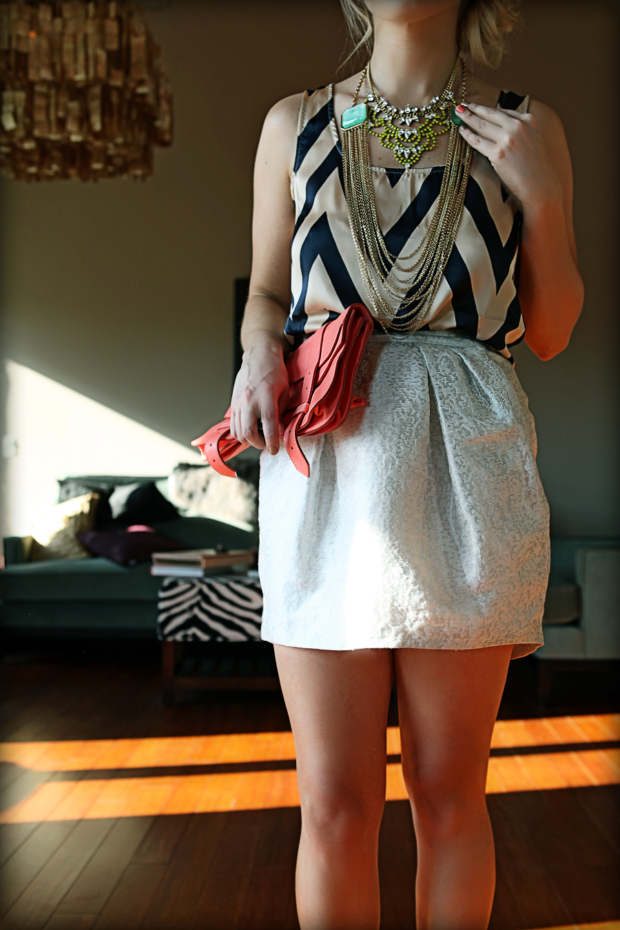 ♫: Make Some Noise – Beastie Boys
First things first: thanks again to everyone who entered the LAB by Laura Busony gift certificate giveaway last week! I finally got the chance to sit down and sort through the entries, and using random.org (via rafflecopter.com), I have picked three winners:
The winner of the $75 gift certificate is…
Carol from over at In Pursuit of Pretty Things–yay!
And the winners of the two $25 gift certificates are…
Michelle W & Courtney K–yay for you guys, too!
I have sent e-mails to all of the winners, so check your inbox for more information regarding the gift certificate! Feeling bummed if you didn't win? I will be doing more giveaways for some of my favorite things soon, so definitely stay tuned.  ♥
Now a few random pictures from over the past week (from the whole two times I actually remembered my camera) + an outfit. Husband and I received a Williams-Sonoma gift card from my parents for our anniversary this year (thanks again you guys!), and so after a little hemming & hawing we decided to 'splurge' on something that reminds us of where we got married: a Waring Pro snowcone maker.
Okay. So it might not be Hawaiian Shaved Ice, but this little machine is as close as we'll get at the moment. I grabbed a few basic syrups for now, but I can't wait to start experimenting with unique homemade syrups–raspberries & basil, anyone? How about peach & bourbon? Served in sleek martini glasses, perhaps? My childhood Snoopy snowcone maker would no doubt be a little jealous–let's do it!