Outfit Of The Yesterday: White + Black + Coral + Valentino Rockstud Zebra Flats (& How To Break A Blouse)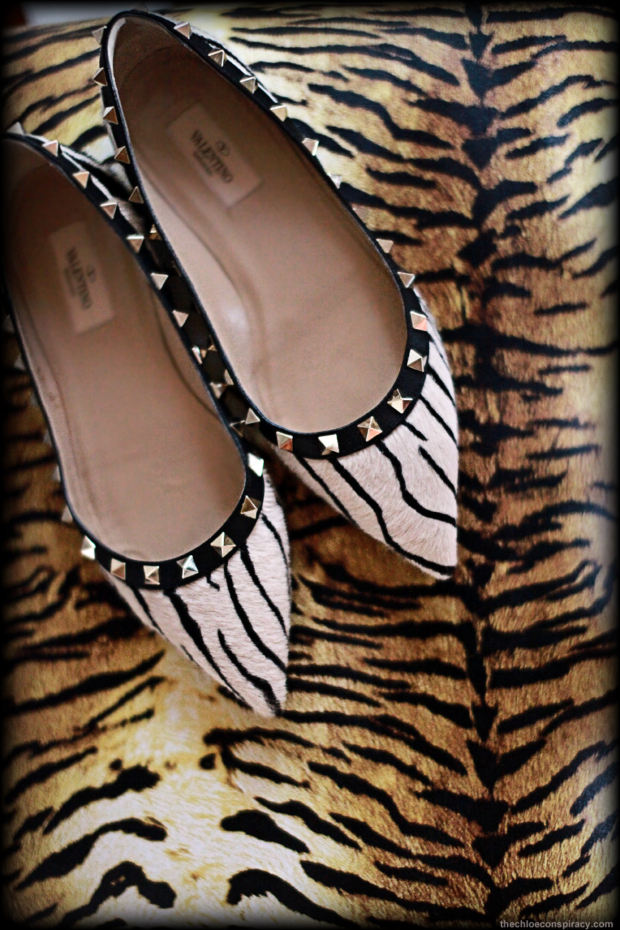 ♪: Tender (live) – Blur
I have a confession. I am a bit of a bad fashionista; I am notoriously hard on nearly all the clothes that I wear. I really like to use things, you see–use them to their fullest extent; so if that means accidentally getting Pepsi dumped on a pair of nice flats at a concert by a friend (they were fine and isn't sticky is the new pointy?), climbing through a high, greasy window in a silk blouse + poofy skirt + high heels after accidentally locking myself and one dog (Petunia) out of the house on a 95-degree day (appropriately, like an over-dressed ninja), or bringing my Chanel handbag along on a summer boat ride from holy, watery hell (okay, actually, I won't do that again ever)–so be it. Life happens, and I happen(s) to own lots  of Tide To Go Pens.
But Tide To Go Pens can't fix everything. I grabbed this blouse from Zara when it first popped up in the new arrivals,  and I was pretty disappointed when it arrived. To be clear, I never really expect blouses to fit well due to my short stature, but this blouse took ill-fitting to a whole new level–the sleeves were ridiculously long, the body billowed awkwardly, and it was wrinkly. So, so wrinkly. 
So I did what I normally do when faced with such perilous situations: I squinted and read the 'care tag', saw something about blah-blah-hand-washing & derp-derp-hanging-it-dry, eschewed all rational thought and reason because I'm a risk-taker and as a 30-year old this is apparently how I now get my heart-pounding kicks and thrills, and threw the blouse into our washer.
After that, into our dryer.
So I really can't say that I am wholeheartedly shocked that this happened:
But, looking on the and-now-you-can-never-return-it-because-they'll-know-EXACTLY-what-you-did-because-you-yourself-used-to-work-retail-and-hated-this-shit-motherfucker bright side–the blouse shrunk (a lot) and actually fits better. 
The fraying gives it…character? Darn it:
 Jacket: Mackage Asymmetrical Jacket (similar here) (similar under $100) (similar at GAP + take 30% off with code "GAPLIST")
Top: Zara (buy it here) (similar under $30) (a great option here) (similar here)
Leather Shorts: Urban Outfitters, old (similar under $100) (similar under $100) (similar here + take 10% off w/ code "BACKTOSKOOL") (last worn here)
Shoes: Valentino Zebra Flats (buy them here) (similar under $100) (similar here
) (similar under $50)
Bag: Proenza Schouler PS1 Pochette in Neon Coral (similar here) (similar here) (similar for $25) (last worn here)
Nails: Chanel Le Vernis in June (buy it here) (similar by Essie)