Outfit Of The Yesterday: First Snow (& A Bit Of Faux)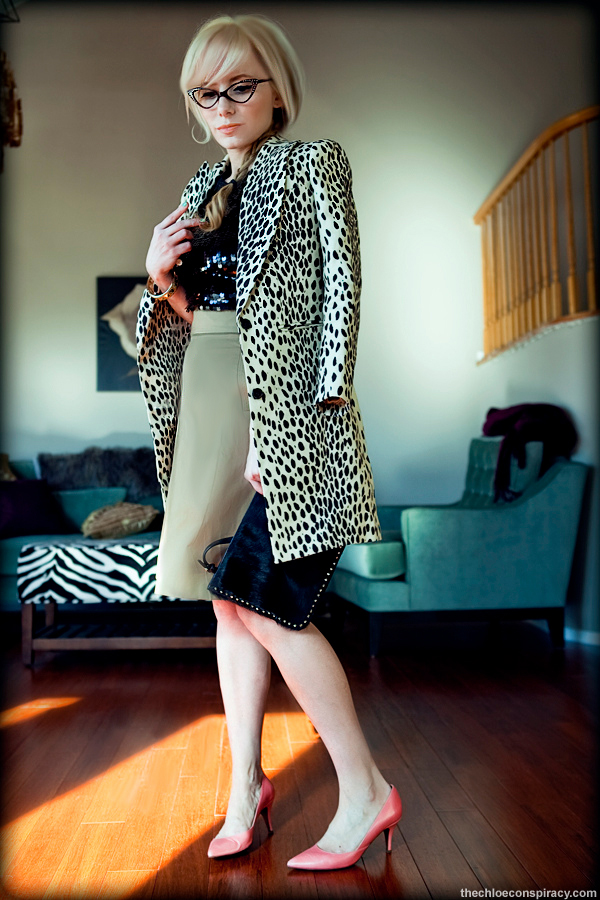 ♫: Something's Rattling (Cowpoke) - Benjamin Gibbard
I didn't mean for an entire week to pass between my OOTD posts, so my apologies! I've been under the weather for awhile now (the past month, really), and this past week finally got the best of me and I turned into a sicky-pile of yoga-pant-wearing, perma-bed-head-having goo. I've had Lupus now for nearly six years; and I have been fortunate over the past year have felt really good–but as anyone with this thing knows, there will always be bad days, and weeks, and months; and the medicine that makes you feel sicker before immediately better; and that is just how it goes.  There is only one way to go from here, and that's to boss your Husband into feeding you Slurpees and baked potato soup while reading The Adventures of Calvin and Hobbes to you at the exact same time  and that is UP, so hooray. Hopefully it will happen sooner rather than later.
Anyway! We had our first snow last week. It was nothing major, but it was just enough to prettily trim some of the still scantily-leafed trees before quickly melting away by noon.
And an outfit from when I was feeling a little bit better, too!  I have never been a huge fan of scarves (I always feel like they make me look like a neck-less weirdo) (because is there any other type of neck-less person? no), but when the temps dip below 32 it's nice to have a little something around the neck to help keep warm.
Faux fur scarves and collars have been around for awhile now, and I really do hope that they are a trend that sticks–they give just the right amount of warmth and come in a variety of sizes ranging from monstrously fluffy to skinny and small.
They are also a fun way to dress up coats (and sweaters, and dresses, and small all-purpose household Chihuahuas). Below are 15 of my favorite faux fur picks from around the 'net, you can click on any photo for more product information:

Ta da (da da):

 Jacket: Emerson Fry (buy it here) (similar under $250) (similar here) (similar under $100) (last worn here)
Top: Forever 21 (buy it here) (& a splurge by Jason Wu)
Skirt: Banana Republic Kick Pleat A-line Skirt (buy it here) (similar under $50) (similar under $30) (last worn here)
Faux Fur Collar: Unknown, old (similar here) (similar here)
Bracelet: Forever 21, old (similar under $100) (similar here)
Glasses: Vintage (similar here) (similar here)

Shoes: J Crew Valentina Pumps, old (similar here, on sale) (similar under $100) (a splurge by Manolo Blahnik) (last worn here)

Bag: Zara (buy it here) (faux leather option here) (last worn here)
Nails: Essie Turquoise & Caicos (buy it here)
Lips: Dior Addict Lipstick in Jet-Set 544 (buy it here)
PS - I have gotten to know a lot of people from NYC (and the east-coast!) through my little fashion blogging career. Some I have met in person, others I haven't, but I hold all of you guys near & dear and hope you are all staying safe during Hurricane Sandy. Those of us not directly impacted but still want to help out can head right here for a great list of ways to support and donate.
---