Outfit Of The Yesterday: Sequins & Stripes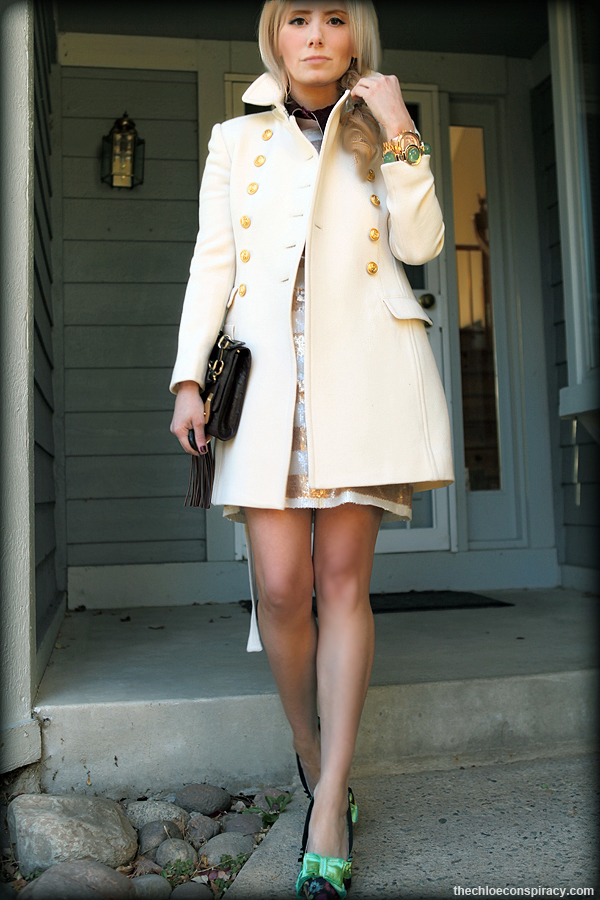 ♫: Give Me the Beat – Ghostland Observatory

I originally fell in love with the Glinted Sunset Shift at Anthropologie when it popped up online a few weeks ago…but oh yikes, that price tag. 

Now don't get me wrong–it's a very cute dress. It is also the first thing that has caught my attention from Anthropologie in a long, long time. But while the clever juxtaposition from casual (it's a striped dress!) to being a little dressy (with shiny sequins!) is normally right up my alley, my plans to spend both Christmas and New Years in a frozen tundra this year means there shall be absolutely no cute dresses to prance around in for me. I will be shimmying around in Uggs and a permanent angry face instead, thank you.
So I was pretty happy to find this stripey sequined dress at Forever 21 at almost 1/10th the price. It is a great little dress–it's fully lined (so absolutely no scratchiness) and while it might not be quite as colorful as the Corey Lynn Calter dress, the white and rose gold stripes are incredibly versatile and easy to dress up with colorful jewelry, accessories, cardigans, and coats.
One word of warning, however, if you want to grab the dress for yourself–I did notice that a few of the dresses in my local Forever 21 store were missing sequins. I've yet to lose any sequins off of mine (fingers-crossed), so I am not sure if it is an overall design flaw or simply someone doing sumo wrestling Liberace-style in the dressing rooms while trying it on. As anyone who has worked retail will tell you: sometimes it's a little hard to tell.
Below are 15 of my favorite sequin striped dresses (and skirts!) from around the web…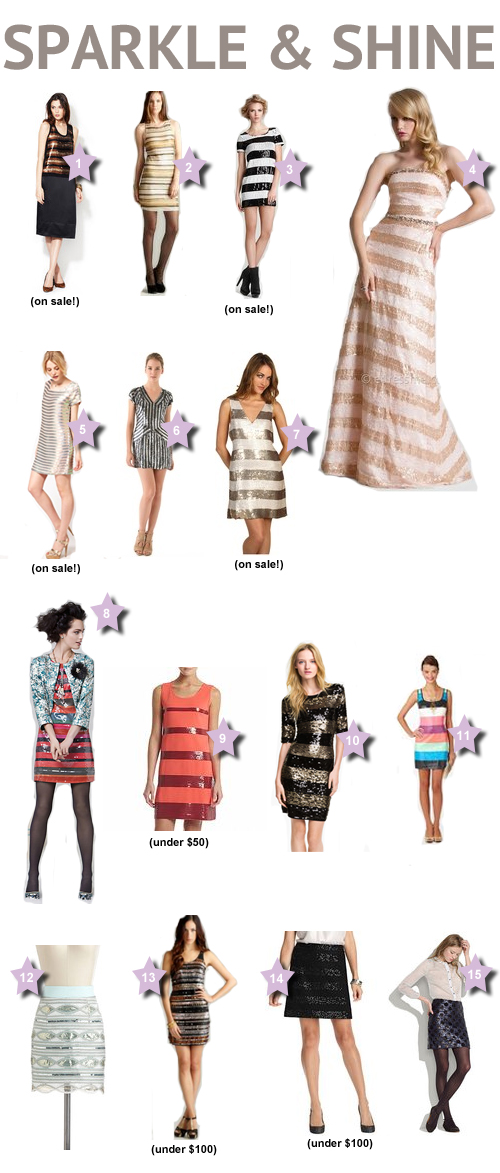 …and here's how I wore mine. Cha, cha, cha:
 Coat: J Crew Townhouse Trench, old (similar here, on sale) (similar under $150) (similar here, on sale) (last worn here)
Dress: Forever 21 (buy it here) (similar here) (similar in black + gold)
Collar: Topshop Faux Pony Collar  (buy it here) (another option here)
Green Bracelet: J Crew Cabachon & Crystal Bracelet (buy it here) (similar here) (a splurge here) (& an option under $10)
Watch: Michael Kors Oversized Runway Rose Gold watch (buy it here, on sale) (similar under $150) (last worn here)
Shoes: Lanvin for H&M, old (similar here) (similar under $100)

Bag: Diane Von Furstenberg Harper Clutch, old (similar here) (similar here) (similar here) (last worn here)
Nails: Chanel Le Vernis in Malice (buy it here)