Outfit Of The Yesterday: Ivory + Cognac + Olive + Gold (& Tory Burch Calista Riding Boots)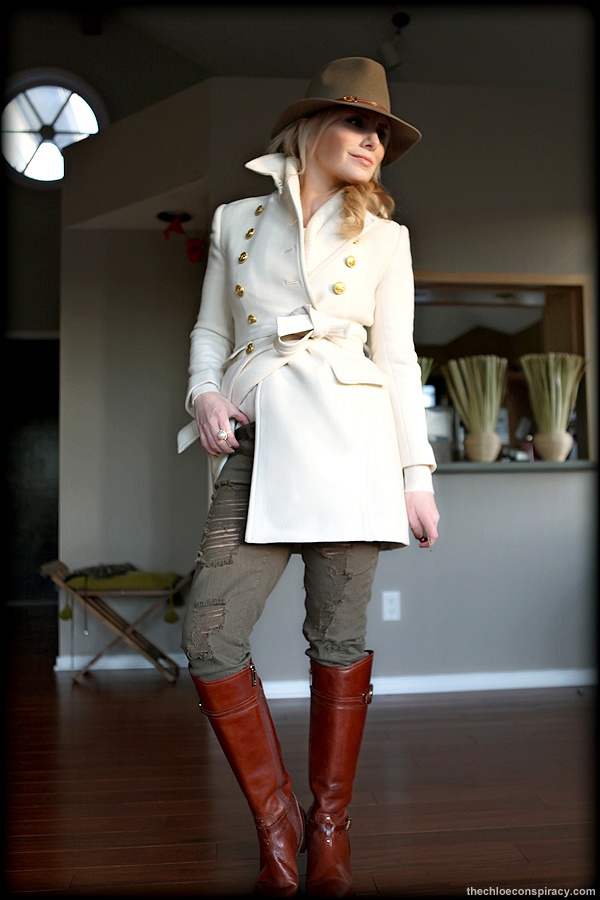 ♫:  Let It Go – The Neighbourhood
I haven't been a very big boot-wearer over the past few years, and there's been a few reasons why.  The biggest? It can be a challenge to find boots, especially riding boots, that fit petite legs well.
The "petite" label has definitely received more attention recently in the fickle world of fashion, as most retailers have now adopted some sort of petite line into their collections and stores. Which is great! No longer are we expected to dress like tiny little DKNY sailors via three racks of clothing hastily shoved into the back of a Macy's, hooray.
But one trouble spot for me (and for a few other petites, I've noticed while perusing fellow fashion blogs across the web) are boots, and finding a good pair of boots that actually fit in the calves and don't mimic the wide slug-lug-glug of rain boots.
So I grabbed the Tory Burch Calista boots during Shopbop's recent "Big Event" sale, and the first thing I noticed while reading the reviews for the boots was that they ran very, very small in through the calves. I was even a little worried that they wouldn't fit on my legs, but when they arrived I was relieved to discover that they fit well! Really well. All riding boots need to have a little bit of gap between the leg and the boot (because waddling is probably the one thing that will never be in style, harem pants be damned), and these boots both fit well and are comfy to…uh, boot. Heh. 
My boots are in the "sienna" color; they're now sold out on Shopbop, but you can find similar styles on  Neiman Marcus & Jildor Shoes.
Coat: J Crew Townhouse Trench, old (similar here) (similar under $200) (similar under $100) (last worn here)
Sweater: Banana Republic (buy it here) (similar under $30)
Jeans: Forever 21 (similar here + take up to 30% off thru 12/2) (similar under $100)
Hat: Gilt, old (similar here) (similar under $30)
Ring: Forever 21 (similar here) (similar here, on sale)
Boots: Tory Burch Calista Boots (buy them here) (more options here) (similar under $250) (similar under $100)
Bag: Chloe Marcie Crossbody, old (similar here) (similar under $200) (last worn here)