Chloe's Favorite Finds: Rifle Paper Co.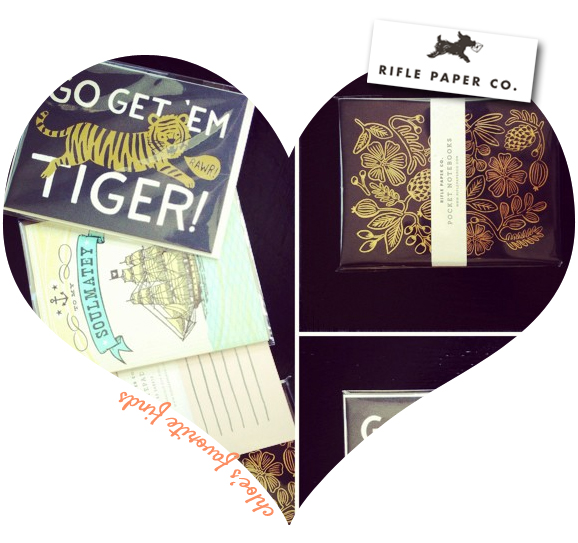 I don't know about you guys, but there is nothing that makes me happier than unique and crafty stationery, journals, notepads, and other paper goods–especially since hobbies involving handwriting have become an endangered means of communication in our increasingly tech-happy world. The company behind my 'favorite find' for this week is a sweet little stationery + design studio that makes the prettiest of all paper-y goods–read on!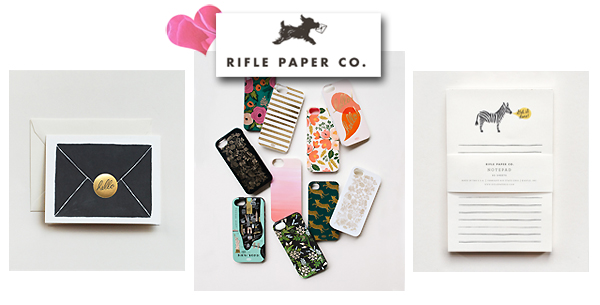 FAVORITE FIND: RIFLE PAPER CO.
WHAT IS IT? Rifle Paper Co. is a stationery + design studio that got its start in Winter Park, Florida. Its founders, a husband + wife team that grew the business from their 1-bedroom apartment into a worldwide brand, believe that "life's personal stories and moments are best told through the gift of a hand-written card or note." (Agreed!)
HOW DID I FIND IT? Rifle Paper Co. has been around since 2009, and over the past few years I have seen a small handful of their products in stores like Anthropologie. They have also been featured in magazines like Elle Decor and Instyle.
WHAT MAKES IT AWESOME: All of their products are printed in the USA and inspected and assembled by hand in studio. They also use FSC-certified paper stocks with recycled content and nature-friendly printers. And last, but certainly not least…their designs are beautiful! Rifle Paper Co. products feature the artistic creativity of founder Anna Bond, and they don't just do stationery: they also do iPhone cases, kitchen goods, art prints, calendars, journals, and lots more.
I absolutely love their journals. I recently purchased the Gold Foil Pocket Notebook Duo to keep in my handbags for whenever I need to jot down a quick note–I could probably use my iPhone, but notebooks are much prettier to keep around!
(Also: I always hope that cool and fancy stationery will magically detract from the fact that I have terrible handwriting and once spent 30 minutes wandering aimlessly around Target, unable to read the very last item on my own shopping list yet too panicked to leave the store because…what if that one illegible item was really super important?) (And Husband was so tickled when he finally decoded my scribble and solved the mystery: candy. See! Important! And…kind of embarrassing.)
(But hopefully less embarrassing because at least my "she-must-be-a-permanently-drunk-chicken" scratch was scrawled across the prettiest piece of paper ever, I am sure of it.)
WHERE TO BUY: riflepaperco.com / Hazel & Dewey (local to Colorado)