Outfit Of The Yesterday: Leopard + Graphite Gray + Coral + Neon Yellow (& Hair, Hair, Hair)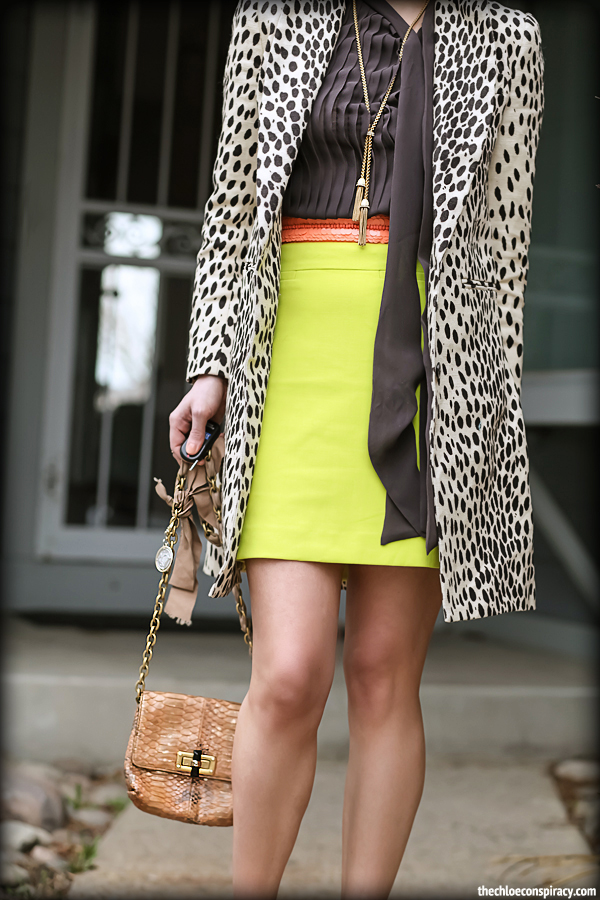 ♫: Hang Me Up to Dry – Cold War Kids
Let's talk hair for a bit, yes? Warmer weather always makes me want to cut my hair, so I decided last week to choppity-chop a few inches off to finally get rid of some frizzy, damaged ends. Whew–I feel much, much better! I mean, I should clarify–I do often wear clip-in hair extensions, and I will continue to wear those once in awhile because long hair is fun (and they also help hide my gigantic Lupus-related bald spots, isn't that super special to talk about and discuss), but sometimes it's nice to be able to go without those violent little motherfuckers hair extension clips angrily digging themselves into the back of my head all day long.
I had quite a bit of damage from a dying mishap two years ago, back when I went from being dark red to light blonde. And while my hair is naturally very thin, the few strands I do have are also naturally coarse–which means that I usually have to 'heat treat' and wrestle with my hair to smooth it down.
Most of us know that it is hard to prevent further damage while trying to grow out already damaged hair, so it has been a long and delicate process to get to this point–but there are a few hair products that I added to my hair care arsenal over the past two years that, in my opinion, helped immensely to repair some of the damage and prevent further frizzies. Thanks to genetics (and Lupus) I will never have shampoo model hair, but I'm pretty sure if I just keep spending more and more money on hair products…
Well. Whatever.  I really like these products, check them out:

1. alterna bamboo smooth kendi treatment oil 2. alterna caviar moisture replenishing shampoo 3. alterna caviar moisture replenishing conditioner 4. paul mitchell super skinny serum 5. got2b glued hairspray 6. chi touch screen hairdryer 7. osis dust-it mattifying powder 8. chi tourmaline flat iron 9. josie maran argan oil 10. frederic fekkai coiff ironless straightening balm 11. alterna caviar overnight hair rescue 12. clairol shimmer lights shampoo 13. clairol instant heat curling iron 14. alterna caviar repair rx microbead fill & fix treatment masque 15. alterna bamboo deep cleanse clarifying shampoo 16. phyto phytojoba intensive hydrating mask
Yes, yes–I am a huge Alterna junkie. While expensive, I have never found an Alterna product that I didn't love, and Skinstore.com often has 20% off promos which help make the prices a little kinder on the wallet. Their new bamboo line is especially great–the Smooth Kendi Treatment Oil comes in a fairly small bottle, but you only need a few drops to make hair shine. After three months of steady use I still have about half of my bottle left–not bad!
So! What's is your favorite haircare product? Or have you recently tried anything awesome & new (& magical)? Share in the comments! ♥

And…an outfit.
Coat: Emerson Fry, old (similar here, on sale) (similar here, on sale) (similar under $150) (last worn here)
Top: Alice + Olivia, old (similar here) (similar here under $50)
Belt: LOFT (buy it here)
Skirt: LOFT (buy it here – now $30) (similar here) (longer option here)
Necklace: J Crew (buy it here) (similar under $10)
Shoes: J Crew Valentina Pumps, old (similar here) (similar here) (similar under $50) (last worn here)
Bag: Lanvin Happy Mini in Metallic Python, old (similar here) (similar here) (similar under $50) (last worn here)