The Black Forest Fire: Information & Ways To Help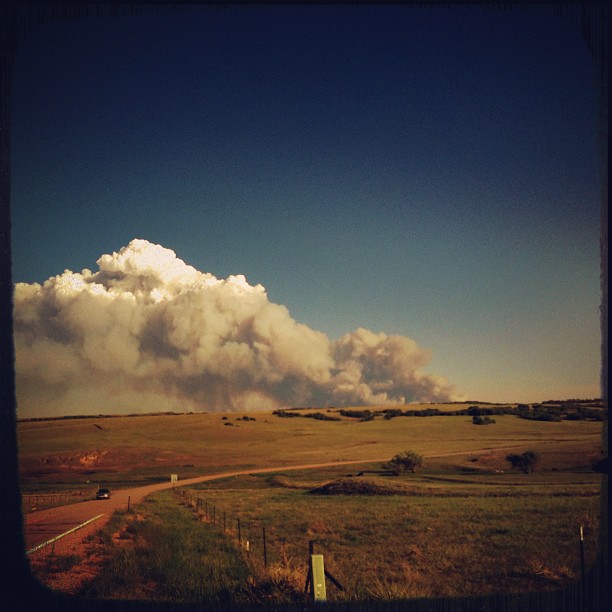 Almost an entire year after the Colorado Springs (Waldo Canyon) fire, Colorado is on fire again–and the biggest blaze burning in our state is currently about 35 miles away from where I live. The Black Forest Fire is just a stone's throw away from the charred timber of last year's Waldo Canyon fire, and with some 38,000+ people now evacuated (and 360 homes lost so far), needless to say–there are a lot of people that need lots of help right now.
…and with the fire only at 5% containment as I type this post, the devastation and need for help will (unfortunately) likely continue to grow.
WAYS TO HELP
If you would like to help, please visit redcross.org. It is the easiest (and safest) way to donate. You can also make a quick $10 donation to the Red Cross by texting "redcross" to 90999 (it will be added to your next phone bill). Like many areas in Colorado, the Black Forest is also home to LOTS (and lots!) of pets, equine, and wildlife that also now need shelter and in some cases, veterinary care for injuries. Please visit hsppr.org if you wish to donate directly, or check facebook.com/humanesocietypikespeakregion for up-to-the-minute updates and information on other ways to help all the furry friends impacted by this fire.
And if you would like a more specific way to donate or volunteer on a more local level, please visit the Colorado Springs Gazette for an extensive list on ways to help. They also reported on the local news tonight that there is  a need for mental health professionals to volunteer their time to help those coping with loss from the fire; if you happen to be someone with those credentials please contact the Red Cross or some of the local evacuation centers for more information on how to help. The Colorado Springs Gazette has a great list of all of those facilities (along with contact information) as well.
Last but not least, below are three photos we snapped Tuesday only hours after the fire first broke out. In the first photo, we are about 25 miles away from the fire. In the second, we are about 30 miles away from the fire. And in the last, we are about 35 miles away (and roughly two miles out from where I live). They are sobering visuals as to just how big this fire is:
And to my readers–chances are, you clicked on this post because you are interested in helping out, so thank you so much from the bottom of my heart. We are keeping you in our thoughts, Colorado Springs & Black Forest residents–stay safe, stay strong.
 ❤, Chloe