Outfit Of The Yesterday: White + Black + Navy + Leopard + Gray (& The Givenchy Sheath Shark Tooth Boots)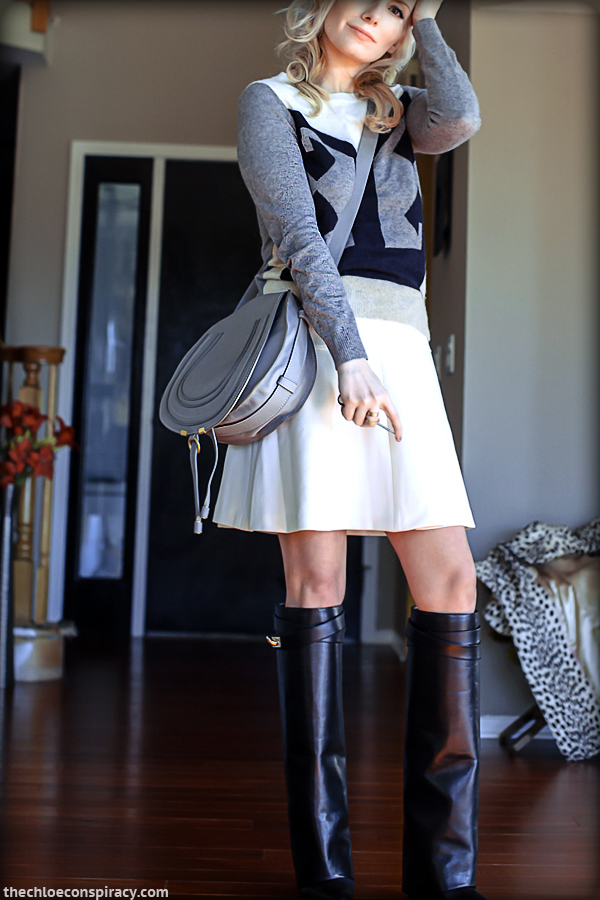 Long time no update! I can't believe it's already November, yikes. Yiiiikes!
Things have been pretty crazy around here, but in the middle of it we found time to hit up Two Door Cinema Club & Sleighbells, do a bit of hiking, do a bit of cute-puppy-sitting, and then finally see Book of Mormon. We had missed getting tickets (along with HEY EVERYONE ELSE) the last time it was through, so I was excited that we managed to get tickets this time around. And it was good!  Almost worth the 3 days we spent listening to a busy signal from the DCPA box office. But I digress–I've probably been doing a better job updating my Instagram feed than updating here. Hopefully that will change soon! But I make no promises.
The weather here in Colorado has remained pretty mild so far this fall, so I have yet to haul out tights and the heavy-duty winter stuff. I have also probably been wearing the Banana Republic skirt that I'm wearing below more than I actually should–but I've always had the bad habit of favoring one article of clothing (and wearing it to death!) while ignoring all others. Just me? I hope not. Febreeze has to exist for a reason.
Just kidding! Maybe!
Leopard Coat: Emerson Fry, old (similar here) (similar here) (similar at Anthropologie) (similar by DVF, on sale) (last worn here)
Sweater: J Crew (buy it here) (similar under $50) (similar under $50)
Skirt: Banana Republic, old (similar under $50) (similar under $75) (last worn here)
Boots: Givenchy Sharktooth Sheath Boots (buy them here) (similar by See by Chloe) (similar by Vera Wang Lavender) (similar under $100)
Bag: Chloe Marcie Crossbody in Cashmere Gray (buy it here) (similar by Kate Spade) (similar by Rebecca Minkoff) (last worn here)