Outfit Of The Yesterday: Layers of Lace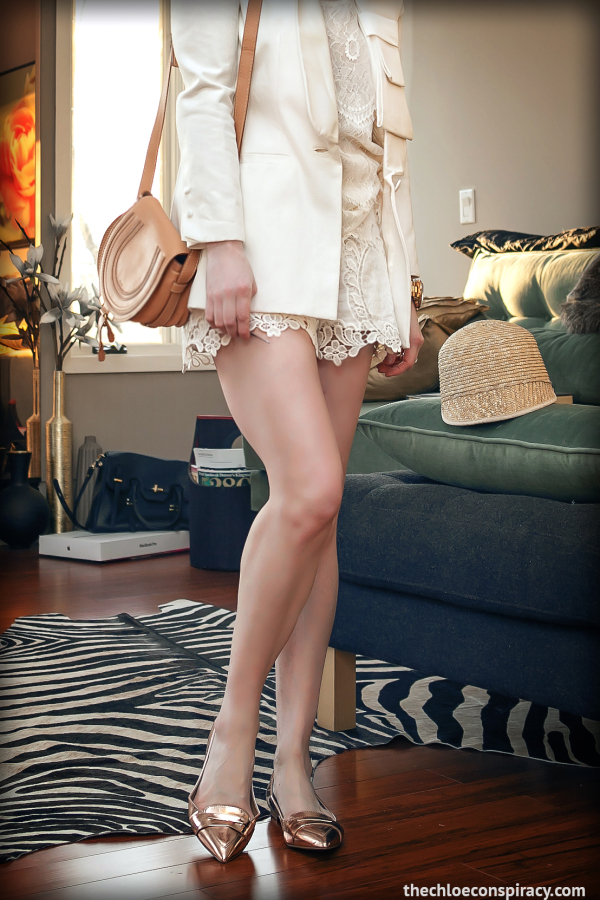 As much as I enjoy (like most chickies) (and some male non-chickies, too) shopping and adding new things to my wardrobe, I have to say that one of the best things is re-discovering old seasonal goodies that have been tucked away in closets or stuffed in boxes underneath the bed for the past 6 long, cold months. It's like those items are new all over again! But it's a different newness; a comfortable, familiar, and welcoming newness–no harsh glare of dressing room mirrors or super-over-eager sales people required. The best.
So here I am, wearing (mostly) old clothes from a few warmer days ago. Hope you guys are having a good week so far!
 Jacket: Prabal Gurung for J Crew, old (similar here) (similar here) (similar under $100) (similar under $100) (last worn here)
Blouse: River Island, old (similar under $50) (similar under $50)
Shorts: Anthropologie, old (similar here) (similar under $100) (similar under $50)
Watch: Michael Kors Oversized Chronograph Watch in Rose Gold, old (buy it here) (similar under $100) (similar under $50)
Shoes: Elorie Aria Flats, old  (similar here) (similar here) (similar under $100) (last worn here)
Bag: Chloe Marcie Handbag in Milk Rose (buy it here) (similar under $500) (similar under $150) (last worn here)