Outfit Of The Yesterday: Trip to Missouri & Lake Of The Ozarks (+ The Perfect Peach Blazer)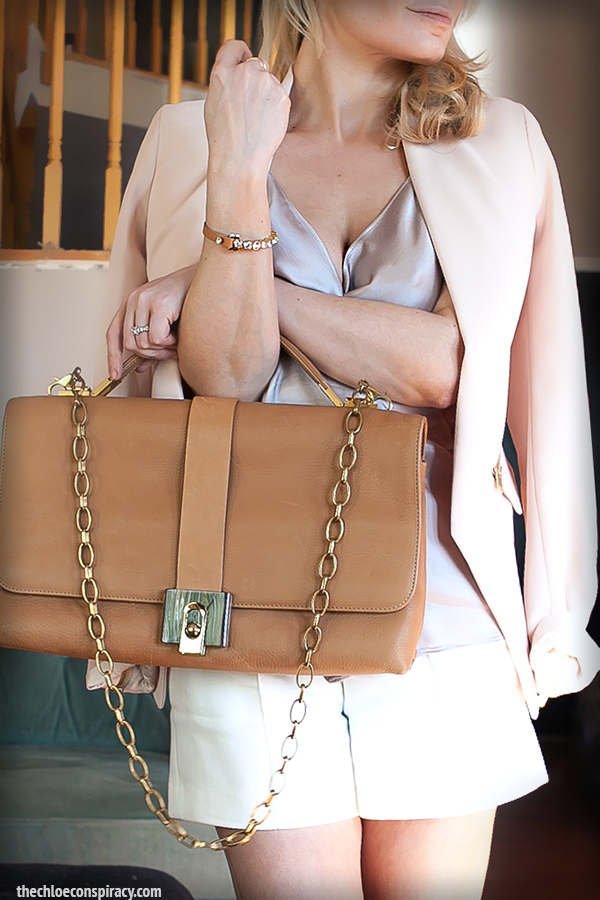 ♫: So Much Wine – Andrew Bird
Oh, hello again. Things have been a little crazy around here as of late, so I apologize for the lack of personal blog posts (outfits and otherwise). Things have been crazy! And I'll be honest, sometimes it's hard to sit and wrestle all the thoughts going through my head and out into a blog post that doesn't represent a pile of chunky word barf. (I am pretty sure this is going to be a bunch of chunky word barf and I will stop typing the phrase "chunky word barf" now because…ick, my apologies, chunky word barf.)
My husband and I recently had the chance to travel to Missouri to visit friends and family in that area. I had spent lots of time in Missouri as a little kid, the Kansas City area mostly, and I don't remember much of it except it was always summer and it was always hot, humid, froggy, and mildly terrifying (it was the 80's, after all):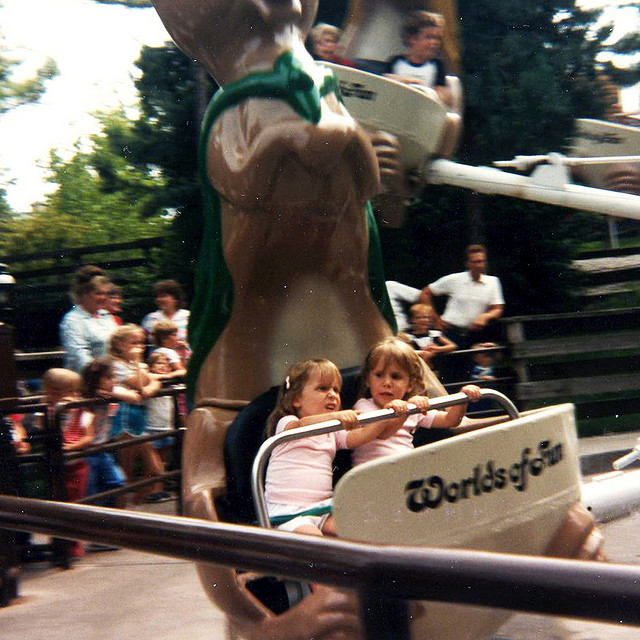 (Worlds of What the Fuck Mom, Make Them Stop This Crazy Ride) (also: easily my most favorite picture of my sister & me getting our total twin on. I have no idea who is who but when you are both sharing identical faces of sheer terror over the Kangaroo Ride at Worlds of What the Fuck does it really matter?) (My husband: "Yes. And the one on the left is definitely you because you STILL make that exact  same face whenever we hit turbulence over the Rockies when we fly to Las Vegas.")

So it was neat to go back and spend some time in areas different than Kansas City. We spent most of our trip in the Lake of the Ozarks/Osage Beach region, which was really pretty! Really pretty. Green and lush and pretty. I had set out with the idea that I was somehow going to convince our friends that had moved there (from Colorado) to move back (to Colorado, duh who wouldn't), but by the time our trip was done I was pretty well convinced that we were the ones that needed to move. Which, in my opinion, is the definition of a good trip–if you aren't left staring wistfully at a rack of Real Estate magazines in a local restaurant while eating breakfast the morning that you are leaving to head home, then you aren't doing it right. (And you'll just take a few brochures as you're heading out the door, stuffing them hastily into your handbag, for reading material you'll say–for the long ride home.) (Husband and I each just took a few, a fifty few.)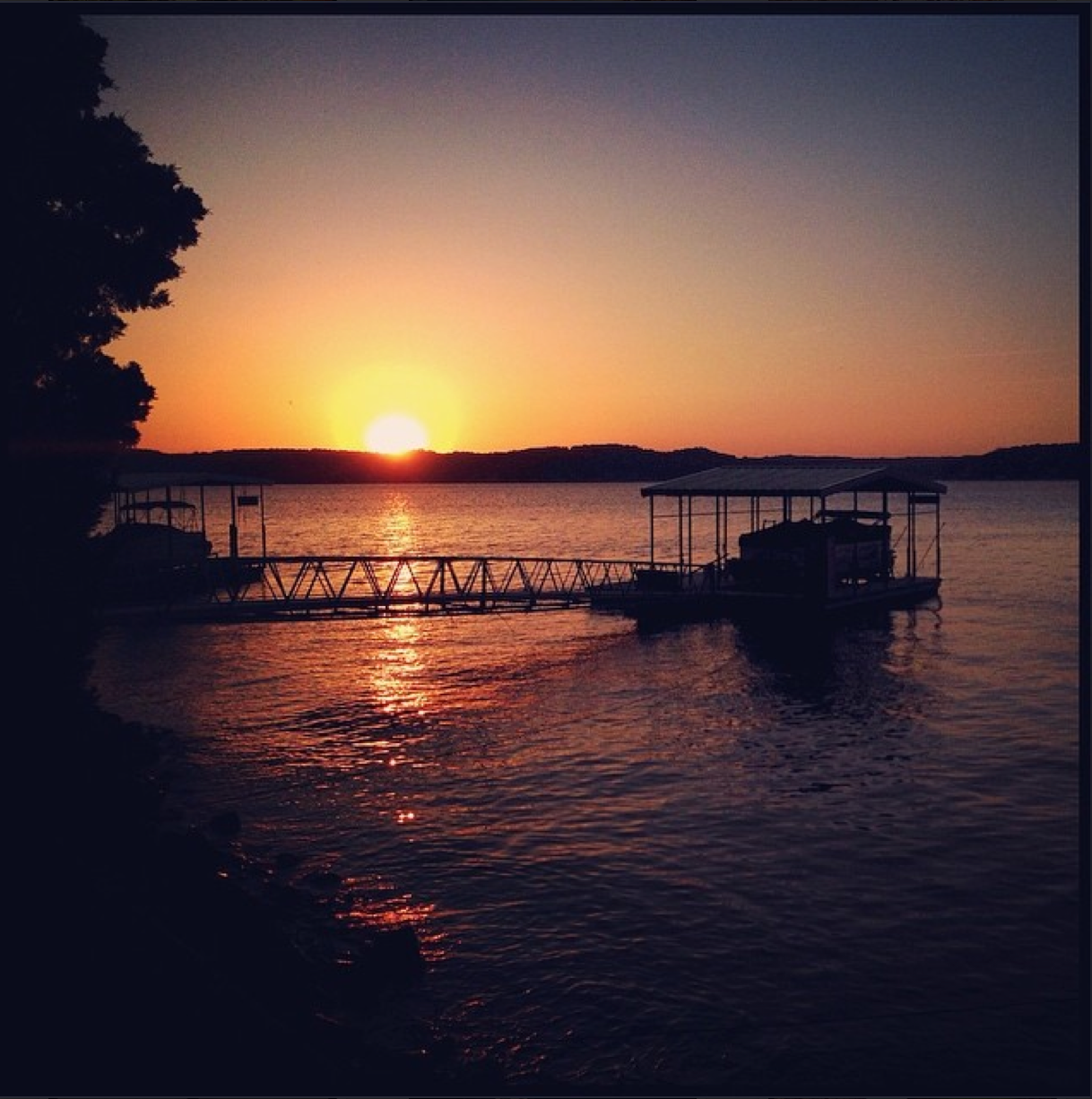 (Sunset off the dock of our first lake home in Osage Beach, MO–giving Colorado sunsets a run for their money)

We left our itinerary in Missouri mostly to the wind, since we were visiting two groups that were well-established in the area and decided that they would probably know the hot spots and fun times better than any travel website or magazine. And they did–we hung out on the lake, ate salt water taffy near the Bagnell Dam, fished off the dock, watched a little league baseball game with bugs as big as the baseballs, ate delicious bbq, ate delicious fried chicken, ate more delicious bbq, made s'mores around a fire, drank Marshmallow Pepsi from a small town drive-in, poked around the Ha Ha Tonka State Park area, talked, laughed, and relaxed. We also got to see my husband's cousin graduate from high school (and Kitty + Petunia got to play with 3 chihuahua cousins, totally entertaining), too.
It was a great trip and the perfect way to kick off the summer, although I didn't get to do two of the things I wanted to do (1. day to trip Hannibal, home of Samuel Langhorne Clemens 2. find a big, lush, grassy hill to roll throw myself down because you can't do that in the high desert of Colorado lest you want to be in pain for the rest of the summer/life)–but that's okay. We had a blast, and there will always be next time! Next time.
A small handful of my favorite pictures from our travels:
And now excuse me, I have some Real Estate magazines to read. We are getting ready to dive back into our home remodel (going on oh, 4 years?) and I need some ideas! Oof. I really do think that my husband and I are the most indecisive people on the planet (but sometimes I'm not so sure ha ha ha bad jokes, bad jokes) but we are finally getting things figured out. At least with the main floor bathroom.
More on that later–hope you guys are having a great start to the summer & here's an outfit I wore recently mixing some old with some new:
 Blazer: ZARA (buy it here) (similar here, on sale) (similar under $75) (similar under $50)
Top: ZARA (buy it here) (similar under $25)
Shorts: ZARA (buy them here) (similar under $50 after discounts)
Bracelet: Ann Taylor, old (similar here, on sale + now 40% off)
Shoes: See by Chloe (buy them here, on sale) (also available here) (a flat option here + under $75)
Bag: Lanvin Sweet Dora Messenger, old (similar bag by Lanvin here) (similar by Tory Burch) (similar under $500) (and a fun + funky option under $100)