(Outfit Of The Yesterday & In Review) Black + Gray + Coral + Yellow + The J Crew Hibiscus Floral Shorts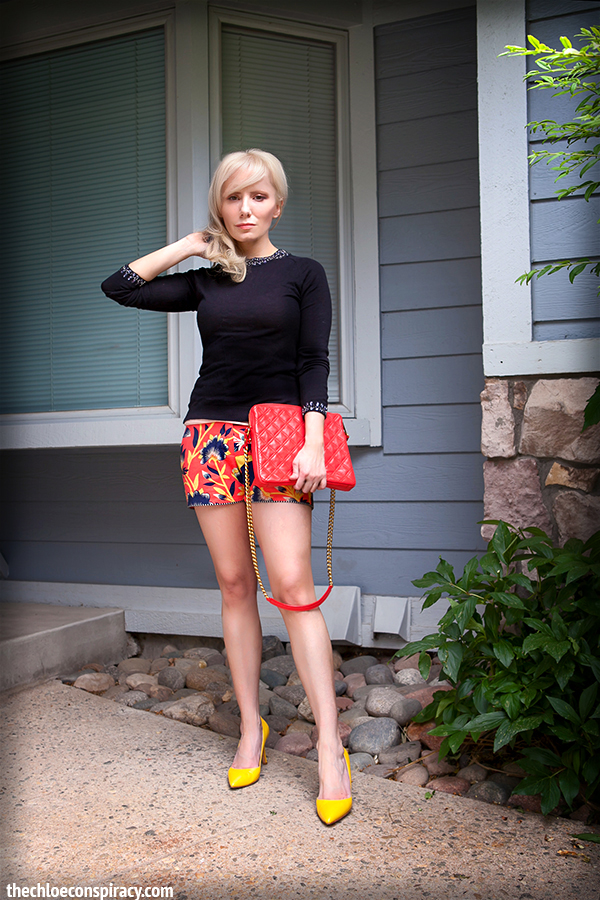 J Crew is known for having signature prints every season (like the Trastevere print from 2008–still one of my faves!) and this summer we have the Hibiscus Floral Print. According to J Crew, the Hibiscus Floral Print "comes from a vintage blanket (our head designer found it while on a trip to Connecticut and recolored it in a palette that pops)", which is kind of neat. It is a really pretty print.
I ordered the Hibiscus Floral Shorts when they first popped up online. I wasn't quite sure what to expect for quality, but I was pleasantly surprised when they arrived. They are made of a thick, textured cotton and are trimmed in a tiny white & navy check border–which I didn't even notice when I originally ordered them! It's an unexpected (but sweet) extra embellishment.
And as I mentioned above, these shorts aren't made from a soft or flimsy cotton–it's a much more substantial sort of fabric. The product description says it has a hint of stretch, and while the fabric itself might,  the waistband is lined and definitely doesn't give much (if any) stretch. Coupled with a lower rise that sits on the lower hips, I actually sized up one size from what I usually wear in J Crew bottoms (and probably could have even sized up one more). I tend to carry most of my extra weight in my lower belly, though, so those of you without Buddha bellies might be able to wear these in your normal size.

The one big drawback is that the inseam on these shorts is shorter (3 inches), so that means that in spite of their polished & dressier details they are definitely not appropriate to wear to work. The print comes in lots of other styles (see them all here), though, which is nice. I'm definitely eyeballing that Postage Stamp Mini, too.
All in all, I really like these shorts and have already been wearing them lots! You can grab these shorts on sale and take 40% off with code "HOTOUT" through 7/16–well done, J Crew, well done.
 Blazer: Banana Republic, old (similar here) (similar under $75) (similar under $25)
Sweater: H&M, old (similar here) (similar here, on sale) (similar here)
Shorts: J Crew (buy them here + take 40% off w/ code "HOTOUT")
Shoes: Manolo Blahnik Uliepe Pumps, old (similar here) (similar here, on sale) (similar under $50)
Bag: Marc Jacobs, old (similar here) (similar here, under $200) (similar under $100)