Outfit Of The Yesterday: Swingy Chambray (+ The GAP Panama Fedora, Too)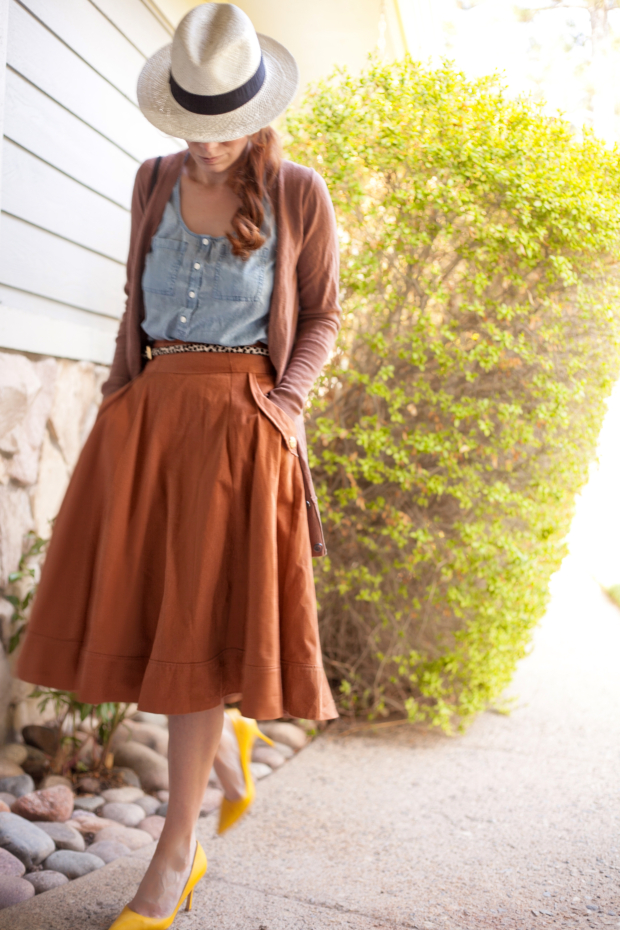 Summer vacation-time is right around the corner, and after a year of staying fairly grounded (South Dakota doesn't count as a vacation, does it?) (Nooo.) we're making up for lost time this year and have a few beach vacations on our schedule over the next few months. Which is great!
Except since my diagnosis with Lupus nearly 8 years ago, it's become a bit of a hassle. I shouldn't be in or around the sun at all, which makes beach vacations tricky. And heavily-scented with the smell of buckets of sunscreen and sorrow. Which also happens to be the what I'm going to rename this blog to. Someday. Someday.
While I miss the toasty warm rays of the sun making my skin all crisp and bronze and leather-y, it has been a blessing in disguise. I realized during a trip to Hawaii five years ago that having to constantly wear hats isn't a bad thing. It's not a bad thing at all–hats are easy to wear and they cut my total bathroom primp time to mere minutes. Which is amazing when you're paying money to transplant yourself in an exotic tropical oasis–who the heck wants to spend hours staring at themselves in a mirror when there are neat things to see and adventurous things to do? NO ONE. SO STUPID.
It also removes the frustration that comes with trying to do hair and make-up in foreign climates. I live in Colorado, which is so dry that Origins actually has a special moisturizer they sell just to us. It's so dry here that my hands cracked and bled every single day for nearly 6 months after I moved here. It's not good for hair and skin (which I am reminded of every time I see my very own personal case study) (also known as my twin sister, who does not live in a dry climate), but it also causes a bit of a shock whenever I suddenly find myself anywhere that has a humidity over 30%. My hair turns to a giant fuzz ball, my hairspray turns to glue, my ultra-moisturizing foundation drips and slides off my face. Hats. They are the solution to everything.

Plus my husband says I look good in hats. Which I totally don't think is a compliment (congratulations, I look great with half my face covered!) but that's okay. I have to wear hats and since embracing it, vacations have become all the better.
I picked up the hat I'm wearing below recently at GAP and I love it–I think a classic panama hat is something everyone should have in their wardrobe. It does run a bit small-ish; I'm wearing it in a M/L. below.
It's currently 40% off, too! Head here to shop it (and check out this handy & downloadable hat size ruler you are unsure of sizes!).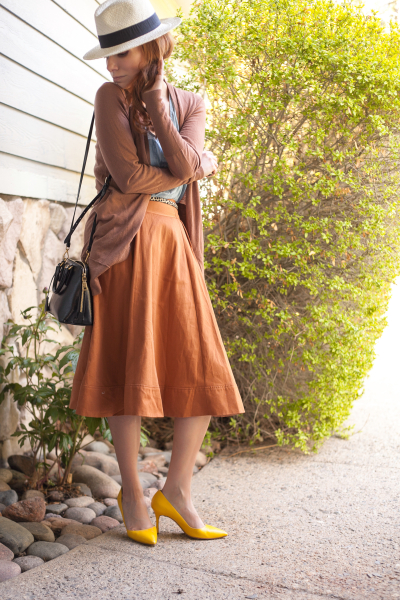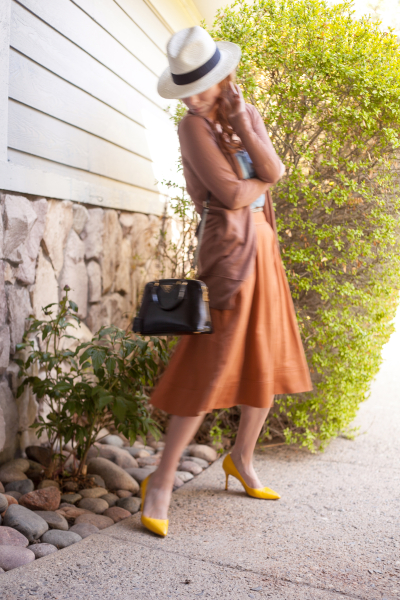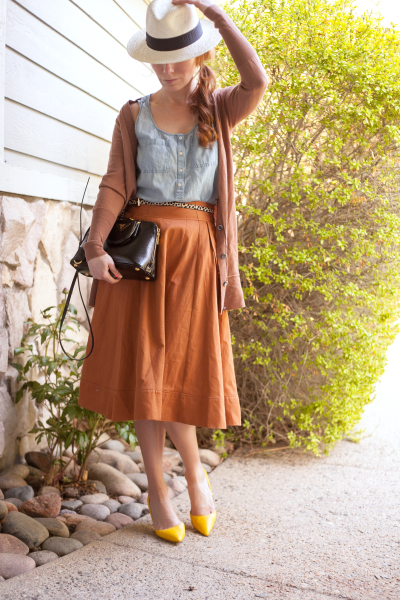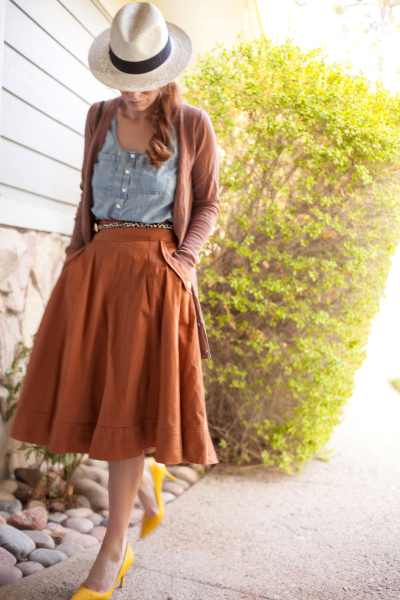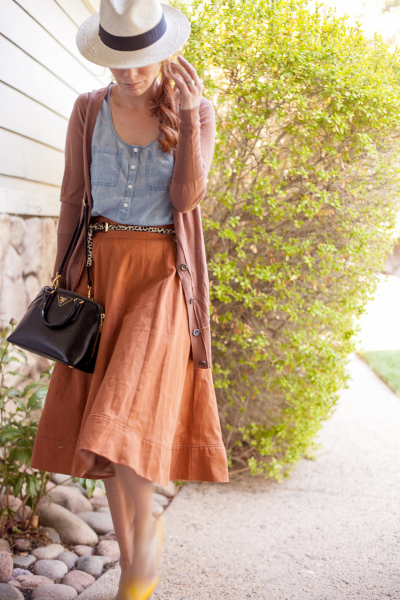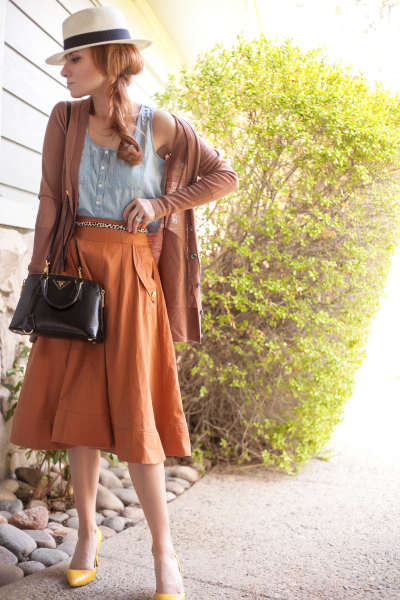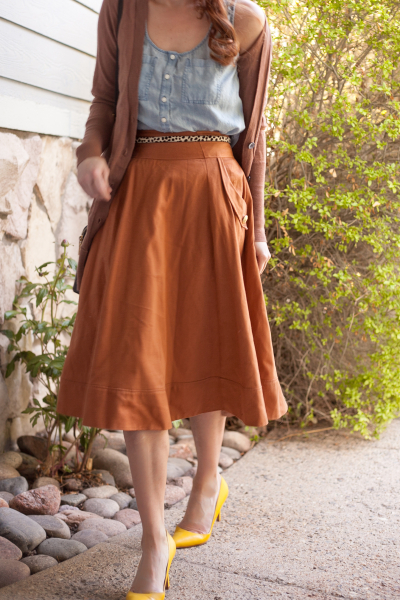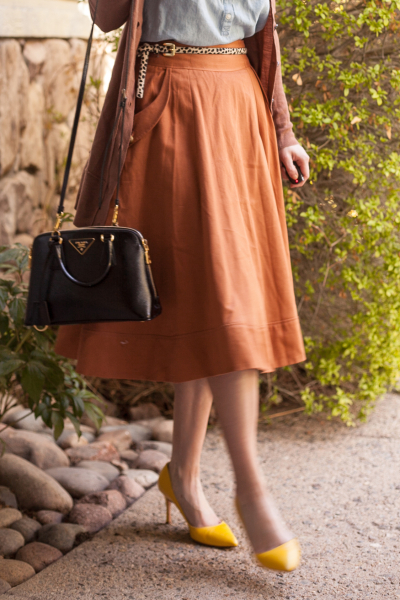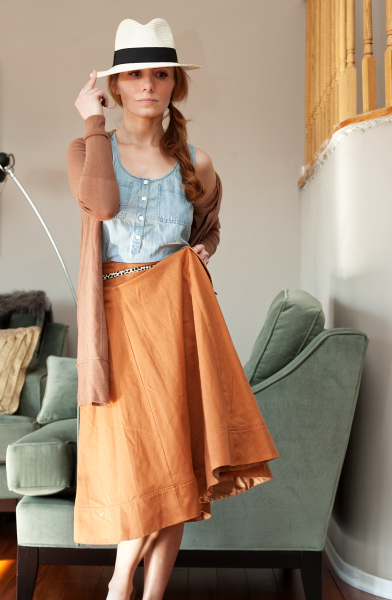 CARDIGAN: J Crew, old (similar here) (similar here)
TANK: LOFT, old (similar here) (similar here) (similar under $30)
BELT: Ann Taylor, old (similar here)
SKIRT: ASOS, old (similar here) (similar here) (similar here)
SHOES: Manolo Blahnik (similar here) (similar under $100) (similar under $100) (similar under $100)
BAG: Prada Small Saffiano Dome Bag (buy it here) (similar here) (similar under $50)
HAT: GAP (buy it here) (similar under $50)
*And don't forget! to check out The Big Daily List of Sales & Deals for up-to-date coupon codes & discounts for nearly all of the retailers featured above, too!