(Updated 11/25) The Ultimate 2015 Holiday Card Guide: My Favorite Tips, Tricks, & Deals!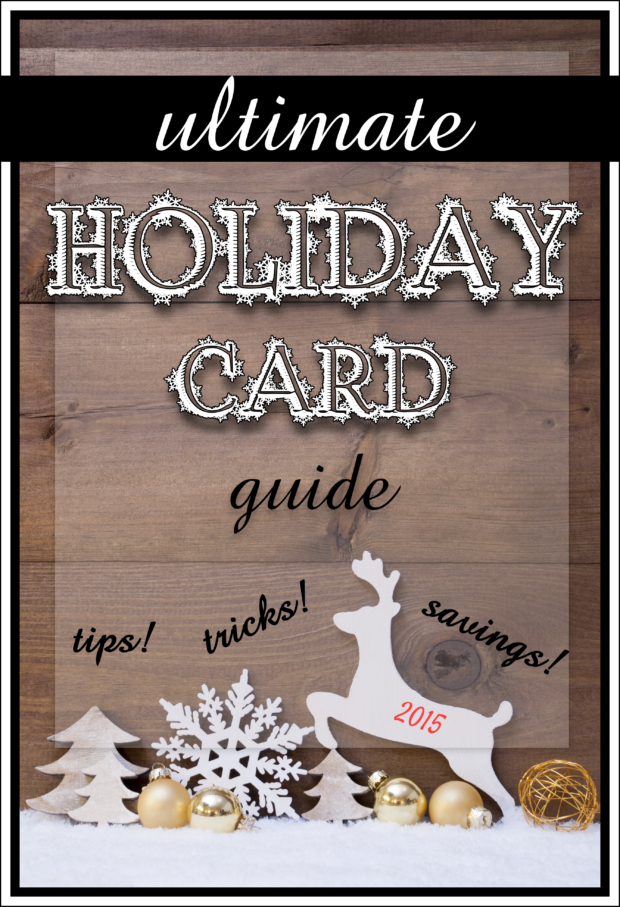 UPDATED ON 11/25/2015: I posted the original post on 11/22, but the holiday card design tips & tricks will last all season! Better yet? I've updated all of the deals at all retailers below too so they are now current–take up to 50% off on holiday card orders at places like Tiny Prints, Shutterfly, Minted, Papyrus, and more–this weekend only!
It's once again that time of year; time for mailing (graciously!) boastful letters and gorgeous holiday cards and a bunch of good cheer. If you're like me and don't like to procrastinate, this is the time to get the process started–it's the last weekend before the madness of the holidays truly kicks off, and most stationery retailers are having some pretty spectacular sales too! Read on for my quick & easy tips for creating great holiday cards & see some of my favorite holiday card finds too…
11 EASY TIPS FOR

GREAT

HOLIDAY CARDS:
Make a (mailing) list and check it twice:

I don't know how many times I've purchased holiday cards thinking I bought more than  enough, only to realize I needed more. Lots more. While it's fairly easy to correct that mistake with store purchased cards, if you're designing personalized photo cards it can be a bit of a pain in the butt to submit another order. Make sure to draw up a list of everyone you'd like to give holiday cards to in advance, and then keep that list tucked away somewhere safe so you can reference it in the future, too. 

AFRAID YOU'RE GOING TO LEAVE SOMEONE OUT? 

No one wants Great Aunt Gertie to feel slighted when she visits your Uncle Moe and sees a super fancy, totally cool photo card on his fridge–a photo card that she didn't receive. My rule of thumb is this: if you like that person and that person is likely to physically see your fancy photo card somewhere else other than their own mailbox, you better send one to them too–you do not want things to get awkward over the Christmas Day yuletide & ham. Carving knives are kinda sharp, you guys.

Get them done early, early, early:

I like to get my holiday cards ordered before Thanksgiving–once Turkey Day hits, the month of December absolutely flies by. Another thing to keep in mind? Sometimes custom photo cards don't turn out exactly as you thought they would. Getting your design figured out early buys you a bit of time just in case you do need to re-design & re-order! The weekend before Thanksgiving is the perfect time to sit down and figure out your holiday card game plan, and it'll still leave you plenty of time in case something goes amiss. (I'm actually working mine as I type this post–look at me gettin' fancy with my multitasking.) (This rarely happens, ahem.)

And take advantage of promotional sales & deals early, early, early too:

Hate the last-minute holiday rush? Most online paperies do too, so be on the lookout–most will begin offering some really great deals on their products & cards early in the season. Some (like Minted.com) will even let you buy a personalized card package at a discounted sale price now and submit your designs later–so there's no need to stay up all night designing a card just to take advantage of a great limited-time deal. Buy now, personalize it later, and save money all at the same time–easy-peasy. Click here to see all of the current sales, deals, and promotions at retailers like Tiny Prints, Shutterfly, Minted, & more!

if you are designing your own cards Keep it cheery, colorful & simple: 

The idea behind custom photo cards is that the recipient will hopefully display (and cherish) (or at least like) the card throughout the holiday season–no one sends out expensive personalized photo cards with the intention that the receiver will just turn right around and toss it in the garbage. Egads. But keep in mind that the bold, crisp design that you see on your computer will likely look less vibrant and a bit dull or blurry in print, since most printing processes aren't of the same caliber. It will also be smaller in person, so refrain from plastering your card with dozens of tiny, hard-to-see photos and opt for one or two pictures large pictures instead. And absolutely avoid using photos directly pulled from your social media accounts at all costs–Facebook and Instagram automatically save images at a low, poor-quality resolution for faster site loading times. Try to use high resolution photos directly pulled from a camera that are clear, well-lit, vibrant, and don't have a lot going on in the background–those always look best once printed and they can really make your holiday card design pop? Still not sure if your photos will cut it? Head here for some more great photography tips!

Consider spending some money & time on what you send out:

I view it like this: as we get older, it's incredibly easy to lose touch with those in our past that we still might hold near & dear in our hearts. Life gets busy and life moves fast. If this is the one piece of correspondence that some in our lives may receive on an annual basis, put a bit of effort into it! Splurge on the nicer designs (if your budget allows it) and consider adding some personal touches like handwritten messages & custom address labels, envelopes, and stamps.

But if you are working with a budget, get smart on what you spend & send:

Not everyone needs a super fancy personalized holiday photo card–especially acquaintances and co-workers. If you're tight on money, send the spendy photo cards only to those that you're closest to, and then hit up places like Target and Hallmark for cute budget-friendly boxed cards. Worried that that's too generic? Etsy is another great place for surprisingly affordable cards (and they are much more one-of-a-kind!).

get creative & get funny:

One of the best and most memorable personalized holiday cards that I have ever received was from a close friend of mine that involved a photo of her giggly kiddos grinning broadly with a roll of duct tape over their mouths–along with a quip about them having a "Merry Christmas & A Not-So-Silent Night". It was funny, it was different, and it encapsulated the spirit of her adorable and rambunctious family perfectly–I still hang it on my fridge every holiday season! You don't always need to spend a lot of money to make a great, memorable card–look around on Pinterest for some easy and creative ideas on how to really make your holiday cards special and worth every single penny that you've spent on it.

Skip the holiday letter:

Unless, of course, it's a tradition. Thanks to the technological advances of social media, the people that are closest to you likely already know every single move you make in life. Literally. Literally everyyyy move. And since that thing you ate for lunch yesterday looked so amazing on Instagram, there's no longer a need to send a single-spaced, front-to-back novel out with your holiday cards–that is pretty much what Facebook is now for. Still feel the need to send some type of "yearly wrap-up" with your card? Both Shutterfly and Tiny Prints offer custom holiday cards that incorporate it right into the design–which is simple, sweet, and not nearly so humble-braggy.

If you're short on time, consider doing this:

Some of us are busy, busy, busy and simply don't have the time to create, design, and hand-address holiday cards. Some of us also type nonstop for a living and now have the hand-writing of a drunk toddler that can barely read her own grocery store lists, let alone coherently address Christmas cards (Hi! I'm talkin' 'bout mahself!). Thankfully there's a solution–a lot of online stationery retailers now offer custom envelope addressing for a small fee. Simply plug in the addresses of your recipients and you'll receive custom envelopes that are pre-addressed along with your order. Minted.com even offers this service for free! It's a great way to save a bit of time and it makes your holiday cards extra special, too. Another time-saving tip? Many online stationery stores and paperies offer what's called a "designer review"–for a nominal fee, an expert from that retailer will personally view your card before it goes to print to catch any mistakes or design errors, insuring that your holiday card is the very best it can be.

but Most importantly, just make sure you send *something*:

If your budget doesn't allow for anything fancy or your schedule doesn't allow time for designing a creative card…that is absolutely okay. Really. It is! In the end, simply sending anything to say hi or to send holiday well-wishes is all that really matters–even if it's just a Post-It note with incoherent doodles. (What can I say? The early twenties were a tough, tough time.)

In all seriousness: while designing creative holiday cards to send out can be lots of fun, my favorite thing about the holidays is receiving cards from both those that I am close to & those that I haven't talked to in awhile. It is great to know that people still think of you. Cheap, expensive, plain, fancy, simple, cluttered, addressed to some stranger named Cloey, or received well into the month of March–I have never received a holiday card that didn't make me smile or my heart sing. I bet you haven't, either. 'Tis the spirit of the season–happy holiday card creating & receiving, you guys!
take up to 20% off with code "BF2015" (ends 11/27)
Looking for unique & creative  holiday card to send out this year? Minted believes that "great design lives and thrives in the hands of independent artists that people do not have access to through traditional retailers", which means there are literally thousands of designs to choose from (and most designs are highly customizable from the font to the photo to even the envelope your card is sent in!). Minted also offers a "buy now, personalize later" option, so if you see a deal pop up on their website that you want to take advantage of but don't yet have a design prepared, you won't miss out! But the best part about Minted? You'll be supporting a hard-working independent artist. Take 15% off on all purchases of holiday cards (or 20% off on purchases of $150) and get free envelope addressing too with code BF2015 thru 11/27.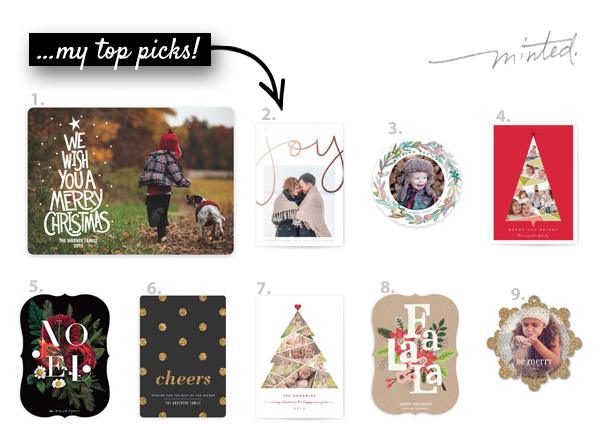 1. We Wish You a Merry Christmas 2. Joy Foil-Pressed Holiday Card  3. Wreath of Joy Holiday Photo Card  4. Complete Photo Tree Holiday Geo Card  5. Floral Holiday Card 6. Festive Glow "Cheer" Holiday Cards  7. Complete Tree Christmas Photo Card  8. Fa La La Holiday Card  9. Be Merry Holiday Ornament
take 20% off on custom printing orders of $100+ with code "HDYCP15" (ends 11/29)
Looking for something a little more simple but still just as elegant, unique, and chic? Not interested in customizing your cards? Papyrus has a huge collection of holiday cards brands like Kate Spade New York, Old Tom Foolery, MoMA, Palm Press, and their own house brand ranging from cheeky to cute; gorgeous to sparkly; simple to sweet. All boxed holiday cards are currently buy one, get one 50% off (no code required!) thru 11/29.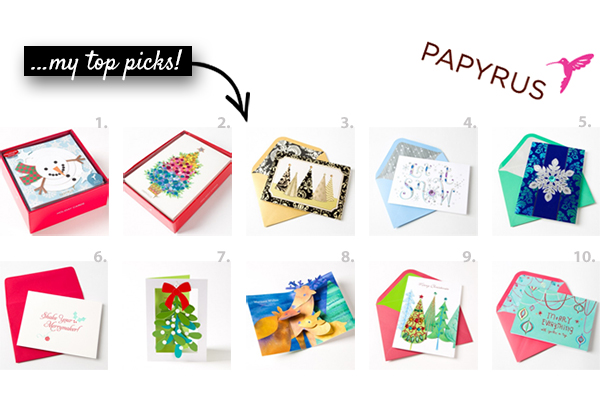 1. Handmade Snowman Holiday Boxed Cards 2. Handmade Colorful Tree  3. Trees on Black Flocking  4. Handmade Let it Snow  5. Snowflake on Blue Damask Flocking  6. Shake Your Merrymaker Boxed Cards  7. Mistletoe by MoMA8. Nestling Deer by MoMA  9. Handmade Sketched Trees Christmas Boxed Cards 10. Merry Everything Cards
While Rifle Paper Co. has gone from a small husband & wife-owned stationery shop to an international brand (carried in stores like Target, Anthropologie, & Shop Ruche!) over the past handful of years, they haven't lost their quirky, whimsical, and cool aesthetic. It's especially true with their holiday cards: they're warm, bold, brightly colored, and beautiful–everything a great Christmas card should be.  They also use FSC-certified paper stocks with recycled content and environmentally responsible printers–meaning their products are both earth-friendly and well-made.
Have some extra cash to burn and want a holiday card that is truly one-of-a-kind and unique? Rifle Paper Co. has a line of custom cards with hand-drawn illustrations of you, your favorite family members, and even your pets. They're pretty pricey (I can't lie: I priced out 50 holiday cards for my husband, our two dogs, and me–and it clocked out at over $600!) but they are sure to linger on the front of your loved ones' fridges long after the holiday season. Want something more budget-friendly? Rifle Paper Co. also offers gorgeous boxed holiday cards starting at $16 for a set of 8. (Please note: there currently aren't any discount codes available, but sign up for their e-mail newsletter–they occasionally send them out & one is sure to pop up soon!)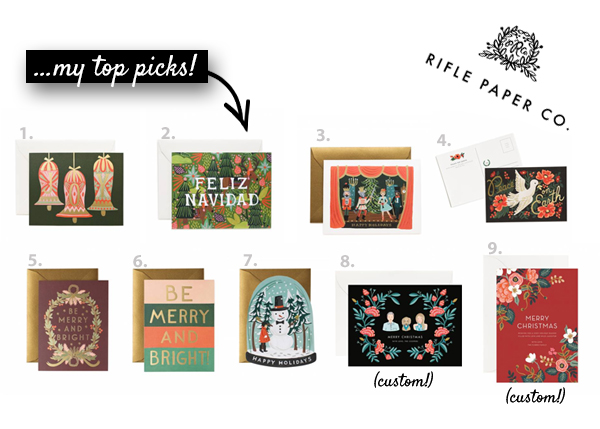 1. Joy Ornaments Cards  2. Feliz Navidad Cards  3. Nutcracker Scene Cards  4. Peace on Earth Postcards  5. Be Merry and Bright Wreath Cards  6. Be Merry and Bright Striped Cards  7. Snow Globe Cards  8. Poinsettia Personalized Portraits Cards  9. Birch Floral Custom Cards
take up to 50% off on your entire purchase with code "BIGSAVINGS" (ends 11/26)
Are you a photog that wants a holiday card stuffed full of your favorite photos that you snapped throughout the year? Shutterfly is currently having one of the bigger deals contained in this post–30% off on all purchases; 40% off on purchases of $49+; or 50% off on purchases of $149+. It's an excellent sale if you want to save big on your holiday cards while also saving some money on customized photo gifts (think mugs, jewelry, canvas prints, clothing–even shower curtains) (yes–shower curtains). Use code BIGSAVINGS thru 11/26 for this deal, or head here to see all the sales & promotions that Shutterfly is currently offering.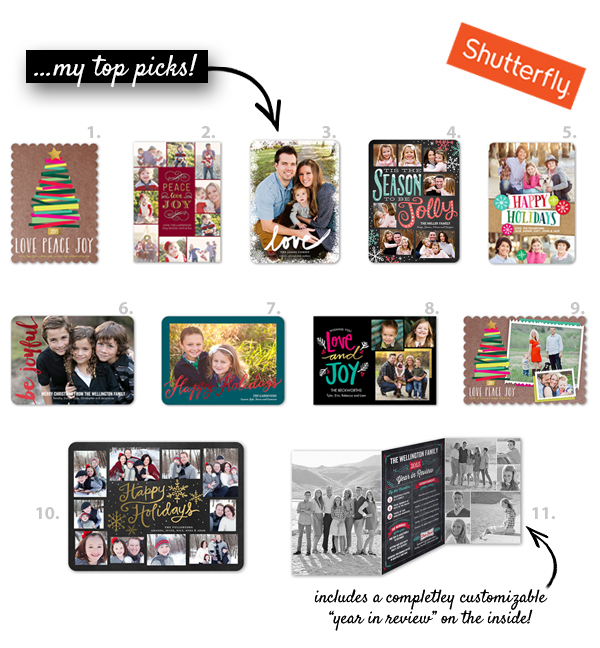 1. Bright Festive Tree Christmas Card  2. Vintage Collage Christmas Card  3. Frosted Love Christmas Card  4. Wintertime Fun Card  5. Vibrant and Vivid Card  6. Joyful Shine Card  7. Spectacular Happiness Card  8. Whimsical and Bright Holiday Card  9. Bright Festive Tree Christmas Card  10. Winter Snowflake Wishes Holiday Card  11. Year In Review Chalk Christmas Card
take up to 40% off  + get free shipping on all orders with code "THANKS40FS" (ends 11/26)
Tiny Prints is the more customizable subsidiary to Shutterfly, and a great option if you want a little a lot more control over your holiday cards. Customers can personalize everything from their cards to their envelopes to even their postage–is there anything neater than designing your very own stamp? Beat that, Martha Stewart. Shoppers can take 30% off on all orders (or 40% off on purchases of $149+) plus get free shipping with code THANKS40FS now through 11/26. Belong to Gilt? They're also offering a $100 merchandise credit for just $50 (or a $50 merchandise credit for $25) thru 11/28–head here to purchase!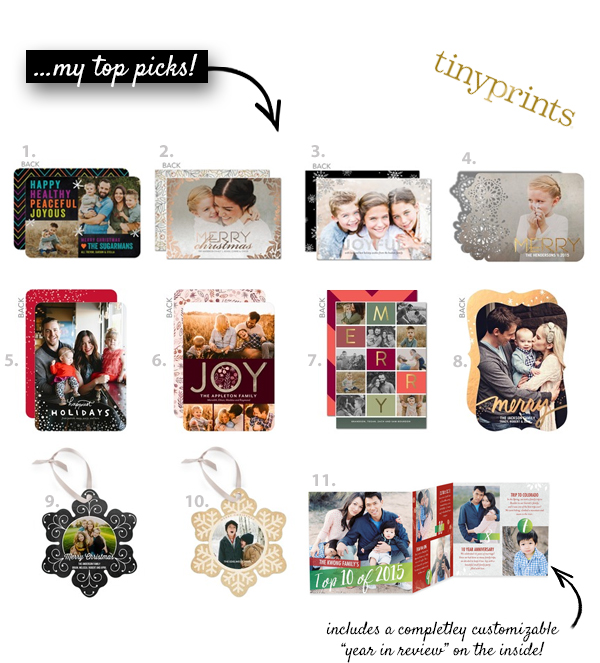 1. Metallic Moments Cards 2. Framed Holly Foil Stamped Holiday Cards  3. Glowing Glitter Holiday Cards  4. Paisley Crystals Gilded Laser-Cut Cards  5. Speckled Vignette Foil Stamped Holiday Cards  6. Jeweled Joy Holiday Cards  7. Golden Lattice Foil Stamped Holiday Cards  8. Merry Trails Flat Holiday Photo Cards  9. Chalked Greetings Die Cut Snowflake Ornament Cards  10. Frosty Snowflake Die Cut Snowflake Ornament Cards  11. Savored Moments Ruby Tri-Fold Cards 
Take 15% off all purchases of $30 with code "HELLZYEAH"
If want your holiday cards to be cute, cheeky, and (most importantly!) easy, check out Old Tom Foolery. I originally discovered Old Tom Foolery at one of my favorite stores in my hometown (shout out to Zandbroz Variety!) and they don't do customized or personalized cards, oh no–as their slogan touts, their their speciality lies in "unsappy, uncrappy cards and curiosities". Most cards are available single or in sets of 6, and for a limited time only shoppers can take 15% off on all purchases of $30+ with code HELLZYEAH. Make sure to check out their collection of birthday & wedding cards, too–they certainly have a way with words.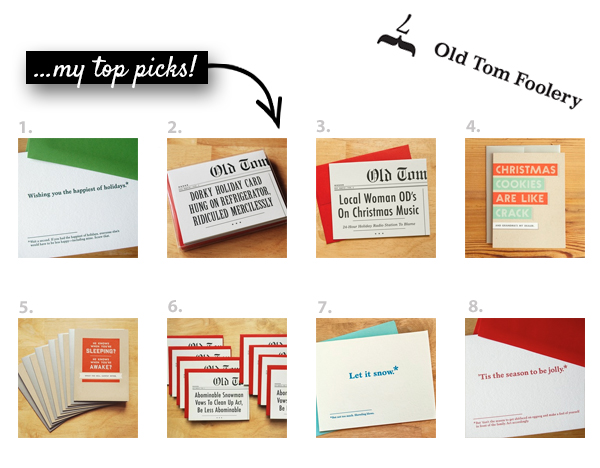 1. Wishing You The Happiest of Holidays  2. Dorky Holiday Cards  3. Local Woman OD's on Christmas Music  4. Christmas Cookies are Like Crack  5. Santa, Mind Your Own Business 6. Be Less Abominable  7. Let It Snow  8. Tis The Season To Be Jolly
Have any questions? must-try Tips of your own for great holiday cards? Share in the comments below!