Outfit Of The Yesterday: The J Crew Regent Blazer + A New Year's Recap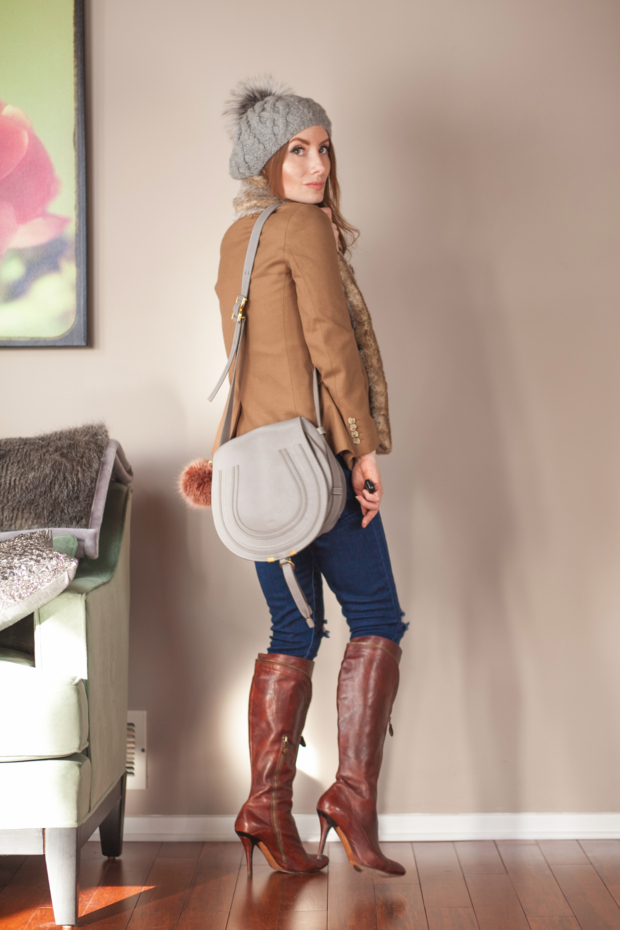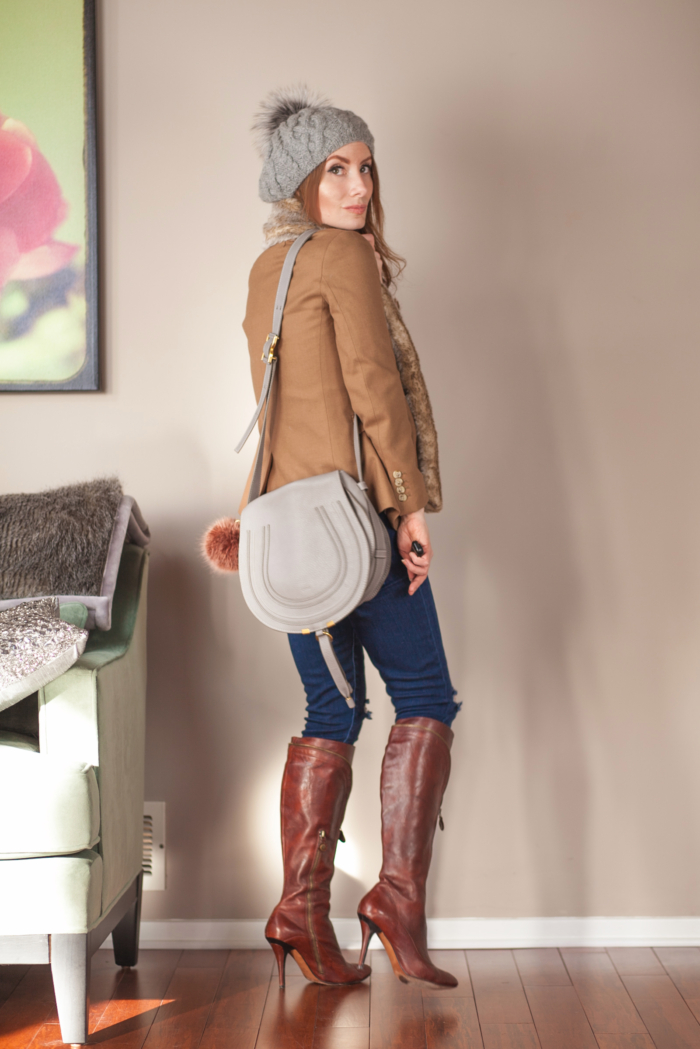 (♫: Heads Up – Jain)
I hope you guys had a great Christmas! Mine was busy, busy, busy–between finishing up the tail-end of our main floor bathroom remodel and having my family out in Colorado this year to help celebrate the holidays, time absolutely flew by. It's hard to believe it's already the middle of January!
My husband and I almost always travel for the holidays, and so our past New Year's Eve celebrations usually involved us getting shot up into the sky out of South Dakota, dumped off of a crop-duster in what feels like western Kansas (also known as the third-world basement of DIA) (also known as the very last of the United Airlines gates in the B terminal), trudging five miles to the luggage carousel, and then tiredly waiting for our luggage with all the other silent, stoney-faced late-night travelers with only the honk-honk-honk-squeaky-squeaky-squeak of the luggage carousel filling the air.
Since we stayed in Colorado this year, I got the wild idea that we should go out and do something crazy. We should actually celebrate. The year of 2016 sucked, I have a weird thing with numbers and hate the number seven so I'm pretty sure 2017 is going to suck too, and…happy New Year! I'm a weirdo that has definitely had Christmas At Ground Zero by Weird Al Yankovic stuck in my head (and a sense of impending doom stuck in my heart) since oh, around November 8th or 9th. Give or take a few days. I've…kinda lost count at this point. It's all a blur. And isn't that a small victory now worth celebrating?
(Nooooo,)
But I digress. Since we were home in Colorado this year, we decided to ring in the new year in the best way we knew how: by getting together with friends, bingeing on some good comfort food, hopping on the light rail to downtown Denver, getting liquored up at a few of our favorite local Denver establishments, and then watching the fireworks on the 16th Street Mall once the clock officially struck midnight.
After we stuffed our faces with pasta in Lone Tree (I love the manicotti at Pasta Jay's so much), the light rail dumped us out into the bitter cold of winter near the Convention Center and we immediately beelined it past the Big Blue Bear to Backstage Coffee for some big ol' mugs of hot chocolate. Some poured Kahlua in theirs, I had Bailey's in mine, and while hanging out inside a coffee shop might seem like an odd way to celebrate anything (aside from how odd you are, I guess–but no judging from me, the secret lifelong Weird Al Yankovic fan), we quickly realized we had great seats for the maybe best entertainment in town: a straight view of the taxi cab line dropping off revelers and partygoers for the Great Gatsby-themed White Rose Gala at the Ellie Caulkins Opera House.
One of my favorite things about Denver is the friendly array of faces, places, and attire. We're part urban metropolis, part rugged cowboy, part happy hippies, and part North Face fleece vest capital of the world.
The stream of people heading into the White Rose Gala was no exception.
It was full of glittery gowns, cute cocktail dresses, flapper-inspired frocks, swanky dapper suits, and too-tight-from-too-much-holiday-food tuxedos. People leapt out of taxi cabs, fell disheveled out of limos, somersaulted happily out of bicycle rickshaws, and exited awkwardly out of Ubers.
Most then walked briskly in the cold air past the windows of Backstage Coffee and straight towards the Ellie; others bumbled by with an incredibly bad case of the wobbles–the type of severe and slurred stumbling caused only by all-day drinking, incredibly painful footwear, or a bad mixture of both. A brave few stood right where they had been dumped by their mode of transportation, hopping up and down to stay warm while breathing out thick puffs of air and making the ultimate sacrifice of waiting out in the bitter cold for their friends to arrive, too. 
I honestly think we could have sat there all night. No snark! It was the ultimate in people-watching, and above all it was oddly…comforting to be out and about celebrating something (anything!) with other people, too.
We eventually forfeited our table in Backstage Coffee to others looking to warm up and people-watch, and made our way across the street to The Corner Office for some more drank-drunk-drinking. Our bellies full of pasta, our hearts full of way too much alcohol, we then traipsed toward the hoard of people that had gathered on the 16th Street Mall–and we arrived right as the countdown to midnight begun.
We joined in with an endless sea of people screaming numbers in unison as we looked up towards the sky, and then…
Nothing! A clusterfuck of serious confusion. We could definitely hear the fireworks, but…where the heck were they? 
"This way! This way!" someone yelled and we all sprinted a block back towards 15th and Curtis. And there it was! Skyline Park was awash in smoke and light and bright color, and I decided right then it was the most beautiful thing I had ever seen…in, um, awhile?
It was also the most drunk I had been in awhile–which I am sure had no factor in any of my fuzzy feelings, even if my husband says I still need to issue a sincere apology to anyone that was standing near me that I might have scared with my babbling and crying. Like him. Oh geez.
But while things might seem a little uneasy and unknown and scary as we rocket into 2017, I still continue to have my simple (bleeding-heart) faith that Americans and Coloradans are united in being good, doing good, and doing the right thing.
I can only hope that that small faith is enough. I think we are about to find out.
So with that here we begrudgingly are in 2017. Below is what I wore on New Year's Eve, as they say–as the Grinch's small heart grew three sizes that day.
(Also: I am wearing the Regent Blazer from J Crew in a petite size 0. I had originally tried on the regular size 0 at the store in Cherry Creek and loved it, but the petite size is a nicer little fit on my 5'2″ body and t-rex portioned limbs. I've been wearing it nonstop lately!)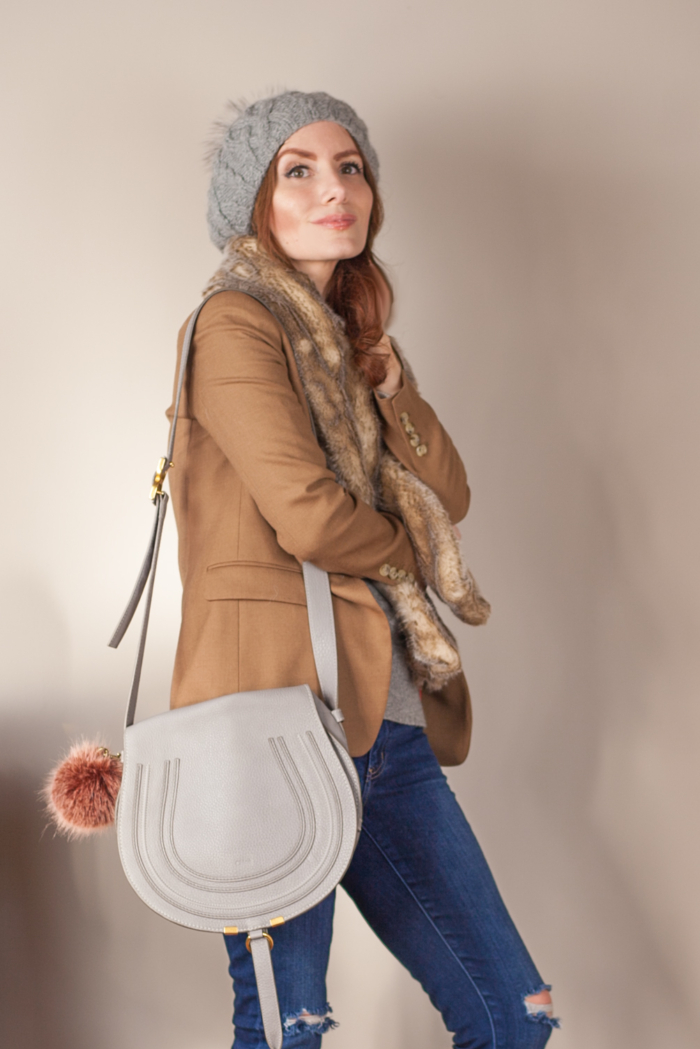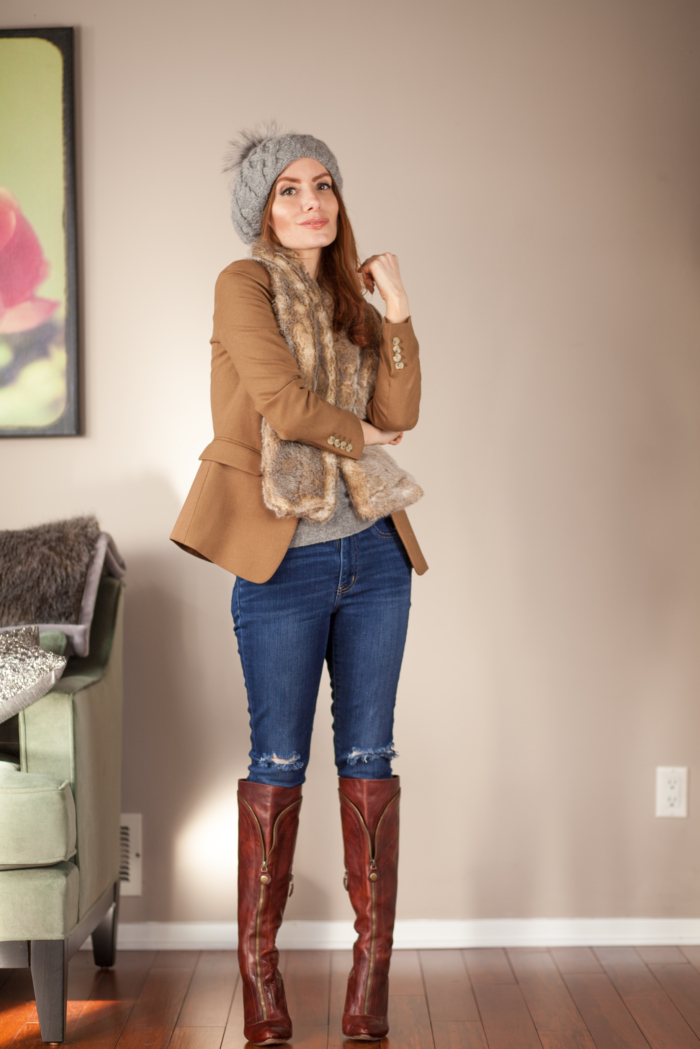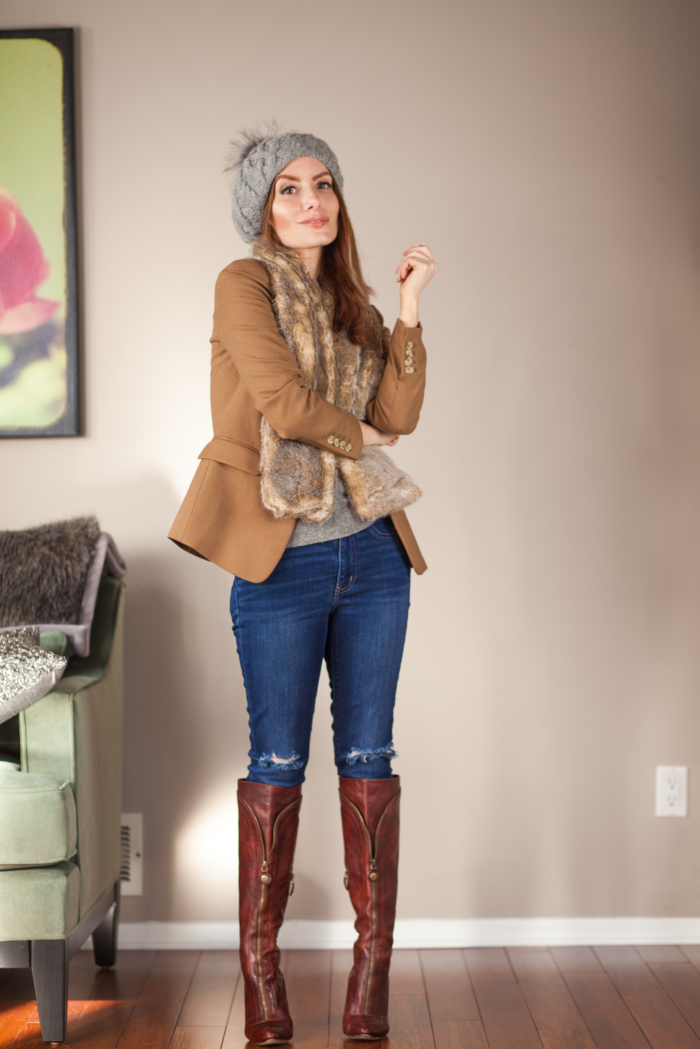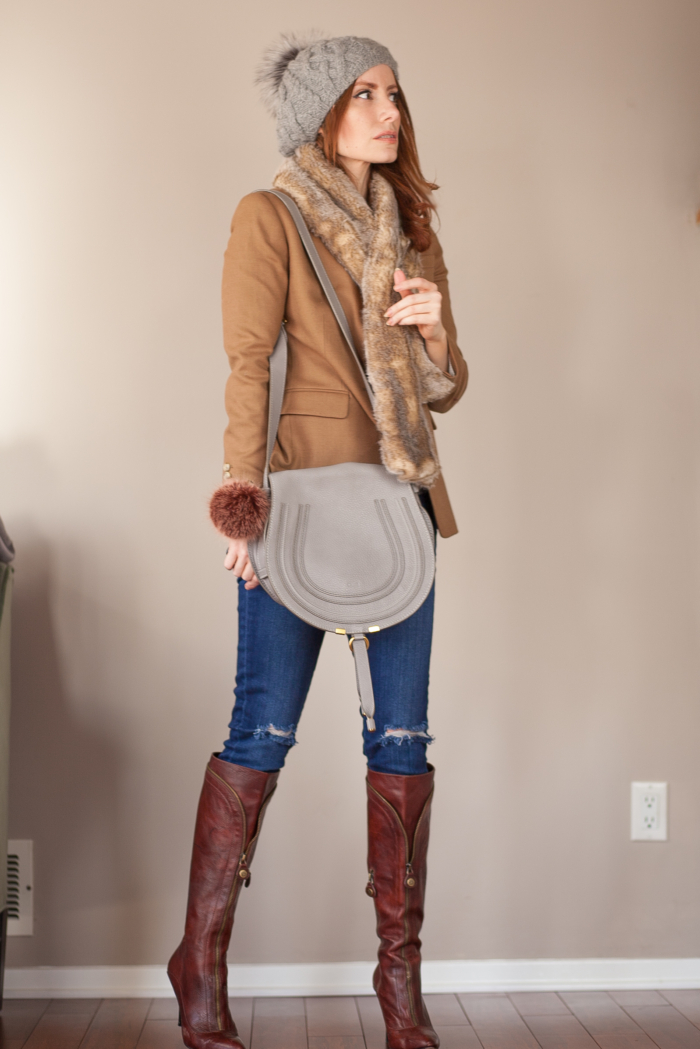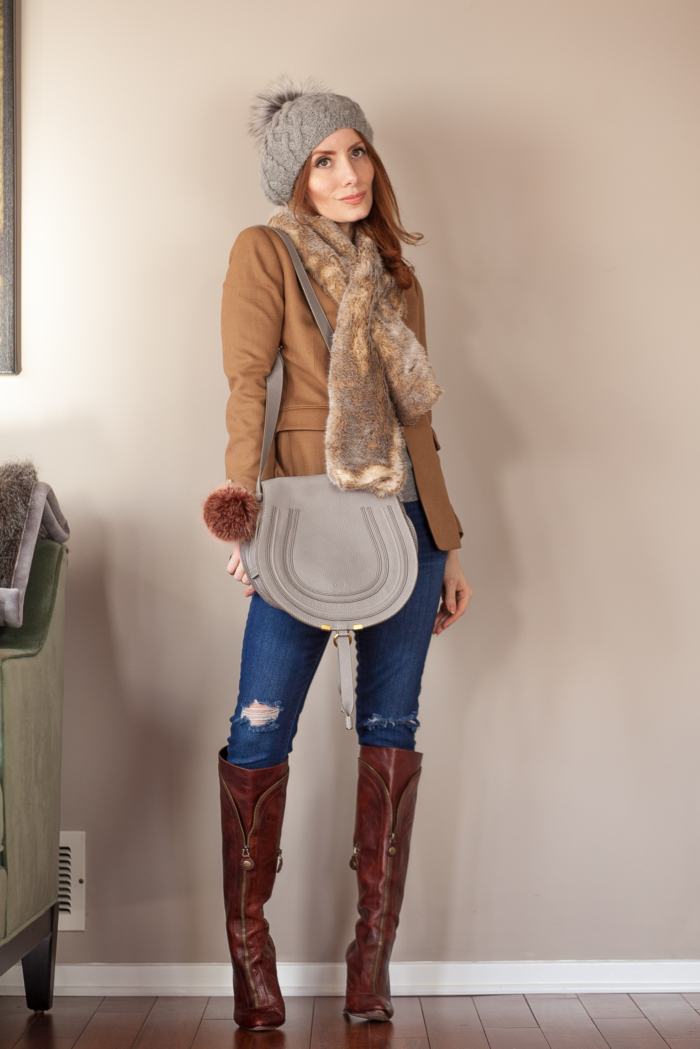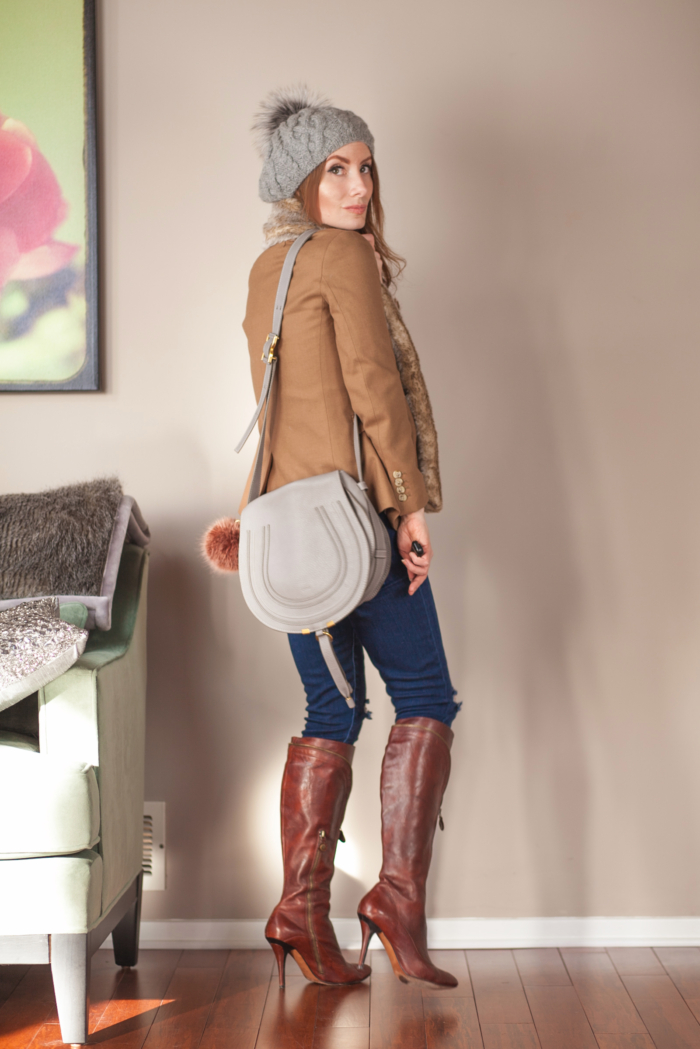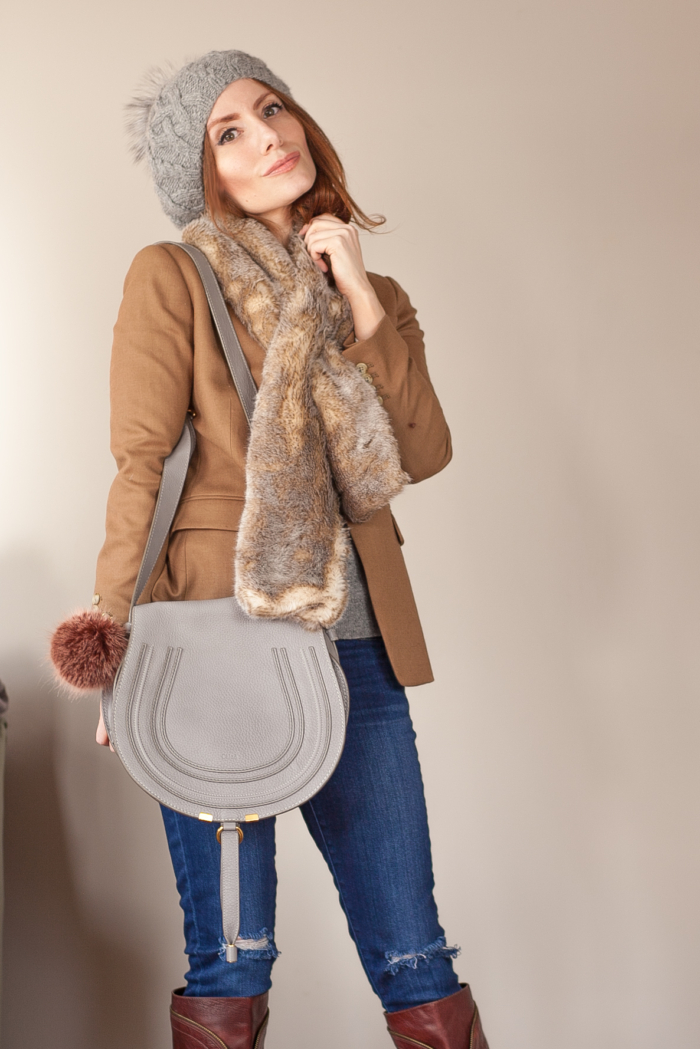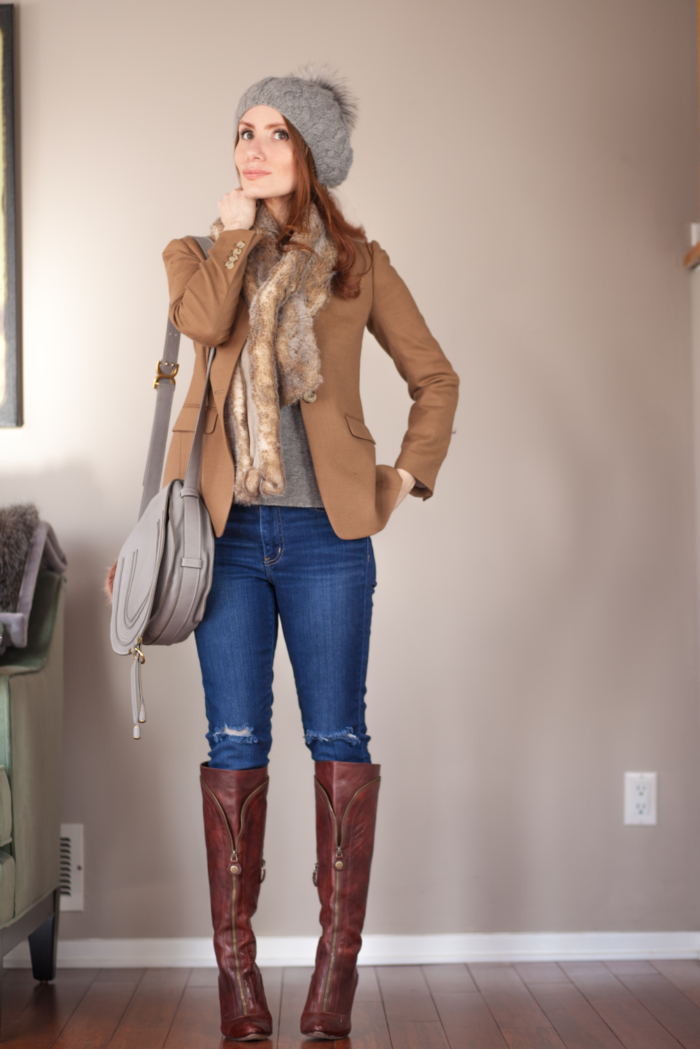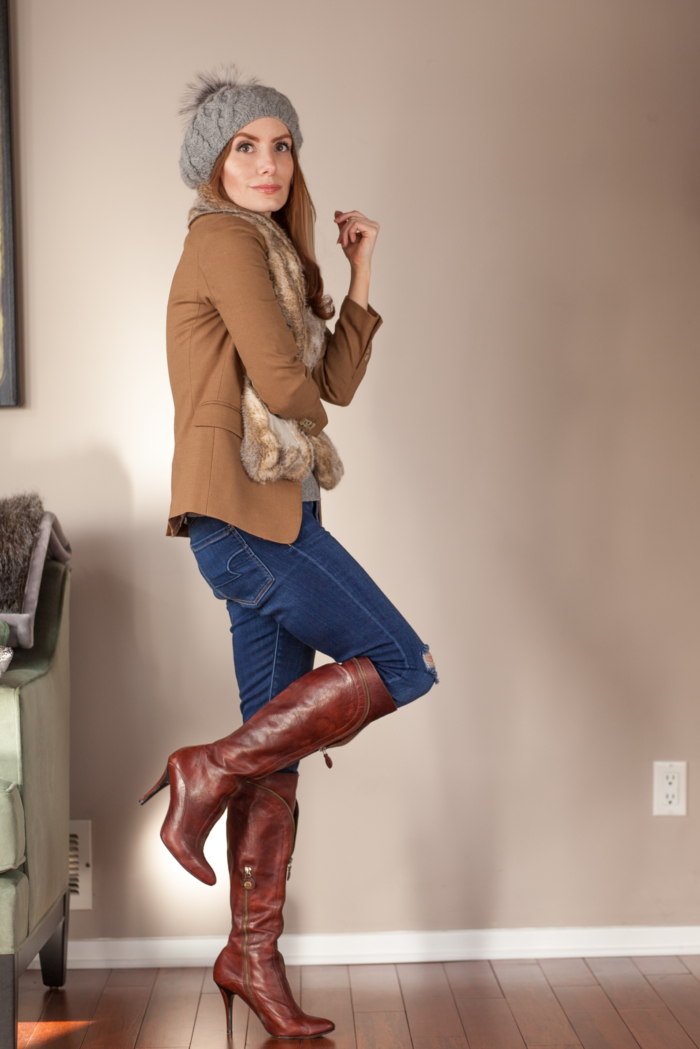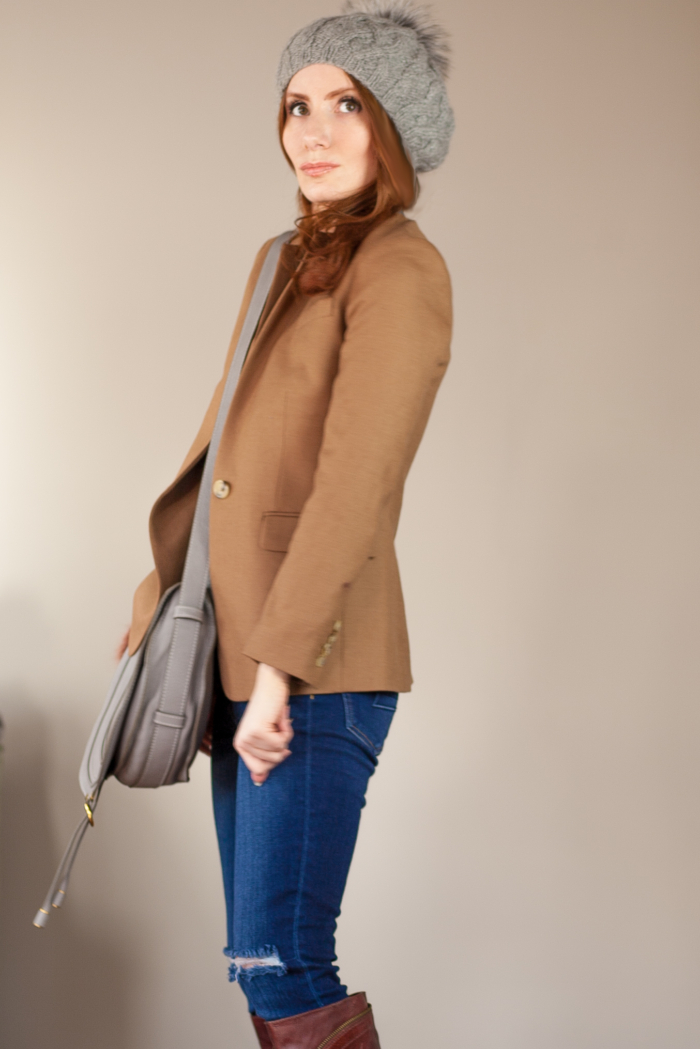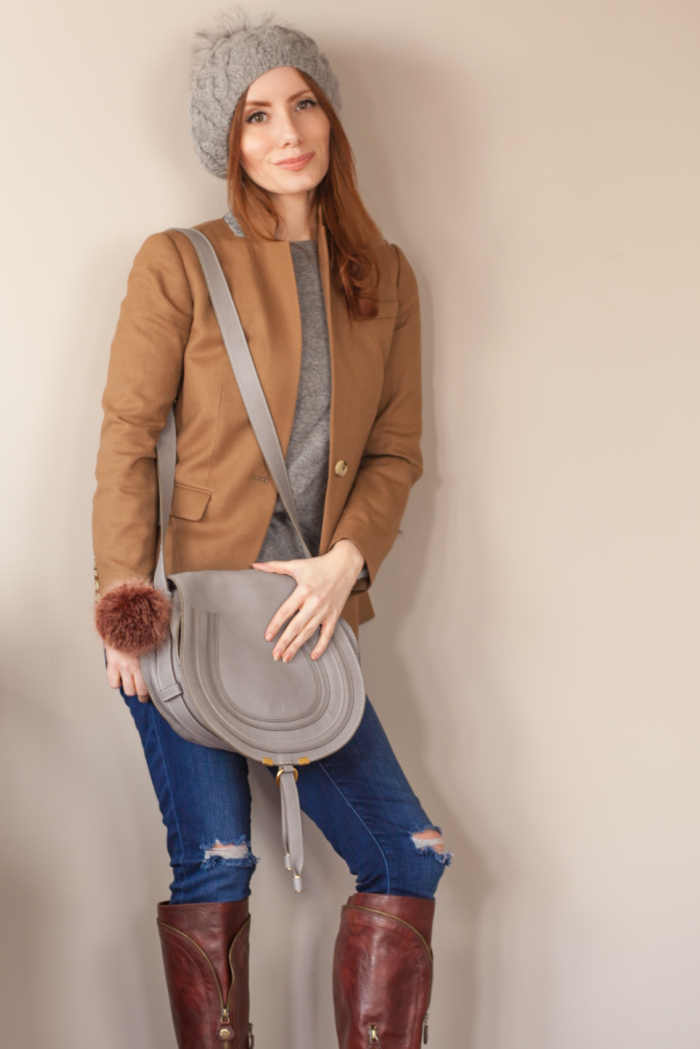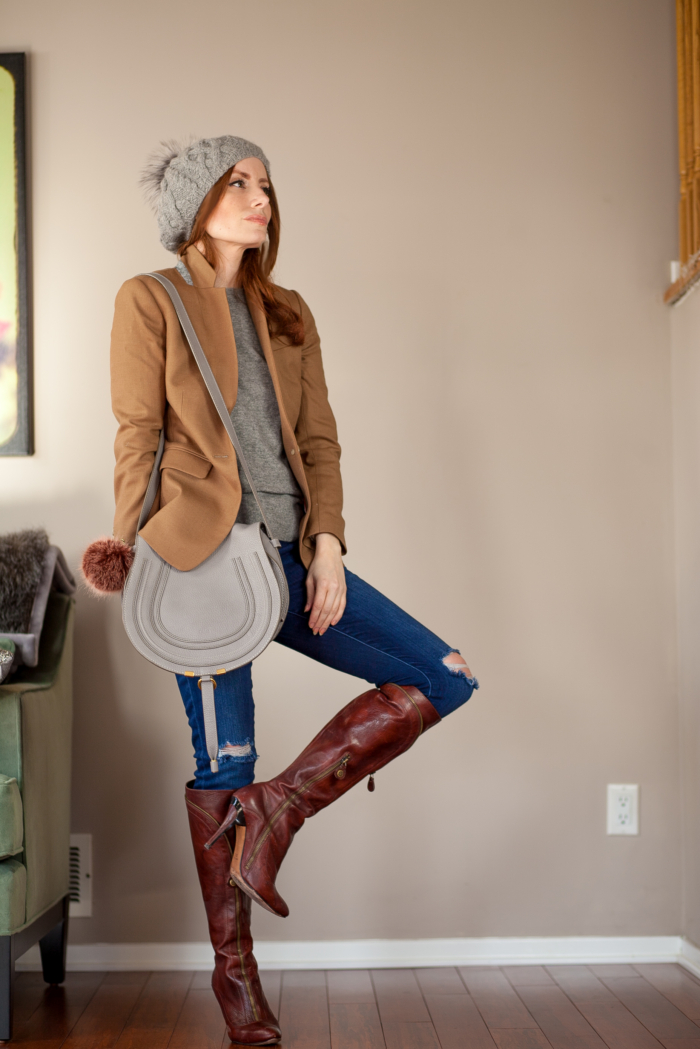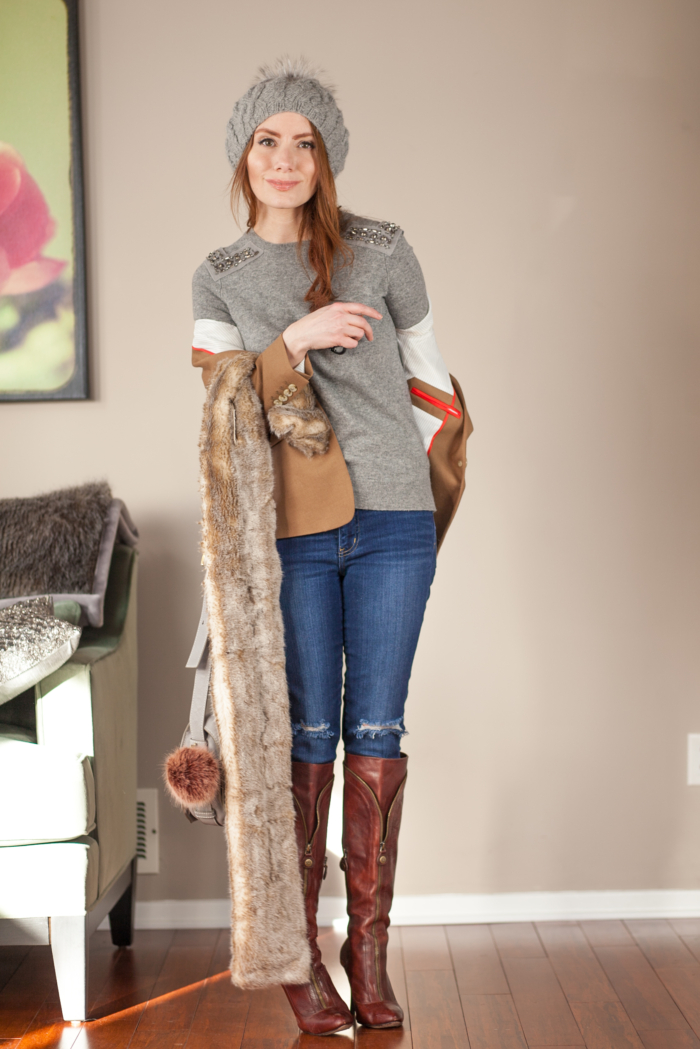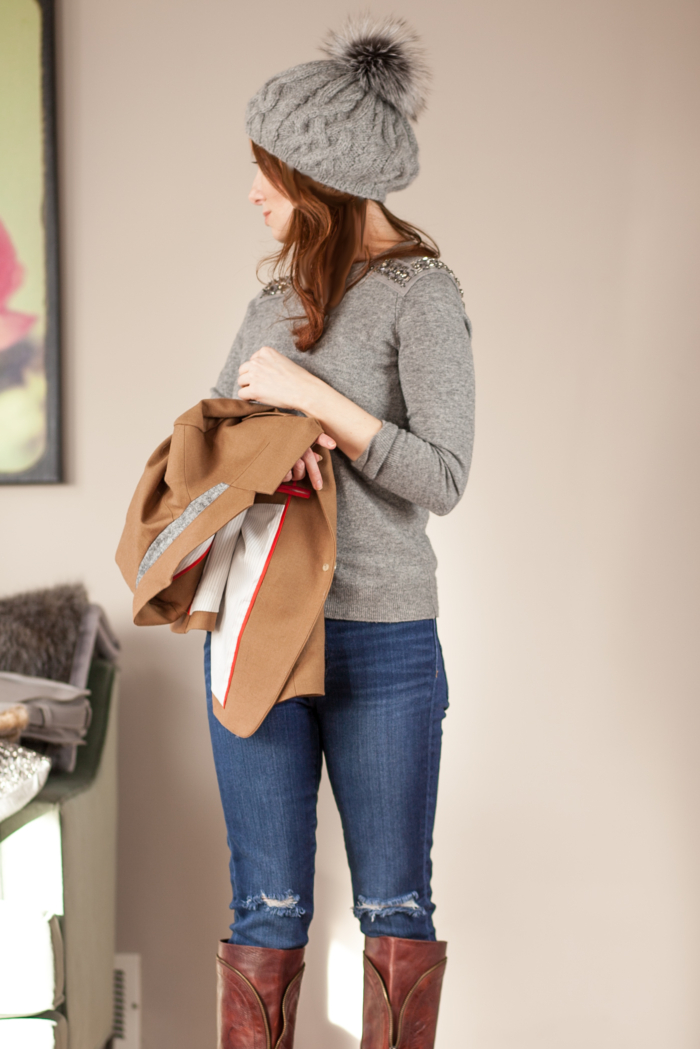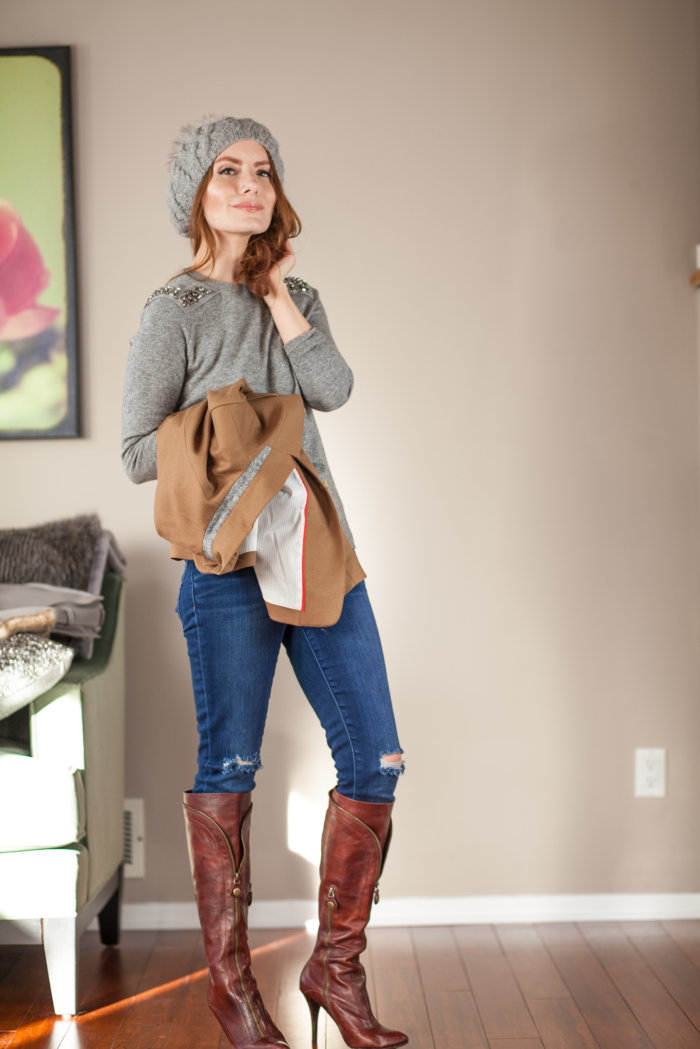 HAT: Eugenia Kim Genevieve Beret (buy it) (similar under $25) (similar under $25) (similar under $25) 
BLAZER:  J Crew (buy it) (similar on sale + 50% off) (similar under $60)
SWEATER: J Crew, really old (similar) (similar) (similar under $50) (similar on sale + 50% off)
JEANS: American Eagle Outfitters, old (similar) (similar) (similar)
SCARF: Restoration Hardware Outlet (similar under $20)  (similar under $25) (similar under $30)
BAG: Chloe Marcie in Cashmere Gray (buy it) (buy it) (similar) (similar) (similar under $200)
POOF: J Crew (buy it) (similar under $20) (similar) (similar)
BOOTS: Modern Vintage, really old (similar) (similar) (similar) (similar) (similar)
LIPS: Charlotte Tilbury 'Lip Cheat' Re-Size & Re-Shape Lip Liner in Pink Venus (buy it) + Chanel Gloss Volume Plumping Lipgloss (buy it)