Ann Taylor: Take 40% Off On All Full-Priced Items (Including New Spring Arrivals) + An Extra 50% Off On All Sale Items & Markdowns – This Weekend Only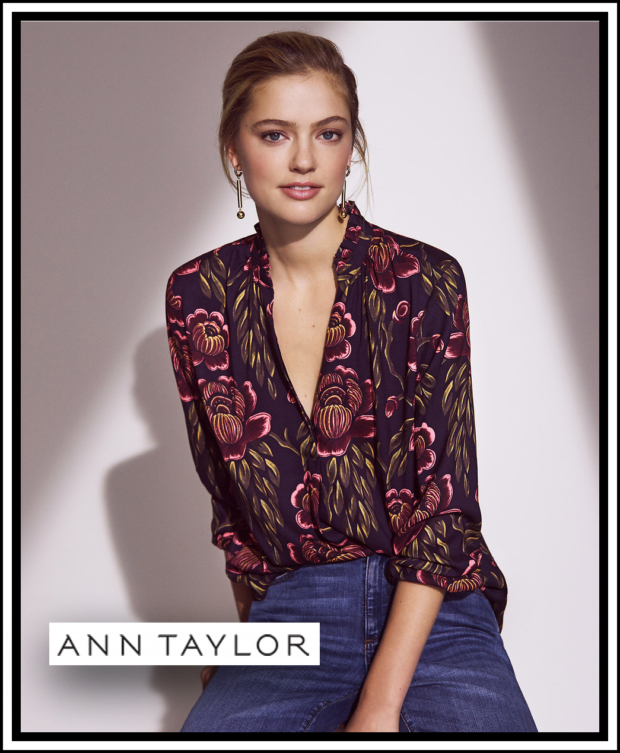 Ann Taylor is having a big sale to celebrate the holiday weekend, and now through Monday shoppers can take 40% off on all full-priced styles (including the new spring collection!) and take an extra 50% off on all sale items, too! Full details, codes, and a few quick picks to check out at this sale are all below…

---
THE DEAL: Take 40% off on all full-priced items. Shop the entire sale here. | code: WEEKEND
THE DEAL: And take an extra 50% off on all sale items & markdowns, too! No code required. Shop the entire sale here.

1. Lacy Lantern Sleeve Blouse  2. Rose Garden Sweater   3. Ruffle Front Sweater  4. Draped Ruffle Shell  5. Knot Front Top  6. Lacy Tie Neck Blouse  7. Cricket Sweater  8. Flounce Moto Jacket  9. Side Tie Pleated Skirt  10. Geo Jacquard Sweater  11. Cashmere Fluted Sleeve Sweater  12. Rose Garden Shirtdress  13. Leopard Print Calf Hair Skinny Belt  14. Disc Charm Statement Necklace  15. Ombre Square Scarf  16. Disc Charm Statement Hoops  17. Esme Tassel Wrap Suede Sandals  18. Carson Tassel Suede Pumps  19. Carson Tassel Suede Pumps  20. Eryn Suede Pumps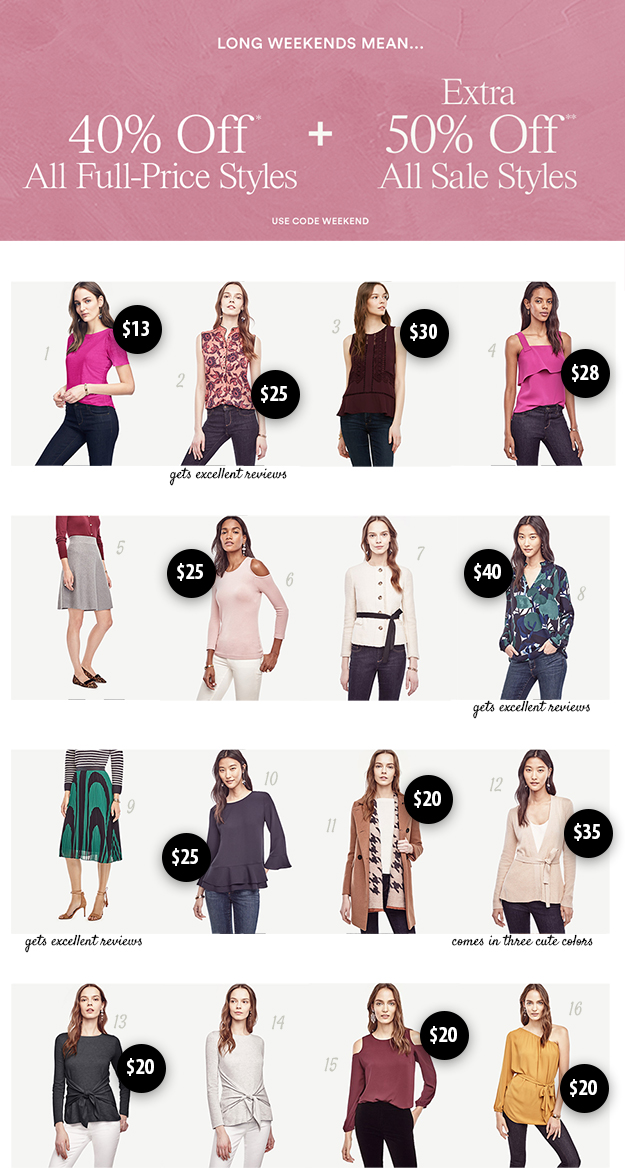 1. Linen Silk Puff Tee  2. Daisy Piped Sleeveless Blouse  3. Lacy Flounce Blouse   4. Strappy Ruffle Blouse  5. Solid Sweater Skirt  6. Silk Cotton Cold Shoulder Sweater  7. Belted Fringe Tweed Jacket  8. Cypress Botanical Smocked Ruffle Collar Blouse  9. Wave Pleated Skirt  10. Flutter Sleeve Top   11. Houndstooth Blanket Scarf   12. Wool Cashmere Ribbed Peplum Cardigan   13. Tie Front Top  14. Tie Front Top  15.  Cold Shoulder Blouse  16. Belted One Shoulder Blouse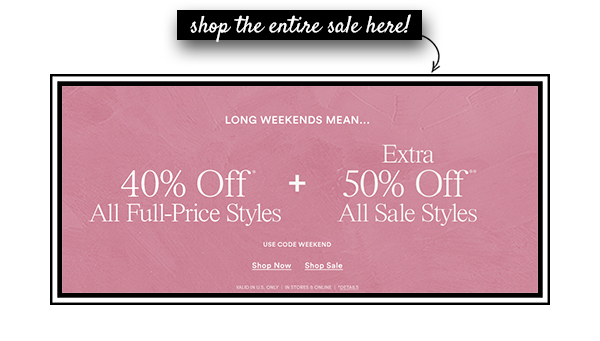 Some items may be excluded; see site for full details. This offer ends February 20th–happy shopping!