(Ann Taylor) Take 50% Off + Get Free Shipping On *All* Orders – The Spring Cyber Sale Event Is On!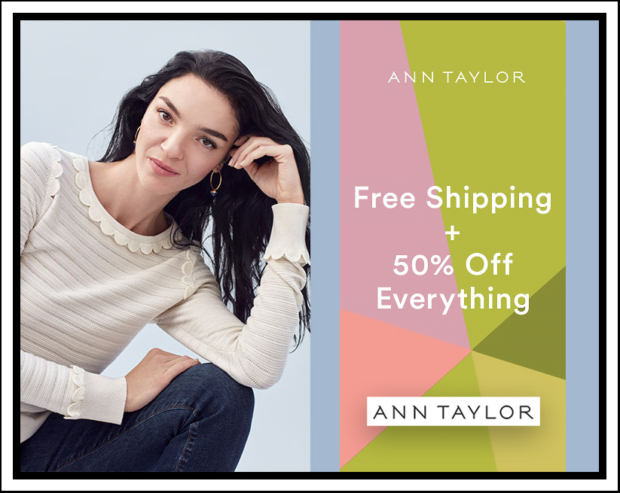 Ann Taylor is having their huge Cyber Spring sale, and now through Monday shoppers can take 50% off + get free shipping on ALL orders–no minimum purchase required! It's their biggest sale of the spring season, so don't miss out–full details, codes, and a few can't-miss deals to check out at this sale are all below….

---
THE DEAL: Take 50% off + get free shipping on ALL orders. Shop the entire sale here. | code: CYBER50

1. Double Flare Sleeve Top  2. Double Flutter Top   3. Ruffle Sleeve Mockneck Sweater  4. Coral Oasis City Shorts 5. Bow Back Popover 6. Fluted Sleeve Poplin Shirt  7. Strappy Off The Shoulder Top  8. Back Cutout Top  9. Poplin Pleated Full Skirt  10. Sheer Stripe flounce Sleeve Blouse  11. Side Tie Top  12. Striped Ponte Flare Sleeve Dress  13. Patch Pocket Flare Jeans  14. Ruffled Pencil Skirt  15. Side Tie Pleated Skirt 16. Patch Pocket Flare Jeans  17. Carson Tassel Suede Pumps  18. Felipa Suede D'Orsay Pumps  19. Erica Suede Bow Sandals  20. Gigi Leather Block Heel Sandals  21. Cold Shoulder Sweater  22. Bare Shoulder Blouse  23. Faux Leather Flounce Skirt  24. Ruffle Hem Sweater  25. Botanical Lace Pencil Skirt  26. Paradise Blouse  27. Daisy Jacquard Strappy Off The Shoulder Top  28. Botanical Lace Peplum Top  29. Esme Tassel Wrap Suede Sandals  30. Crystal Petal Pendant 31. Filigree Tassel Earrings  32. Garden Necklace 
& already

on sale

for an

extra 50% off

, too: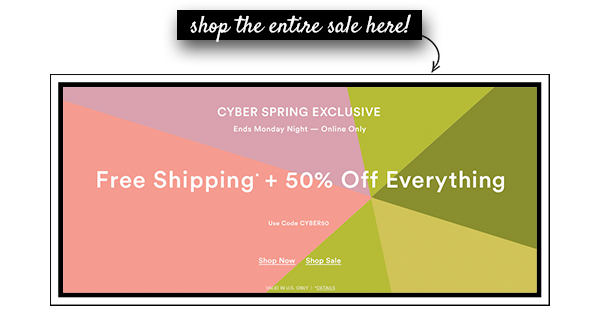 This offer ends Monday, March 27th at 11:59pm EST; happy shopping!