Neiman Marcus: Take $50 Off On Regular-Priced Purchases of $200 (Ends Sunday at 1pm CT!)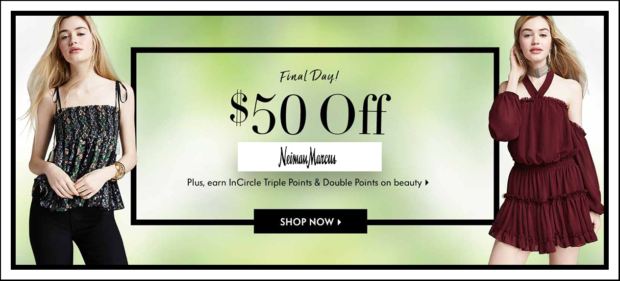 Neiman Marcus is having a sweet little spring sale, and now until 1pm CT Sunday shoppers can take $50 off on most regular-priced purchases of $200! All orders ship completely free, too–full details, codes, and a few quick picks to check out at this sale are all below…

---
THE DEAL: Take $50 off on most regular-priced purchases of $200. All eligible items will be marked! Shop the sale here. | code: INC50
THE DEAL: And get free shipping on all orders, no minimum purchase required–see site for full details.
<

1. Alice + Olivia Alyssa Off-the-Shoulder Halter Top  2. Rebecca Taylor Strapless Floral Lace Top  3. Rebecca Taylor Fringe-Trim Suiting Jacket  4. Alice & Olivia Bernice Stripe Top  5. Rebecca Taylor Cold-Shoulder Lace Dress  6. Rebecca Taylor Arella Sleeveless Lace Dress  7. Joie Lindell Mixed-Lace Sleeveless Dress  8. Alice + Olivia Ellis Guipure Lace Sleeveless Zip-Front Dress  9. Joie Aisley Striped Cashmere Sweater-Shirt Combo Top  10. Parker Maple One-Shoulder Cotton Top  11. cinq a sept Zanna Sleeveless Ruffled Silk Tank Top  12. Joie Koda Lace 3/4-Sleeve Peplum Top  13. cinq a sept Celia Denim Bell-Bottom Skinny Pants  14. Milly Striped Flared Circle Skirt  15. cinq a sept Knox Belted Twill Culottes  16. Joie Cynthia Linen Jogger Pants  17. BCBGMAXAZRIA Trixy Off-the-Shoulder Ruffled Top  18. Milly Ruffled One-Shoulder Striped Top  19. Milly One-Shoulder Flounce Top   20. Milly Bell-Sleeve Pullover Top  21. BCBGMAXAZRIA Alica Cotton Eyelet Dress  22. Elizabeth and James Aaron Oversized Trench Coat  23. Likely Abergreen Embroidered Organza Mini Dress  24. BCBGMAXAZRIA Placket Cotton Eyelet Dress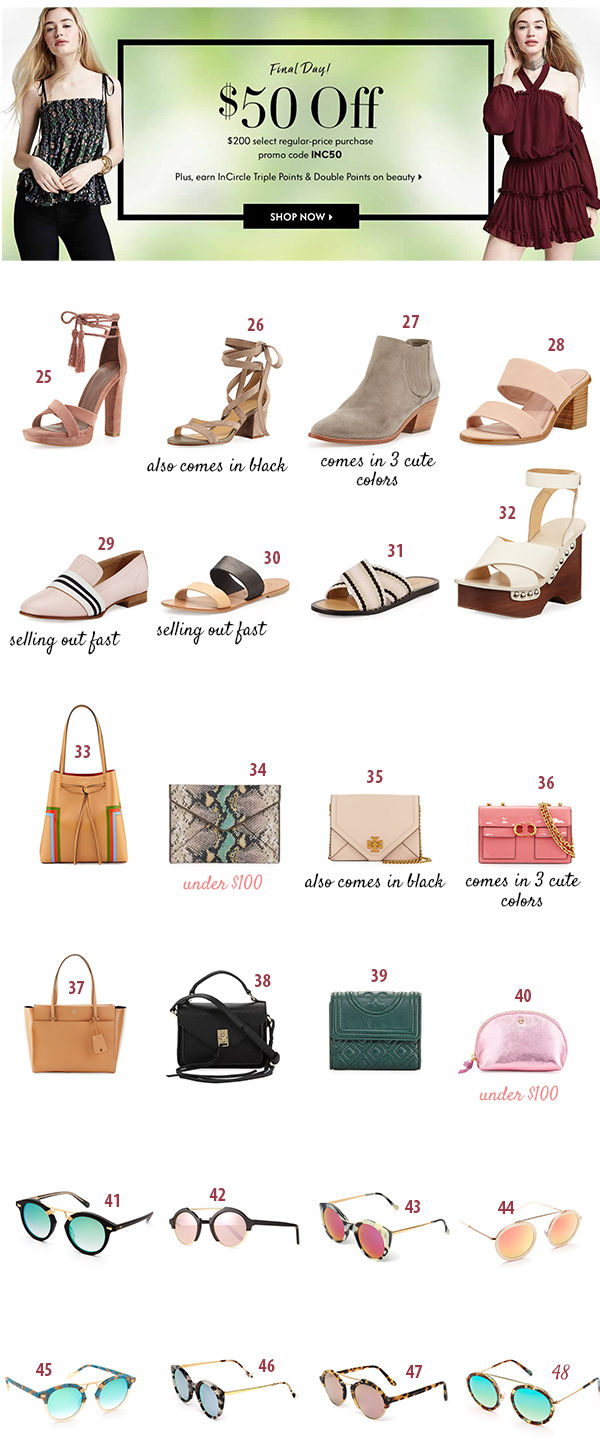 25. Joie Nadav Tassel Heel   26. Sam Edelman Sheri Suede Ankle-Wrap Sandal  27.  Joie Barlow Suede Pointed-Toe Bootie  28.  Joie Maha Nubuck 70mm Mule Sandal   29. Rag & Bone Amber Striped-Web Leather Loafer  30. Joie Sable Banded Flat Sandal  31. Rag & Bone Keaton Crisscross Flat Slide Sandal  32. Rag & Bone Hester Leather Wedge Sandal  33. Tory Burch Block-T Striped Drawstring Tote Bag  34. Rebecca Minkoff Leo Python-Embossed Envelope Clutch Bag   35. Tory Burch Kira Envelope Leather Crossbody Bag  36. Tory Burch Gemini Link Chain Crossbody Bag  37. Tory Burch Parker Saffiano Tote Bag  38. Rebecca Minkoff Darren Mini Leather Messenger Bag   39. Tory Burch Fleming Mini Flap Wallet  40. Tory Burch Metallic Mini Domed Cosmetic Bag  41. KREWE STL II Round Iridescent Sunglasses  42. Illesteva Milan IV Round Sunglasses  43. KREWE Conti Matte Mirrored Aviator Sunglasses  44. Illesteva Palm Beach Mirrored Sunglasses  45. KREWE St. Louis Round Two-Tone Sunglasses  46. Illesteva Palm Beach Mirrored Cat-Eye Sunglasses  47. Illesteva Milan II Mirrored Round Sunglasses  48. KREWE Conti Mirrored Round Aviator Sunglasses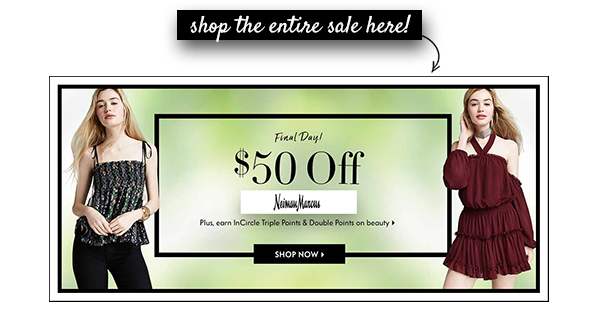 *some items, departments, and brands may be excluded; see site for full details. This offer ends at 1pm CT on Sunday, April 16th–happy shopping!