9 Ways to Wear: The Lou & Grey Double V Dress | Now 40% Off (Limited Time Only)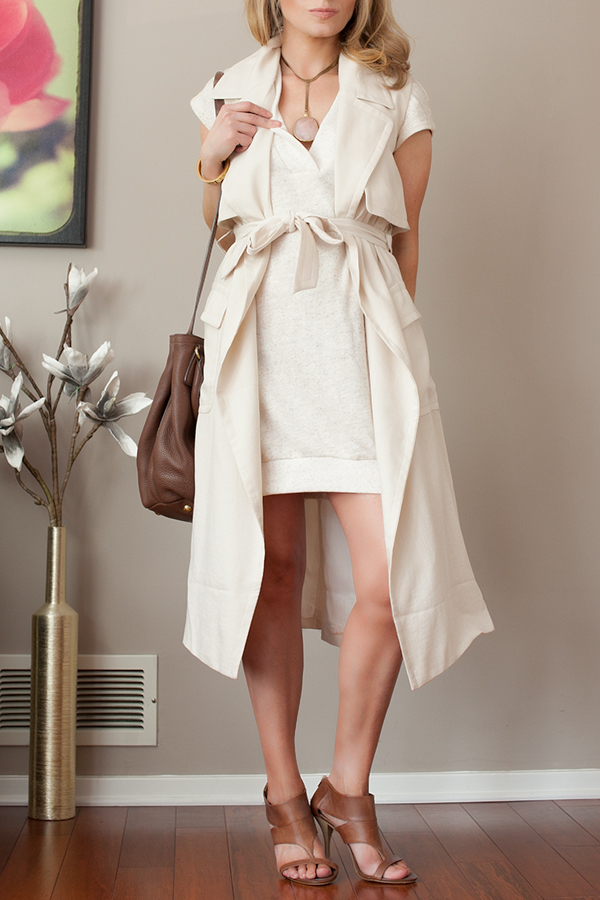 Happy Sunday, you guys! Time to get back to blogging. I am going to be starting a new type of post here on the blog where I style one key piece a few different ways…mostly because I know that I personally find blog posts like this helpful (it's easy to get in a bit of a style rut with certain items of clothing) and mostly because I am a grown 35 year-old woman that still likes to spend an afternoon styling outfits and throwing all of her clothes onto her closet floor. There's some sort of method to my madness, I swear.
I picked up the Lou & Grey Double V Dress during their big Fourth of July sale a few weeks back (it's currently now 40% off at LOFT), and I was pleasantly surprised when it arrived. It's a cozy little cocoon of a dress, made of a cotton terry that is just the right weight–not too thick (it's ridiculously comfortable to wear, like your favorite pair of joggers) and not too thin (it conceals all unmentionables quite nicely).
lou & grey double v dress (take 40% off with code OHYES)
The shape of the dress is a bit…different. It is described as a "cocoon" shape on the website, and so the dress is slightly fitted on top and curves out towards the bottom hem, giving the wearer an illusion of a slight pear shape. I am naturally shaped like a little Norwegian meatball, so I dig that it makes me looks like I have a defined waist and some curves–I'll take all the help I can get.
As fas as sizing goes, I would say the dress runs fairly true-to-size to normal LOFT clothing. I am wearing it in my normal LOFT size (a petite xx-small), although I think one or two sizes up would have worked just as fine as well–this dress is meant to be a bit loose and slouchy.
The inseam on the petite-length dress is quite short. I am 5'2″ with an inseam of around 29 inches, and the dress hits several inches above my knee. But never fear: the curved "cocoon" shape of the bottom hem helps to keep the bottom of the dress in place even on the windiest of days. The shorter length also means that it can do double-duty as a tunic, which will come in handy once the hot summer days start fading out into fall. But if you are petite and want to wear this dress to work, I'd recommend sticking with a regular size for a few extra inches of coverage.
All in all, I really dig this little dress. The color, a flattering flax, is gorgeous and its only flaw, in my opinion, is that it doesn't have pockets. It does layer nicely underneath other items that have pockets, however (what a novel concept and innovative style tip, I'm sure you're thinking), and I have styled the dress below with a few of my favorite pieces from my own closet–including the Loeffler Randall Vera Ruffle Slides. 
I don't believe that I've reviewed the Vera Ruffle Slides yet on the blog, so here's a quick summary in case you are eyeballing them for yourself: they do run narrow and a bit small. I sized up half a size since I have high arches and slightly wide feet. The thick 2-inch block heel, padded footbed, and soft kid suede make them ridiculously comfortable to both walk in and wear for long periods of time, and they have easily become my "most worn" shoe this summer. You guys can take 10% off + get free shipping on them over at Loeffler Randall (in an abundance of cute colors!) for a limited time with code LRNEWS10, too. They're a bit pricey, but definitely worth it if you're looking for a cute shoe that is both super comfortable and super easy to wear.
That's all for now–more in a bit! Have a happy rest of the weekend, you guys!
H&M Pink Bomber Jacket (similar under $25) (similar here) (similar under $50) (similar under $50) // Lou & Grey Dress (buy it here) // Anthropologie Necklace (buy it here under $100) // Ann Taylor Erica Bow Slides (buy them here – now $24)
H&M Trench Vest, old (similar here) (similar under $50) (similar under $100) (similar under $100) // Lou & Grey Dress (buy it here) // Anthropologie Necklace (buy it here under $100) // J Crew Gold Cuff Bracelets (buy them here) // ALDO Shoes (similar here) (similar under $75) (similar under $75) // Prada Daino Shoulder Totebag  (similar here) (similar under $400) (similar under $300) (similar under $250)
ZARA Leather Jacket, old (similar here) (similar here) // Lou & Grey Dress (buy it here) // Ray-ban Mirrored Aviators (buy them here) // Schutz Renly Mules, old (similar here) (similar here) (similar here) (similar under $100) // Zac Posen Handbag, old (similar here) (similar here) (similar here) // Black Tassel Earrings (similar under 15)
Denim Jacket (similar under $75) (similar under $100) (similar here) // AEO bandana, old (similar here) // Lou & Grey Dress (buy it here) // Kate Spade Lamonica Round Sunglasses (buy them here) (similar here) // ZARA mules (similar here) (similar here) (similar here) // Prada Saffiano Promenade Small Handbag (similar here) (similar here)
Choker (similar under $25) (similar here) // Lou & Grey Dress (buy it here) // ZARA Leather Jacket (similar here) (similar here) // J Brand Lovestory Flares (similar here) (similar under $50) // Zac Posen Handbag, old (similar here) (similar here) (similar here)
Banana Republic Blazer, old (similar under $100) (similar here) // Lou & Grey Dress (buy it here) // Ann Taylor Scarf, old (similar here) (similar here) // Loeffler Randall Vera Ruffle Slides (buy them here) (buy them here) // Isaac Mizrahi Handbag, old (similar here) (similar here) (similar under $50)
Rag & Bone Marilyn Suede Baseball Cap (buy it here) (similar under $25) (similar under $25) // Lou & Grey Dress (buy it here) // ZARA Suede Jacket (similar here) (similar here) // Joie Adiel Pink Velvet Mules, old (similar here) (similar here) (similar under $75) // Prada Daino Shoulder Totebag (similar here) (similar under $400) (similar under $300) (similar under $250)
J Crew Regent Blazer, old (similar here) (similar under $100) (similar under $50) // Lou & Grey Dress (buy it here) // Anthropologie Necklace (buy it here under $100) // J Crew Pumps, old (similar under $100) (similar under $100) // Lanvin Happy Mini Pop Handbag, old (similar here) (similar here) (similar here)
Emerson Fry Wingtip Jacket (buy it here) (similar here) (similar under $100) // Lou & Grey Dress (buy it here) // Scarf (similar here – now $16) (similar here – now $16) // Loeffler Randall Vera Ruffle Slides (buy them here) (buy them here) // Prada Saffiano Promenade Small Handbag (similar here) (similar here) // Poof (similar here)