LOFT: Take 40% Off On Your Entire Purchase – Limited Time Only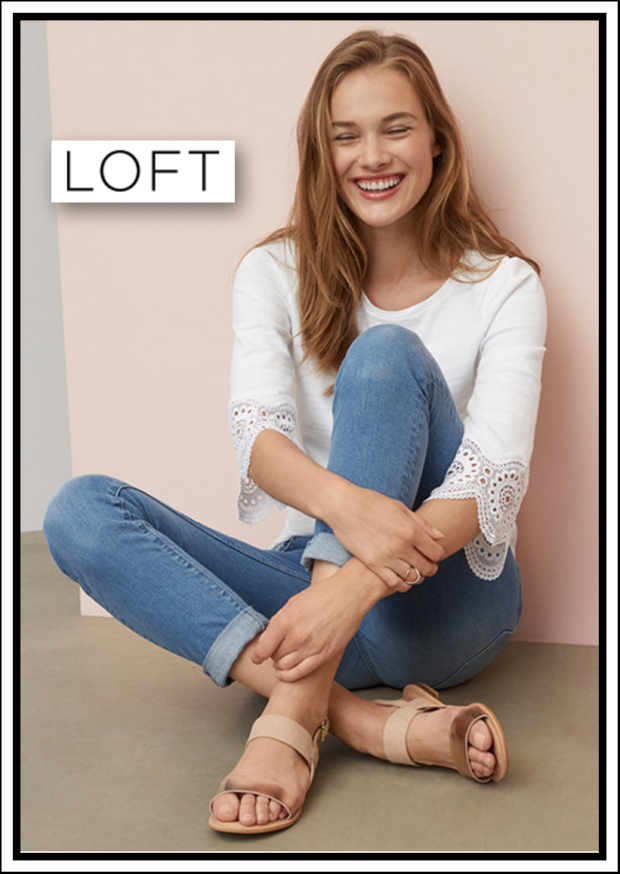 Looking for something new for fall? LOFT is having a sitewide sale, and now for a limited time only shoppers can take 40% off on their entire purchase–including brand new fall arrivals! Full details, codes, and a few can't-miss deals to check out at this sale are all below….

THE DEAL: Take 40% off on your entire purchase. Shop the entire sale here. | code: OHYES
THE DEAL: And earn 2X points when you use your LOFT credit card to pay, too! See site for full details.

1. Striped Ruffle Wrap Shirtdress   2. Striped Wrap Blouse (now $36)   3. Chambray Flounce Cold Shoulder  (now $33)  4. Diamond Smocked Flutter Blouse (now $33)  5. Faux Leather Moto Jacket  6. Blossom Embroidered 3/4 Sleeve Signature Cotton Cardigan  7. Striped Ruffle One Shoulder Shirt (now $36)  8. Lacy Mixed Media Blouse (now $30)  9. Floral Jacquard Ruffle Shell (now $33)  10. Modern Frayed Cuff Straight Leg Jeans in Pure Dark Indigo Wash  11. Shimmer Ruffle Sweater Tee (now $30)  12. Bird Garden Flounce Dress  13. Potpurri Slit Cuff Sweater (now $36)  14. Floral Applique Vintage Soft Tee (now $21)  15. Straight Leg Textured Pants in Marisa Fit  16. Bird Garden Mini Square Scarf (now $12)  17. Bird Garden Wrap Skirt   18. Trousers in Custom Stretch in Julie Fit  19. Floral Poncho (now $30)  20. Frayed Cuff Denim Shorts in Mended Mid Indigo Wash  21. Pocket Wrap Skirt  22. Belted Cargo Skirt  23. Utility Blouse (now $30)  24. Floral Textured Flare Dress   25. Utility Blouse  26. Sateen Utility Jacket  27. Vintage Soft Cold Shoulder Tee (now $15)  28. Floral Embroidered Waist Pants  29. Orchid Stripe Off The Shoulder Top  30. Wild Orchid Off The Shoulder Blouse   31. Night Blossom Bar Back Clean Tee  32. Plaid Lacy Mockneck Top (now $36)  33. Satin Lace Up Sneakers (now $30)  34. Bow Straw Hat (now $18)  35. T-Strap Block Heels  36. Ombre Stone Necklace (now $27)  37. Stone Stud Earring Set (now $15)  38. Ankle Tie Wedge Espadrilles   39. Lace Up Block Heel Sandals  40. Ankle Wrap Block Heels
& already on sale for eVEN BIGGER savingS:
This offer is good for a limited time only–happy shopping!