Outfit Of The Yesterday: J Crew Regent Blazer with Velvet Tie + Free People Avery Lieutenant Hat + Madewell Signaturesoft Striped Dress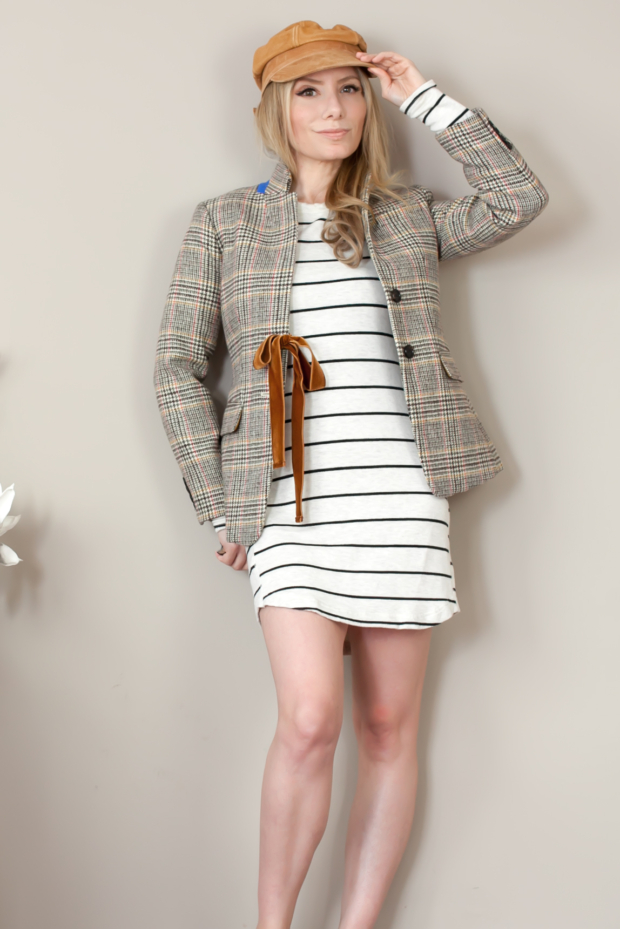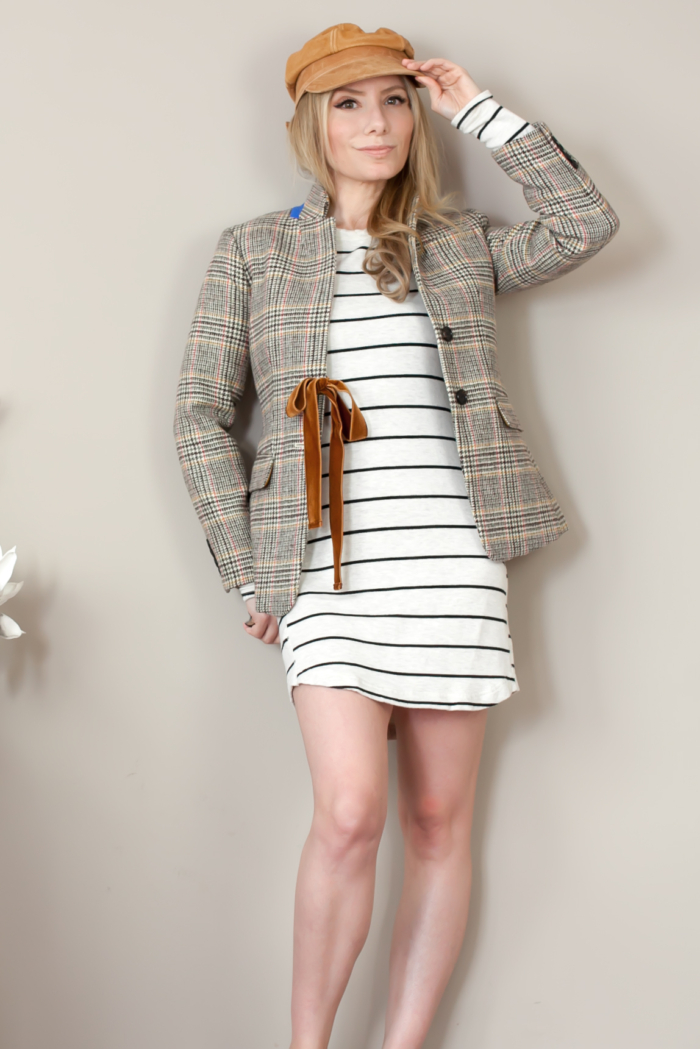 (♫: Everything Nice – Popcaan Cover – Jaakko Eino Kalevi)
Happy new year, you guys! It's hard to believe that we are already a full week into 2018. Now that the craziness of the holidays are in the dust, it's time to get back to some blogging + outfit posts. Here we go.
It has been awhile since I've done one of these, so I am probably a bit blonder and paler than where we last left off. I loved the red and I will always love being a redhead, but the maintenance and color fade was starting to drive me bonkers–so back to blonde I go. I have been blonde for most my life, and truthfully, it is where I most like to be.
Blondeness is my comfort zone. Say something kinda dumb? Oh, she's blonde. Walk smack right into a closed sliding patio door? Blonde! Dedicate an entire blog post to rambling incoherently about paltry and petty things like hair color and self-tanner? Yup, that's me! Sad! Oops. I mean blonde. See? I am definitely blonde.
I am working with a new hairstylist that believes in the power of Olaplex, so while it has been a gnarly process to get all of the brassy orange out of my hair (apparently the only time red hair color stays put is when you no longer want it to), I am pretty pleased with how healthy my hair has still looked and felt throughout the delicate process of going lighter. Between that and doing weekly at-home conditioning treatments (with this amazing & super-moisturizing Kiehl's hair mask), hopefully my hair will stay that way. Fingers crossed.
I have also completely ditched wearing self-tanner for the first time in about 15 years. Which is…kind of nuts. I wore self-tanner almost every single day, you guys. For fifteen years! Good god. 
And I was just…tired of it. It was a mess to apply, it was a mess to keep from rubbing off on things, the self-tanner I like the most is unfortunately not cheap, there was that horrible time I ordered it off eBay because it was cheaper there and I actually turned a horrifying shade of green like a tarnished penny, and I have never really done the super-pale-skin-blonde-hair thing before. Prior to self-tanner I fake baked, which is a terrible thing that no one should ever do because no one tells you that you'll become permanently dependent on self-tanner later in life to help cover up all sun damage you obtained from the real tanner.
Also: skin cancer is scary.
Also: my identical twin sister never did the tanning bed thing, and her and I could seriously serve as real life before-and-after models as to why daily sunscreen usage and avoiding the sun is so important. We all make dumb mistakes in our late teens and early 20's, and I get to stare mine directly in the face every time I see her and her bouncy, flawless porcelain skin. Neat.
I digress. So it's time to try something new for a bit and embrace my natural paleness. I am probably at the stage in my life where I actually need self-tanner the most as I veer towards the age of 40 (and straight to Veiny Legsville, thank you genetics), but I am also at the stage in my life where I am starting to give zero heckin' fucks, so. There you have it. 
I can now wear all sorts of bright white things with zero cares as to what kind of tan sludge marks I'll leave in my wake! People won't stop asking me if I am feeling okay and telling me that I really need to get more sun! I can't freaking find foundations and powders light enough to match my natural skin tone! It's a whole new world of fun.
Anyway, enough about that. On to the outfit. I picked up the Free People Avery Lieutenant Hat last month during one of their holiday sales. Fisherman & fiddler caps seem to be a raging trend at the moment, and I do adore a good hat.
This one might be genius, though. Not only does it clock in at under $50, but it's styled like a baseball cap in the back with an adjustable strap to accommodate heads of all shapes and sizes. I have a huge head, so that is awesome–as anyone with a larger noggin' knows, it can sometimes be impossible to find hats that don't squeeze and pinch. The leather is also soft and supple, the brim is bendable, and it comes in a bajillion colors. I have it in the grey color, too! Highly recommend it.
And I am also wearing the J Crew Regent Blazer with Velvet Tie from their Fall 2017 collection, paired with a striped Lou & Grey Signaturesoft Dress that I picked up in September and J Crew Crackled Metallic Gold Mules. I am kind of going for a slight menswear look here, I guess. The weather here in Colorado has been really warm with almost no snow, which has been kind of a headtrip as far as winter dressing goes. I willenjoy it (and still being able to wear warm-weather shoes!) while it lasts.
More in a bit!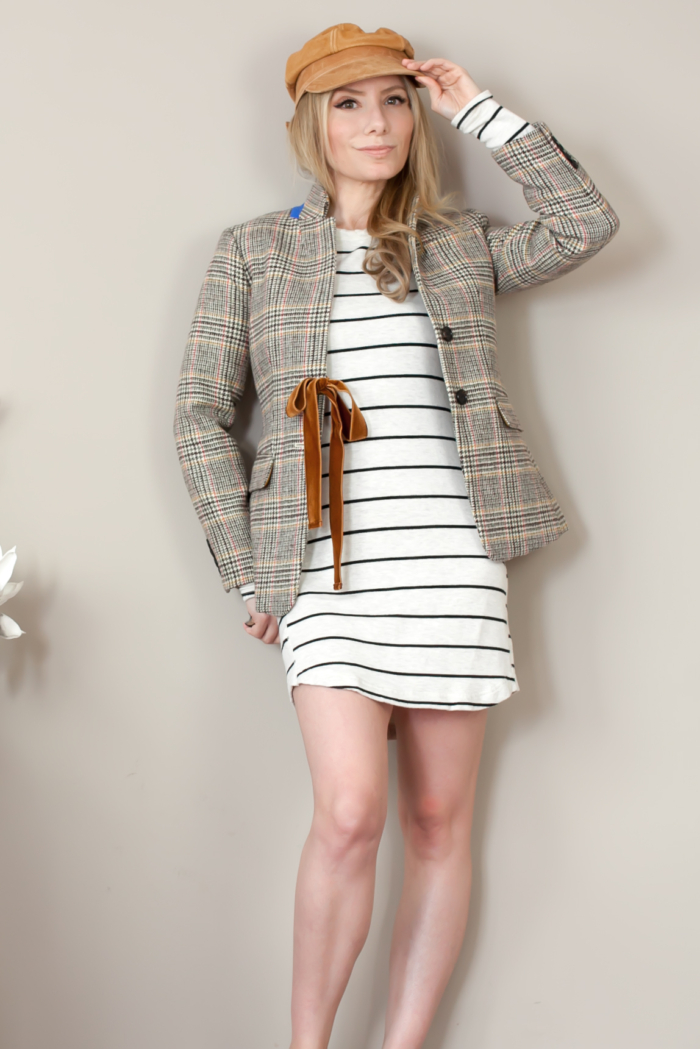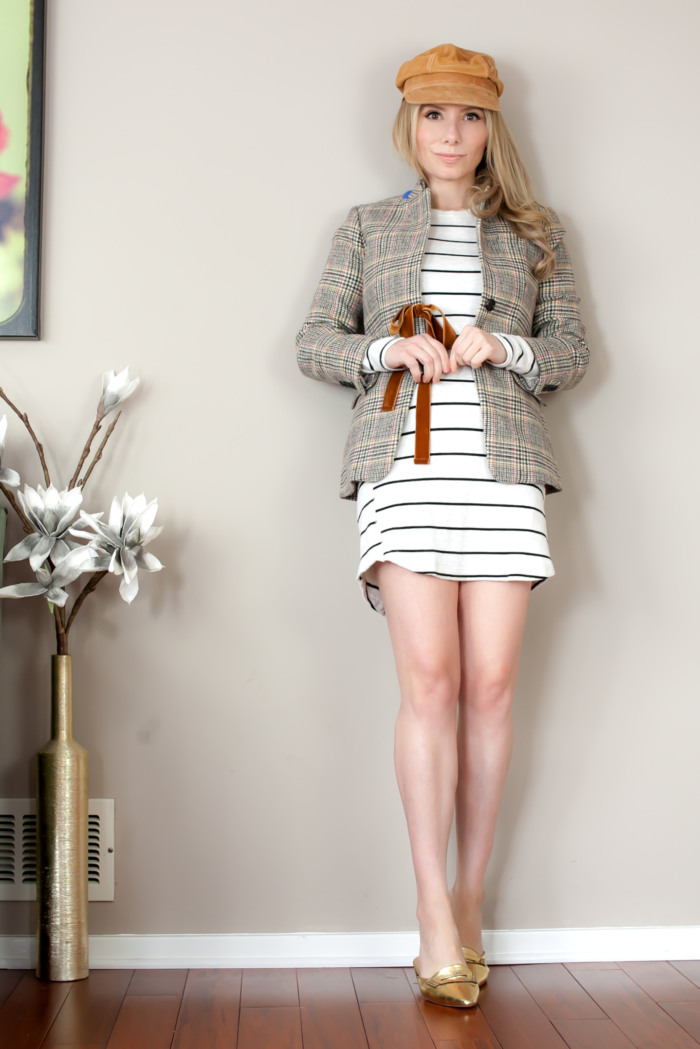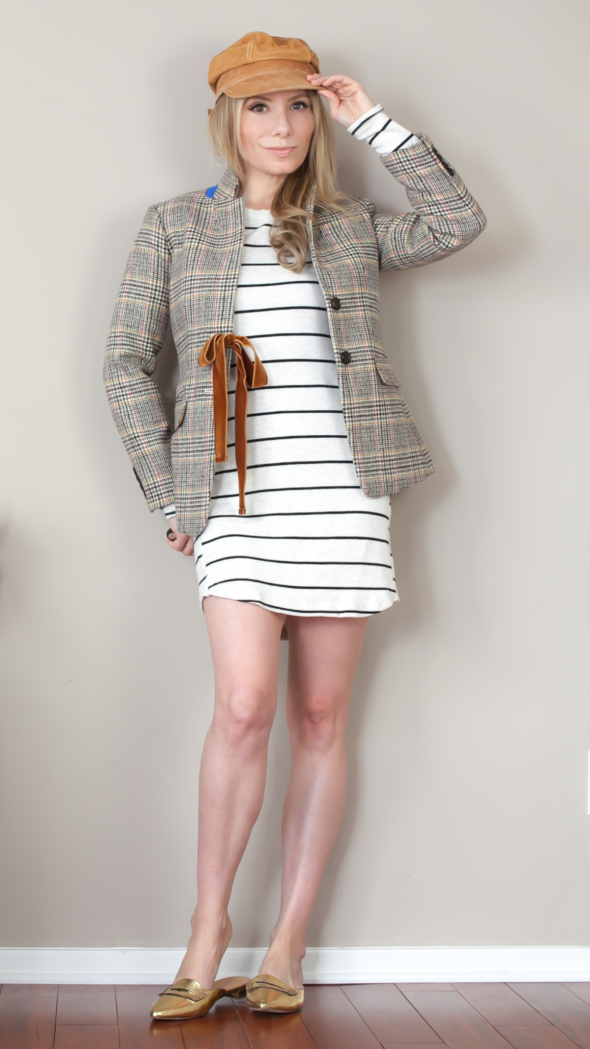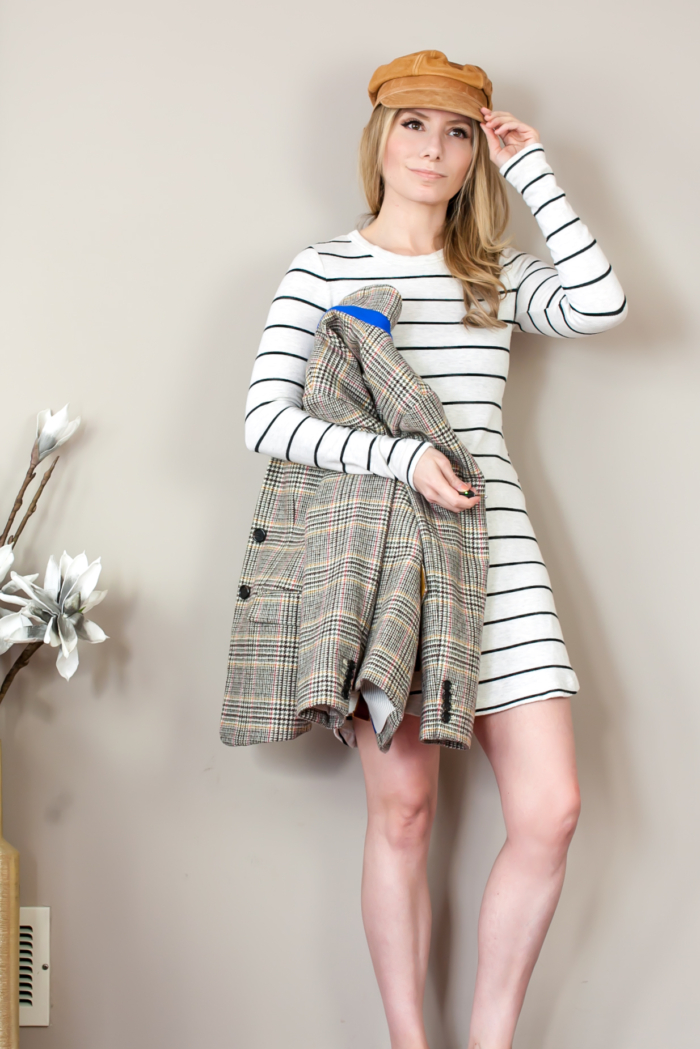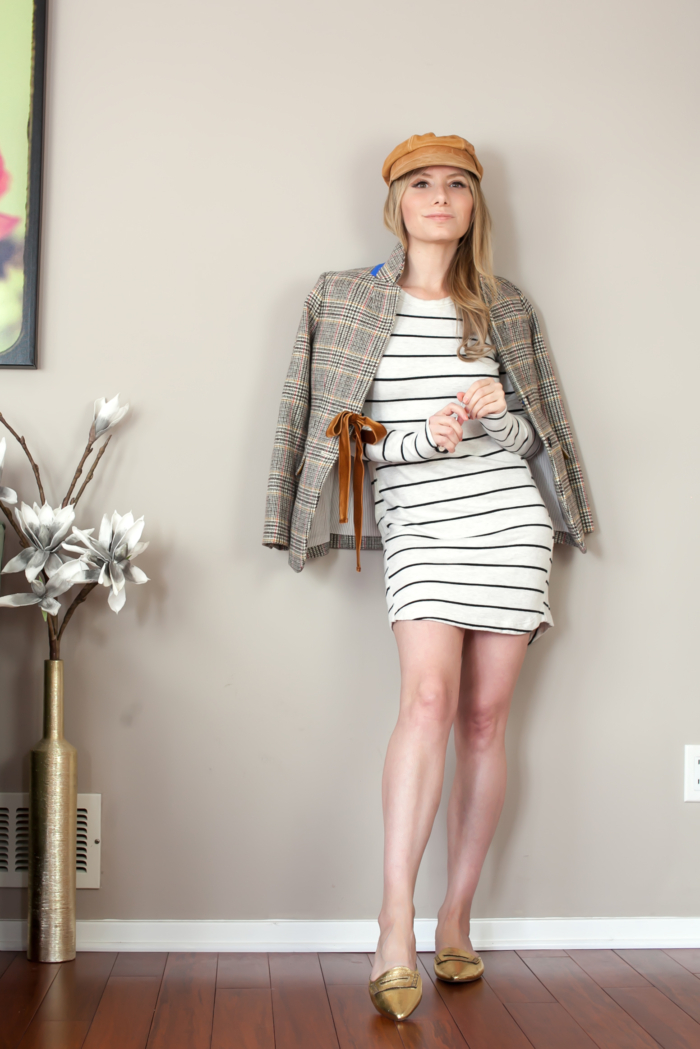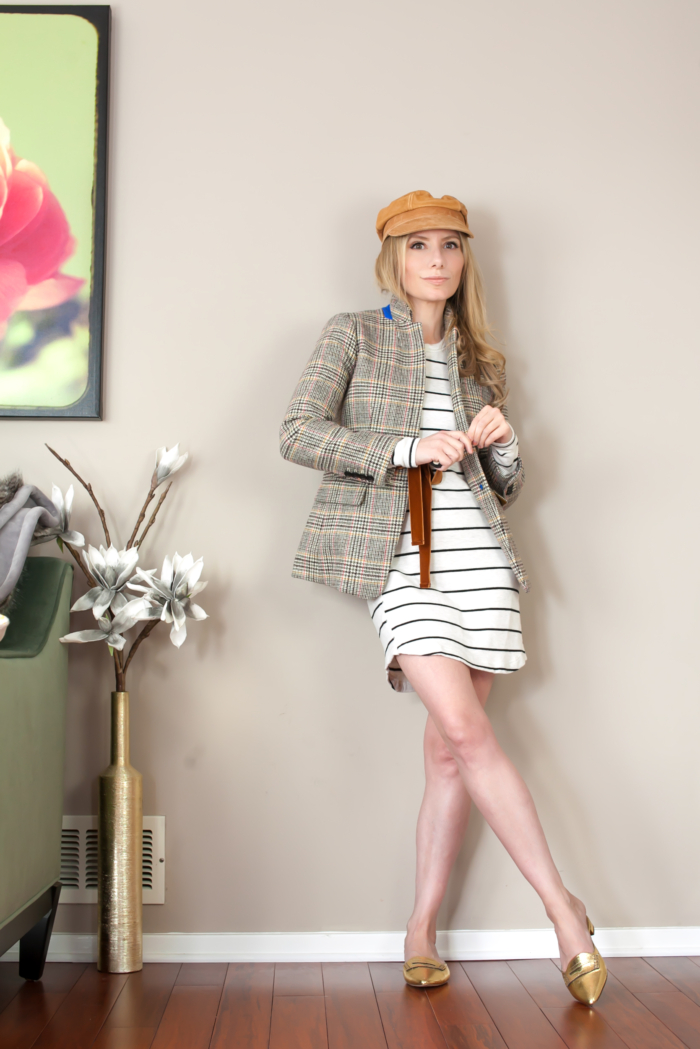 HAT: Free People Avery Lieutenant Hat (buy it here) (similar under $25)
BLAZER: J Crew, Regent Blazer with Velvet Tie, old (similar here) (similar here) (similar under $50) (similar under $50) (similar under $50)
DRESS: Lou & Grey, old (similar here) (similar here) (similar under $100) (similar under $50)
SHOES: J Crew Crackled Metallic Gold Mules, old (similar here) (similar under $50) (similar here)
*Deals listed above are good for a limited time only! Make sure to check out The Big List of Daily Sales & Deals to see all current promotions & discount codes for all of the retailers featured above!