Outfits Of The Yesterdays (Hot & Cold)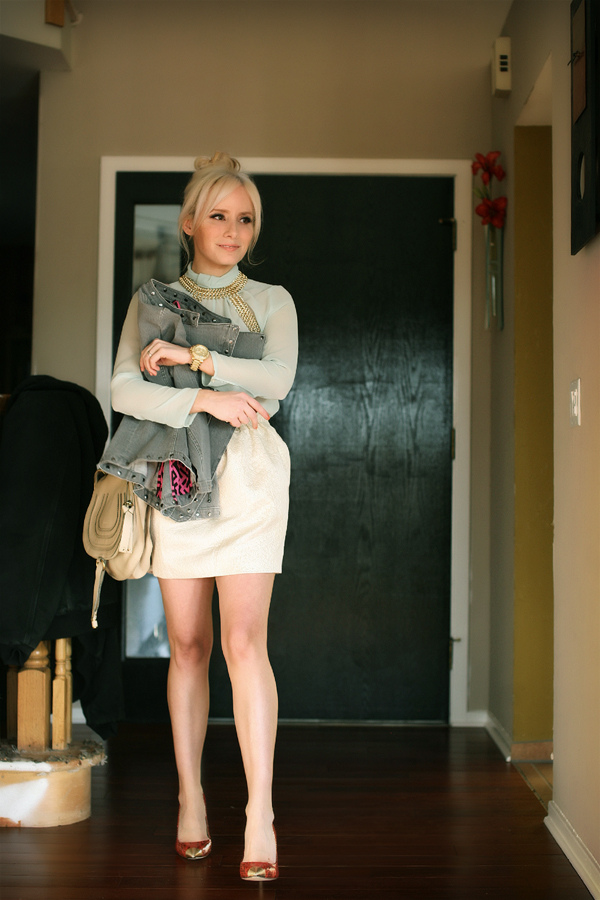 Hello, readers, and I hope your week is off to a great start. After having a completely freaky flare last week into this weekend that left me with not only looking like I had been attacked in the face by a blusher-brush wielding drunk 2-year old (right?) and a rash on my chest looking like I had chicken pox and/or the skin of any  healthy 13-year old, I am back. And feeling much better! And so it is a good week thus far.
I have two outfits for today. This first one hasn't been worn yet, obviously since it's cold out, but I grabbed both the jacket and the shorts for cheap so I wanted to get a post in here before they go *poof* forever.  Bright colors are a pretty big deal for this spring, and I have always loved how a neon coral looks with a vibrant, pinky purple.  The best way to wear bright colors is to mix in neutral accents, so I paired the duo with a bronzey beaded cami and uh…bright yellow shoes. Neutrals.  I know what they are.
I have no explanations for the awkward poses, however, but etc etc etc:
You can find the
coral blazer
over at
Forever 21
; like most Love21 products it runs a little big so I am wearing an extra-small. The shawl collar and open front does dictate a more "easy" fit, which makes sizing not quite so tricky. The sleeves are long on my t-rex-hates-push-ups arms, of course, but rolling them up works too. Love.
The
shorts
are on sale over at
ASOS
and they fit pretty small. ! I am wearing one size up from my normal in these pictures, and I actually sent off an order for the next size up too since I prefer my shorts to not cut off circulation to my entire lower half.  Aside from that, these shorts are great–they are also fully lined, and while the inseam is short it's still long enough to cover what needs to be covered even when bending over,
mom
, I checked. If you are an avid ASOS shopper, you know their sizing can be all over the place…so the best thing to do is to probably grab two sizes if you want to give these shorts a try. They include return labels and free return shipping with all orders, so I do this pretty often with them–and it seems like the returns are always processed fast, within
about
two weeks, too. Aside from a weird rash (what is it with me and rashes?) of sending me the wrong items three different times lately, they do seem to have pretty decent customer service when it comes to actually returning things.  Whew.
So on to the next one, on to the next one. I really want to wear this harness necklace all the time. Over blouses! Over gym clothes! Over pajamas! The possibilities! The ingenuity! I can only think of three things! With half of them I'm kidding! Kind of! But I still love it anyway!
Top: Zara (buy it here) (similar at Topshop) (and a brighter option by Free People)
Jacket: Alexander McQueen for Target (similar here) (similar at Last Call) (similar at Urban Outfitters)
Skirt: Urban Outfitters, old (similar here) (similar at J Crew) (similar at ASOS + take 10% of with code "HAPPYLEAPYEAH") (and another option at ASOS, on sale)
Necklace: Topshop (similar-ish here) (similar-ish here) (lots of options on Etsy, like this!)
Watch: Michael Kors Horn Chronograph watch (buy it here) (similar at Overstock, on sale)
Has there been a favorite accessory that you've been reaching for a lot lately in your own closet?  Share in the comments!
♥