(Outfit Of The Yesterday) Spearmint, Coral, Chartreuse and Gray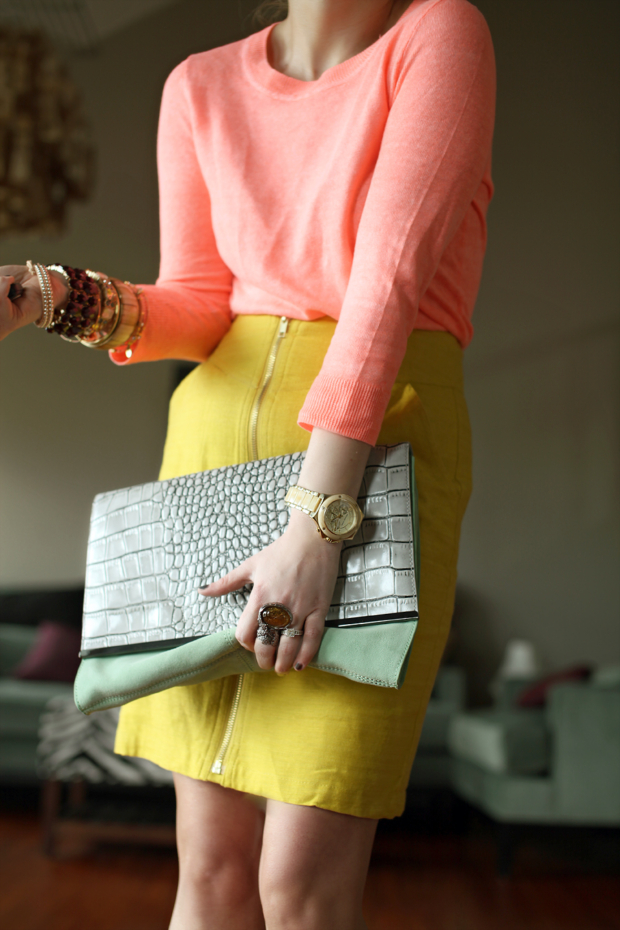 ♫: October – Broken Bells
First things first–I have been blown away with all the great feedback that I have received from you guys so far about the new site!On Twitter, Facebook, e-mails, and in the comments here…thank you. You guys rock.
Things are still a little broken, but the big kinks are getting worked out fast.  One problem I ran into was with my "Big List Of Deals" post that I do daily. It is typically a huge, lengthy post, which means that Google (and Google Reader) won't pick it up in the feed.
The only solution I can find right now is to just do a small lead/summary post as an alert that the list is up & ready…and then you guys have to click through on that and come to this site to see the full list.  It totally defeats the purpose of reading this blog in an RSS feeder, I know–but I'm searching high and low for some better solutions, and as soon as I find one I'll do an update here.

On to the outfit! Going a little bit more casual for today. I wrote about this ASOS croc-effect clutch a few days ago (here), and since I had been lusting hard for the Diane Von Furstenberg Adele clutch I decided to grab it. It is a good "inspired-by" for the price–the spearmint-y body is a really soft (and according to ASOS, real) suede, and while I'm not entirely sure that the gray "mock-croc" part is leather (it feels more like plastic to me), it doesn't look too cheap. It is a little shiny, much like patent leather, but it contrasts well with the nubby texture of the suede.
It also doesn't come with a shoulder strap (the Adele clutch does). I have actually found portfolio clutches to be pretty easy to carry, though–I normally tend to gravitate towards shoulder-strap clutches and bags due to arthritis in my hands, especially if I am going to be out & about for a bit, but portfolios tuck neatly into the arm/armpit so little clutching-action is actually required. As long as I don't get arthritis in my armpits, I'm golden.
The only downside is that they are not  practical for a girl that carries around a lot of stuff–I can typically fit an iphone, wallet, a packet of gum, a compact mirror, and a lipgloss or two inside. Anything wider than that (like sunglasses, cameras, small fuzzy animals) makes the bag bulky and awkward. Portfolios are supposed to be slim & clean, a little minimalistic if you will; so definitely keep that in mind if you want one for yourself.
But all in all, I love it! It's a pretty leather clutch for the price:
What do you think about portfolio clutches? Love them? Leave them? Share in the comments!