Outfit Of The Day: Shades of Ochre, Blue, Black & Blush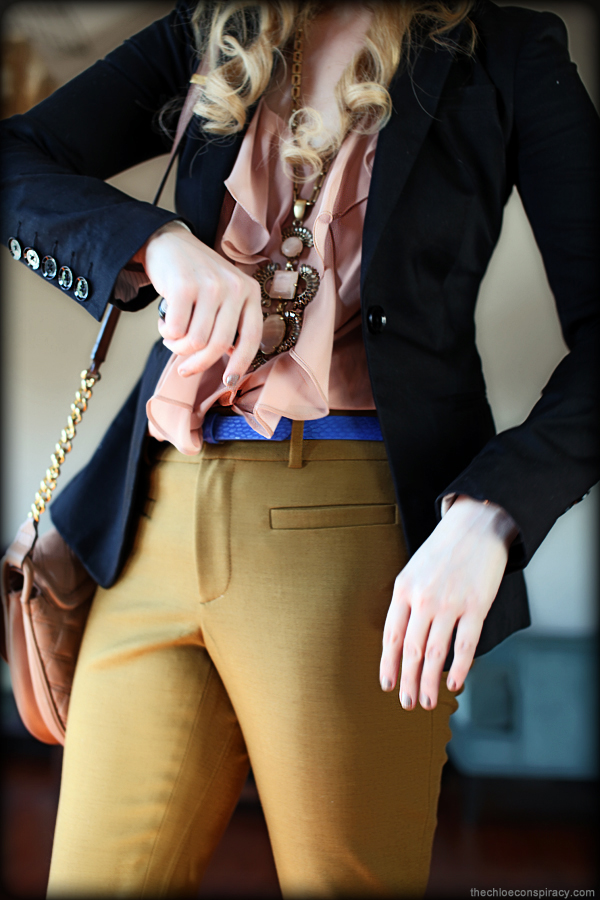 ♫: Sun of a Gun – Oh Land
Some of you that own the Marc Jacobs Quilted Cooper Crossbody might notice that mine now looks a little different–a little shorter in the chain. I actually left an everlasting piece of my purse at Red Rocks on the 29th, in about row 20 and around seat 10, when the chain became permanently (AND I MEAN SO DARN PERMANENTLY) wedged in the small crack of space where the wooden bench hits the cement.
I even had two big-and-burly-small-dog-owning tough dudes in my posse, and while they tried their very best to free the bag, their macho-ness was no match: the purse was really stuck.
Let this be a lesson: this is exactly what we all get for being busy adults that never find the time to properly sharpen our tug-of-war skills. I should also add that my only real contribution to The Cooper Conspiracy was trying to frantically (drunkenly) dig the strap out with a flimsy bobby pin I had yanked from my own head, as I apparently have not taken the time to properly sharpen my science or reasoning skills lately, either. (But don't worry, my freezer threw a precariously-positioned frozen burrito at my head today for lunch, so physics! We're now good for a few years, thanks.)
In the end, while a Marc Jacobs handbag would probably not be the most interesting thing that has ever been left permanently stuck to the benches of Red Rocks Amphitheater in its 100-year history, we had to completely break the chain in order to free the purse so I could bring it back home. Cry.
Looking on the bright side, though, the strap was too long for me anyway. And thank goodness for Super-Handy-Fix-It Dads that are still willing to fix their 30-year-old daughter's purses–he used pliers to even out the chain, and had my purse put back together within minutes. Whew. (Thanks so much, dad!)
Regardless of the mishap, it is still one of my favorite handbags. It's not too big, but also not too small, and holds everything I need with plenty of room to spare. I have had it for about a year now, and even after heavy use & abuse it is still as soft as a plush pillow. Marc Jacobs makes some of the softest bags out there, and while I have been itching to finally add a Céline handbag to my arsenal this Christmas, I am also leaning heavily towards a few pretty little things that I (delicately!) squeeze every single time I'm in the Nordstrom at Park Meadows:
{marc jacobs fall 2012 – meow.}
Happy sigh. Outfit time! I am wearing pants today, watch out:
Blazer: Express, really old (similar here, under $100) (similar here) (similar under $50 + take 20% off w/ code "FALL20")
Top: LC by Lauren Conrad Ruffled Chiffon Crochet Back Tank (buy it here) (similar under $20)
Belt: J Crew, old (similar here, on sale) (similar under $30)
Pants: Madewell Slim Trolley Trousers in ochre (similar here) (similar under $30 in "burnt ochre") (last worn here)
Watch: Michael Kors Parker Watch in Rosegold (buy it here) (similar under $200) (last worn here)
Necklace: J Crew Plume Necklace, old (similar here) (a pretty option here) (last worn here)
Shoes: J Crew Savina Studded Sandals, old (similar under $150) (similar under $100
) (similar under $50)
Bag: Marc Jacobs (buy it here) (similar here) (similar under $200) (last worn here)
Nails: ULTA Scene Steel-er (buy it here)