Outfit Of The Yesterday: Leather + White Jeans + Lace (& The Canon EF 85mm f/1.8 Medium Telephoto Lens)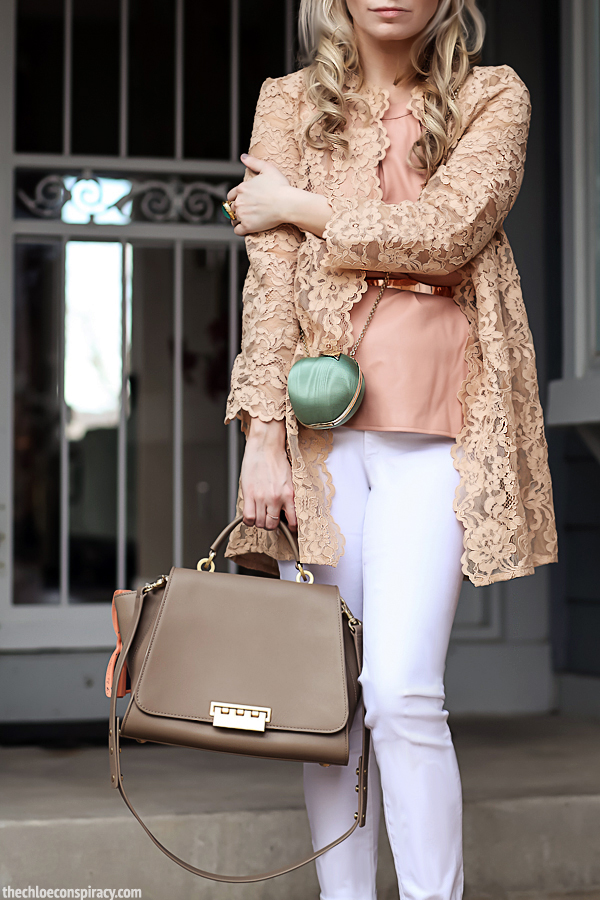 ♫: Diane Young – Vampire Weekend
Most photography enthusiasts know that there are lots of components that go into producing great pictures–it isn't just the scenery, subject, and lighting of the shot, but also the body of the camera, the lenses, the post-processing programs, how far you stick your tongue out of the corner of your mouth in concentration while shooting, etc.
I have some friends that recently had a new baby, and so I had wanted to be able to get some crisper portrait shots . I also wanted to upgrade some of my "outfit of the day" shots as well, and so I decided to finally get a new piece of glass to play around with–the Canon EF 85mm f/1.8 USM Medium Telephoto Lens. In the world of lenses it's a little pricier (but still under $500), and after looking at the real-life-sample pictures on Pixel-Peeper I decided to give it a shot.
The lens definitely delivers super sharp and clear photos, with soft and incredibly smooth bokeh. 85mm is considered the "perfect for portraiture" focal length by Canon, meaning it delivers closest to the correct perspective for the subject and background. In simpler terms, if you are a novice like me: this lens is an up-close one, which means all my 'outfit of the day" photos shot with it will probably be a little close (and a little off) until I get used to setting the my camera further back for full body shots:
( And I took 100 pictures just about as awesome as this one) (But I sincerely promise that I'm not some sort of foot-less wonder; I really, really do.)
The lens also makes me feel a trippy I'm-a-total-weenie-in-my-old-age-'cuz-am-I-now-get-dizzy-while-swinging-on-park-swings type of motion sick if I'm trying to shoot a photo using the eyepiece. It also makes me smack into walls, much to the entertainment of Husband–it's always nice when we can both benefit from this curious and inspiring art form.
But over all, I am incredibly happy with the lens. It's fast, easy to use, and awesome.  And I highly recommend it! I can't wait to take some more candid portraits & pictures of pretty flowers this summer, too. Until then…
 Jacket: Topshop, old (similar here) (similar here) (similar here) (similar here) (similar under $50) (similar on sale) (last worn here)
Top: Piperlime (buy it here
)
Jeans: AG Goldschmeid Legging Stevie Ankles in White (buy them here
) (similar under $75)
Belt: Nicholas Roxeanne Thin Rose Gold Plate Belt (buy it here) (similar here)
Turquoise Ring: Yves Saint Laurent in Mint, old (similar here) (similar under $50)
Rose Gold Thin Band Ring: LC Lauren Conrad @ Kohls (similar here)
Shoes: J Crew Valentina Pumps in Weathered Rose, old (similar here) (similar under $100 in 'blush leather')
Apple Bag: Anya Hindmarch (buy it here) (similar under $250) (similar under $100) (last worn here)
Tan Bag: Z Spoke by Zac Posen Eartha Satchel in elephant, c/o (thanks guys!) (buy it here)
Sunglasses: Karen Walker Atomic Lace Sunglasses in peach (buy them here) (similar under $50)