Outfit Of The Yesterday: A Flower Shower (+ A Mix Of Floral Dresses & Moto Jackets)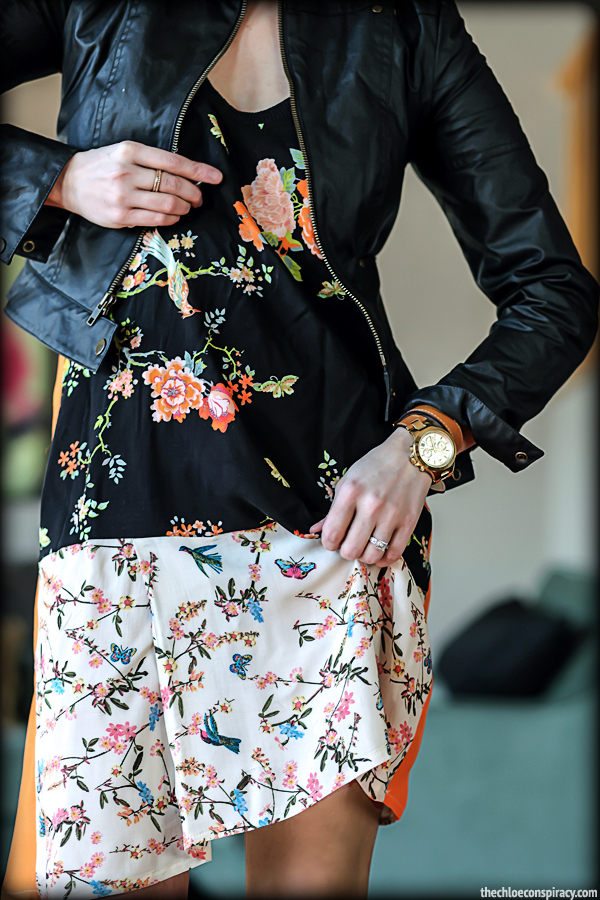 Style is all about (in my opinion) evolving and changing, and while I will always be a super sucker for super feminine details (lace! bows! silk blouses! poofy skirts!), I have been trying to add a few edgier pieces into my wardrobe this year–to make sure my wardrobe remains age-appropriate.
One of my favorite combos at the moment is pairing my floral dresses with moto jackets. It's an easy way to transform dress that is a little too 'darling' into something a little more grown-up and fierce. Below are a few of my favorite moto jacket + dress combos. Click on any of the pictures to shop & see the full product information!

 And, of course, an outfit.  What's your favorite way to give floral & feminine dresses a bit more style? Share in the comments below! ♥
Jacket: Emerson Fry, old (similar here) (similar under $75) (similar under $75)  (last worn here)
Dress: ZARA (buy it here)
Watch: Michael Kors Wrap  (buy it here + take 20% off) (similar here) (similar under $75)
Shoes: See by Chloe Hera Slingbacks (buy them here) (similar here) (similar under $150)
Bag: Chloe Marcie Crossbody, old (similar Marcie here) (similar under $150) (similar under $100) (last worn here)