(Outfit Of The Yesterday & In Review) The LOFT Striped Sailor Pencil Skirt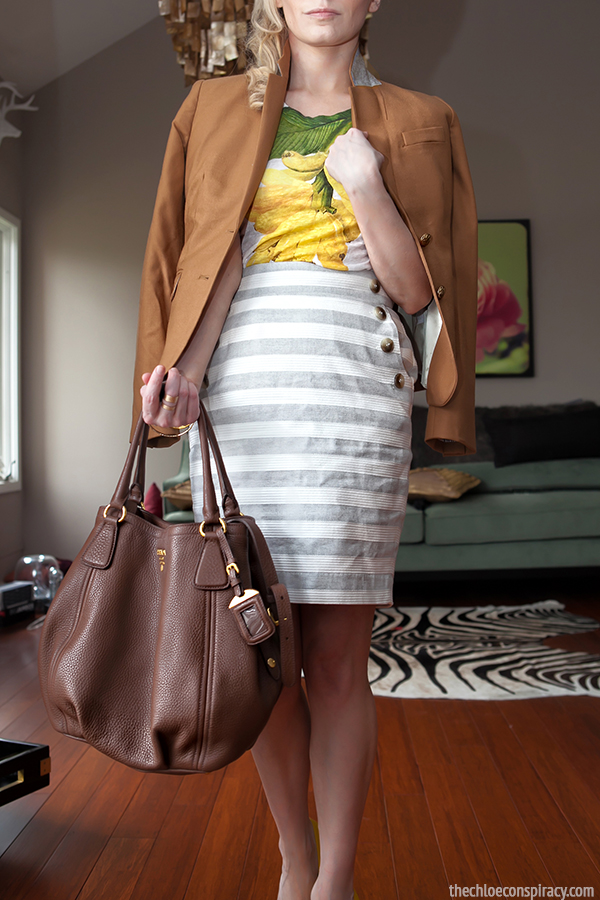 LOFT updated with some adorable mid-summer arrivals recently and with the 50% off promos they've been running lately I decided to pick up a few pieces: the Striped Sailor Pencil Skirt, the Linen Cotton Dobby Blazer, the Riviera Shorts, and the Wallpaper Floral Sweater Tee.
First up we have the Striped Sailor Pencil Skirt (I will try to get reviews up for the other items later this weekend!). I am a sucker for sailor buttons (and stripes!) and this skirt doesn't disappoint. It's a great little skirt. It is made out of a rayon/cotton blend, and while it looks like linen it doesn't wrinkle like linen. Bonus! I love the look of linen, but the rumpled horizontal creases that somehow magically appear as soon as you even think about sitting down, you're not even all-the-way-down but hovering and instantly you look like you fished your linen skirt/pants/shorts/dress out of the bottom of your clothes hamper where it's been hanging out for the past 10 years? Doesn't happen with this skirt. It wrinkles a little bit, but it's a much more manageable sort-of-very-slight-rumple. It is also nicely lined and has pockets. All skirts should have pockets, if only to prevent me from forgetfully pawing at my sides every 10 minutes when wearing a skirt that doesn't.
As far as sizing goes, I think it runs a little small. I usually wear a 0 petite in LOFT, but I took the advice of reviewers and sized up to a 2. I am glad I did–it's comfortable around the waist, and perfect for tucking in tanks and tees. The only bad part about the skirt is that it fits tight at the bottom hem, and while it has a slit in the back, it could afford to be a little longer. I am used to wearing full or A-line skirts, and it took me a few strides to get used to walking in something a little more constricting.
But all in all, I highly recommend it. A big thumbs up, LOFT! Without further ado:
Blazer: J Crew Factory, old (similar here + take 50% off w/ code "SPARKLE") (similar here) (similar under $75)
Tank: J Crew, old (buy it here)
Skirt: LOFT (buy it here) (similar here + take $20 off w/ code "12867")
Bracelet: Kate Spade Footloose & Fancy Free Idiom Bangle, old (similar here) (similar here)
Tortoise Ring: Michael Kors, old (buy it here) (similar here, on sale!)
Shoes: Manolo Blahnik Uliepe Pumps, old (similar by kate spade) (similar under $100)
Bag: Prada Daino Convertible Satchel in Marrone Brown (buy it here) (similar under $500)