Outfit Of The Yesterday: J Crew Spring 2015 Collection Metallic Stripes (+ A Quick Trip to Minneapolis, Too!)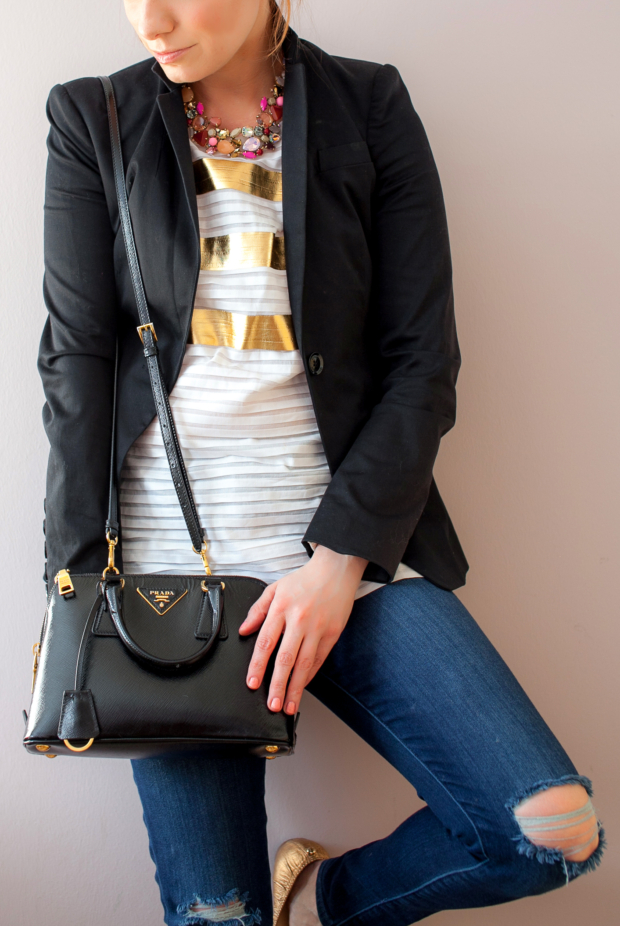 I was lucky enough to be able to jet back home to the midwest for a few days last weekend, and although it was a short trip (72 hours total!) I had two things on my agenda: to see my friend Patty and her new baby, Fiona, in Minneapolis…and to hug my gramma on her birthday in Sioux Falls, South Dakota.
My gramma turned 84 years old this year and has been having some health problems lately; when I last saw her I noticed for the first time a somewhat visible decline. She's not nearly as steady on her feet, and while she astutely does "word puzzles" every day to "stay sharp" (she will tell you while thunking herself on the head), she's much more forgetful and the lapses as she struggles to find words buried deep in her brain have continued to grow longer. 
But she didn't forget that I promised to come back for her birthday, she never forgets those sorts of things, so I hopped on a plane with my husband last Friday to hold up our end of the deal.
We first flew into a very chilly Minneapolis where we saw my friend Patty, cooed at her ridiculously cute baby (& husband Ryan too) (just kidding, I think Ryan hates cooing), ate dinner at the Copper Hen Kitchen & Cakery (where I seriously had the best chicken pot pie of my life–and the champagne buttercream cupcakes weren't bad either!), spent the night, hung out at the Midtown Global Market (really neat!) the next day, and then grabbed Punch Pizza (DELICIOUS – I'm in love with the "Mimi", topped with lots of balsamic vinegar) & Yum Bakery (more cupcakes!) on our way out of town. 
And we had a birthday party for my gramma on Sunday, where we gave her lots of hugs and gifts and it was a really, really nice time. It scares to think these moments may now be numbered, scares me deep to my core, so I won't think of it and instead post this picture of her getting really excited while opening microwavable lavender scented slippers: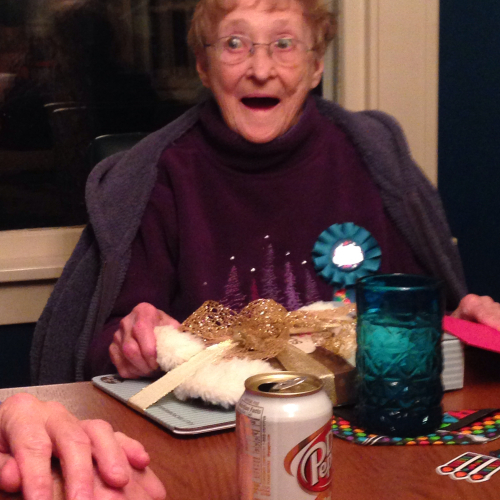 And this picture of my husband helping her to the car, which I will cherish forever and ever and ever. He has a busy work schedule and doesn't often get the chance to go back to South Dakota with me. I am really glad and he came back with me this time:
On to an outfit! I'm currently nursing a ridiculously bad head cold so please ignore the totally crazy hair/overall frazzle-fest. It's amazing that I managed to actually remove the Kleenex that's been permanently stuck to my face to put make-up on, let alone tame my hair into something, but I wanted to get a post up with this white & gold (or is it black and blue?) J Crew Collection Pleated Shell in Metallic Stripe from J Crew's Spring 2015 collection.
I'm a sucker for gold, and I was surprised at how shiny and luxe the stripes are in person. The top runs pretty big (I sized down one size from my usual and am wearing an 00), but it has a nice fitted shape that flares out and away from the body slightly at the bottom.  I dig!
BLAZER: Express, old (similar here) (similar under $50) (similar under $50)
TOP: J Crew (buy it here) (similar under $50)
NECKLACE: J Crew (buy it here + take 25% off with code "SPRINGSTYLE") (similar here)
EARRINGS: Gorjana (buy them here – under $100)
JEANS: American Eagle Outfitters, old (similar here, on sale) (similar here)
GLASSES: Tom Ford, old (similar here) (similar here)
SHOES: Vince Camuto Signature, old (similar here) (similar here) (similar under $50)
BAG: Prada (buy it here) (similar under $300) (similar under $250) (similar under $50)