My Guide to Denver & Colorful Colorado (2015)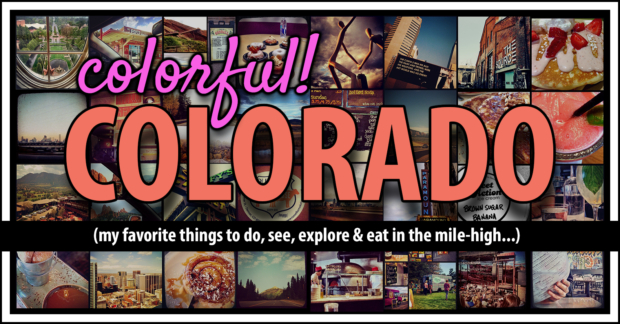 Every so often I receive e-mails from readers that are coming to visit Denver and are looking for any recommendations, suggestions, and tips I can give. There's tons to do, see, and explore in this big and beautiful state, so here's my guide to everything I enjoy about living in and around Denver….(please note: this guide contains trip and travel ideas for the Denver/Colorado Springs area only. I will be working on a different guide featuring my favorite mountain towns & activities soon!)
STAY
Looking for the perfect accommodations? Below are some of my favorite places to stay!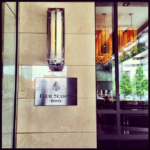 Four Seasons Hotel Denver (Downtown Denver) – a contemporary luxury hotel located in the heart of downtown Denver near the Denver Center for Performing Arts. It's also within easy walking distance to the 16th Street Mall & Larimer Square, too! The Four Seasons boasts a spa, indoor heated pool, spectacular service, and views of both downtown Denver & the Rocky Mountains from nearly every room. Its signature restaurant, EDGE Restaurant & Bar, features an extensive wine list & Colorado-ranched beef cooked over a custom wood-fired grill.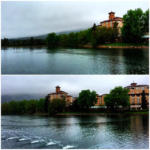 The Broadmoor (Colorado Springs) – a five-star luxury resort located in Colorado Springs. Opened in 1918, this hotel is an attraction all on its own! It's located right near the southern edge of the Rocky Mountains (so stunning views are out every single window!) and prides itself on a posh, personalized experience. Visitors can find a museum, a theater, a bowling alley, tennis courts, a golf course, and two swimming pools right on the property. The Broadmoor also has Colorado's only Five-Star, Five-Diamond restaurant (The Penrose Room).
The Curtis Hotel (Downtown Denver) – located in Denver (& right across from the Denver Center for Performing Arts!), this modern boutique hotel has stylish & fun rooms with pop-culture themes. A must for anyone with a playful personality who wants a memorable stay! Make sure to grab breakfast at The Corner Office, located adjacent to the hotel too–it's delicious.
Hotel Monaco (Downtown Denver) – a unique boutique hotel located in downtown Denver. It's extremely pet-friendly (there are no extra fees for bringing your four-legged friend) and they even a "Pampered Paws" spa service/pet program for your dog (in case you're looking to indulge!). Don't have your pet with you and missing your companion? You can even request a complimentary pet goldfish to be in your room during your stay. Guests can also enjoy Frette linens & C.O. Bigelow products in every room, too.
Magnolia Hotel Denver (Downtown Denver) – set in a refurbished building from 1910, this boutique hotel caters to the chic & charming. Located right off the 16th Street Mall (where there's ample eating, shopping, and entertainment) and near the Denver Art Museum, this is a great hotel if you're looking at spending your trip only in the center of the city with minimal driving.
PLAY
Looking for something fun to do? This state offers nearly every activity for nearly any person. Below are some of my favorite activities & events to make for a memorable stay in the Mile High city…
FESTIVALS, FLEA MARKETS & FOODIE FEASTS…
Denver Bacon & Bourbon Fest (January 2015) – cure your winter blues (get it, cure?) (heh heh sorry, I'll stop being such a ham!) at this unique annual festival that happens every January. For a fee, attendees can snack on bacon-flavored treats while sipping on some of the finest bourbon Colorado has to offer. It's the ultimate in bacon and bourbon bliss.
The Big Wonderful (May 2nd – end of summer) – held every single Saturday (from noon – 7:30pm) in the summer, this outdoor sustainable market blends food, fun, "flea", and entertainment. Featuring beach volleyball, an urban farm, a craft beer garden built out of a storage container, and a stage with local music (along with some of the best artisans, food trucks & vendors that Denver has to offer), this market has it all for anyone looking for a true summertime-in-the-city experience. Voted "Best Foodie Fair of 2015" by Denver Westword!
Denver Chalk Art Festival (June 6th & June 7th, 2015) – artists young and old alike descend on Larimer Square every June to rock out with their chalk out at this unique art festival. This two-day festival features live music, a youth challenge, wine & beer to sip on while sightseeing, and (of course!) over 200 artists turning the streets of Larimer Square into a colorful explosion of super creativity. While this might not be a main attraction, it's a fun thing to wander past if you happen to be downtown while it's in progress. Missed it this year? Centennial holds a second Chalk Art Festival this September 19th & 20th–full details here.
Top Taco Denver (June 25th, 2015) – eat, drink, and vote at this one-day summertime food festival in downtown Denver. For a fee, diners can try unlimited Mexican fare (and margaritas!) from 35+ vendors! It's a great way to try new restaurants (and to accidentally split your pants, too). Adults only. Purchasing tickets in advance and wearing your best elastic-waisted sweatpants is recommended.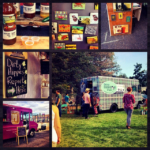 Horseshoe Market (July 11th, October 3rd, November 28th) – this free indie craft market contains some of the very best from local Colorado artists, vendors & food trucks! Over 100 artisans participate (including lots of Etsy-ers!), and it's the perfect place to shop, mingle, and help support local artists & businesses. This is truly one of my favorite things to do in Denver.
Cherry Creek Art Festival (July 3rd – July 5th) – celebrating its 25th anniversary this year, the Cherry Creek Art Festival is Colorado's premiere celebration of visual, culinary and performing arts. Admission is completely free to this three-day festival, and visitors can peruse 260 juried exhibitors. There's lots of food & live entertainment too! It does get crowded, so consider hitting this festival early (it opens at 10AM each day) to avoid crowds.
Colorado Dragon Boat Festival (July 18th & 19th) – this summer festival features two full days of entertainment including dragon boat races (duh), five stages with over 100 performers, the best of asian cuisine, and tons of local vendors & artisans selling their goods. This festival had over 125,000 attendees last year–so consider getting their early before the crowds start to fill in! Dragon boat races start at 8AM each day and run until 5PM;  the festival officially opens at 10AM.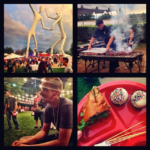 Burger Battle (August 6th, 2015) –  this is a burger contest in the same vein as Top Taco. For an entrance fee, participants can try unlimited burgers (& dessert!) from 13 of Denver's best restaurants. Diners can also enjoy free lawn games and entertainment, and the night ends with a vote for the best burger. I did this last year and it was tons of fun! Once I got past the never-ending meat sweats. Ooh hoo, meat sweats. Adults only. Purchasing tickets in advance is recommended (this does sell out!).
SHOPPING…
 Cherry Creek North (Denver) – get your shop on at nearly 400 businesses (73% are locally owned and operated!) at Colorado's premiere outdoor shopping venue. Located right cross from The Cherry Creek Mall, this is a great area to shop & peruse on sunny spring & summer days. Mixed among the locally-owned shops you'll also find Hermes, Kate Spade New York, Jonathan Adler, Room & Board, West Elm, and lots more–there's plenty of great shopping for everyone.
Broadway Street (Denver) – looking for local boutiques and shops with a bit of an eclectic flair? Broadway street (starting at around 2nd Ave & south) has a bunch of great locally-owned businesses and stores that are fun to check out, including two of my favorites (Decade Gifts and Hazel & Dewey). Sweet Action Ice Cream is also in that area (my favorite ice cream shop in Denver!), along with Punch Bowl Social and lots of other fun locally-owned restaurants and bars. Don't feel like shopping? The Landmark Mayan Theatre is in that area as well, featuring independent & artsy flicks in a 1930's fully-restored Art Deco Mayan Revival theater (one of only three left in the entire country!). Head further south on Broadway and you'll hit "Antique Row", which features nearly 100 antique stores on 18 blocks. Head even further south from there, and you'll hit the South Broadway Mile in Englewood which has even more (you guessed it!) local shops, boutiques, and restaurants. Wear your walking shoes!
16th Street Mall (Denver) – no trip to downtown Denver is complete without a stroll on the 16th Street Mall. Featuring a gazillion different shops & restaurants (plus ample people-watching), this a great place to waste an afternoon. Make sure to check out the I Heart Denver store in the Denver Pavilions mall, too–a boutique that features only local artists, designers, and the cutest store mascot EVER that often greets customers as they walk through the door (Denver the Corgi!). It's a great store if you're looking for a souvenir or simply something neat.
Pearl Street (Boulder) – this Boulder-located pedestrian mall contains several blocks worth of local retailers & restaurants. There's often entertainment (and ample people-watching!), too. It's one of my favorite places to spend a summery Saturday afternoon. Make sure to check out works from local artists at the Boulder Arts & Crafts Gallery (and grab lunch or dinner at the amazing Pizzeria Locale, too!).
GO OUTDOORS…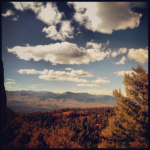 Devil's Head Fire Lookout (South West of Denver) – if you want to get out of the city and are up for a slightly challenging day hike with a spectacular view, check out Devil's Head Fire Lookout. This 1.4 mile trail winds its way through Evergreen forest and an elevation climb of 950 feet; the end of the trail is one of Colorado's last operating fire lookouts with insane views of 100 miles in all directions. The trail is well-maintained (with benches for resting along the way!) and can be completed by most that are in average shape. I definitely stress the "most" part. Make sure to bring your camera!
The Royal Gorge Bridge & Park – if you have an entire day to kill, The Royal Gorge is a great way to do it. Located about 3 hours southwest of Denver near Canon City, The Royal Gorge features America's highest suspension bridge suspended about 956 feet over the Arkansas River. It's scary high! Visitors can pay an entrance fee to cross the bridge by foot; cars are occasionally allowed to drive over as well. The park also features a zip line, gondola, "sky coaster", historical museum, dining options, and more–it's a great place for young and old alike. The stunning views are also spectacular and worth the price of admission alone.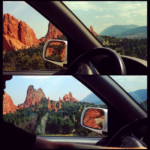 Garden of the Gods (Colorado Springs) – a designated National Natural Landmark since 1971, this park is a rich ecological resource containing unusual rock formations that are millions of years old. Visitors can walk, hike, or drive through the park, and there's a visitor center featuring exhibits and park information as well. Admission is completely free; visitors can also sign up for free guided 30-minute walks through the park every day, too.
Yoga on the Rocks (July 25th, August 1st, August 8th, August 15th) – Colorado constantly earns accolades for being one of the fittest & healthiest states in the US, and with good reason–there's lots to do in this state year round to stay fit & active! If you love yoga try Yoga on the Rocks. Held at Red Rocks Ampitheatre a few times every summer, you'll get a workout with an absolutely stunning, one-of-a-kind view. 
Cheyenne Mountain Zoo (Colorado Springs) – this is the only mountainside zoo in the entire United States! Located southwest of downtown Colorado Springs and in operation since 1926, this zoo has it all–including close to 950 animals. There's also a fully operational carousel that was featured at the 1932 World's Fair, a mountaineer "sky ride", a petting zoo, and lots of educational tours & exhibits. This is also a top-rated attraction on TripAdvisor for Colorado Springs (and many say it's better than the Denver Zoo, too!).
MUSIC, MOVIES, Museums, & More…
Landmark Mayan Theatre – looking to indulge your more refined and cultivated side? Need something to do on a rainy or snowy afternoon? The Landmark Mayan Theatre on Broadway features independent, foreign, & artsy flicks in a 1930's fully-restored art Deco Mayan Revival Theater. The popcorn there is some of the best in town, too! Make sure to also check out its sister theaters, the Esquire Theatre & the Chez Artiste Theatre for even more movies & showtimes.
The Bluebird Theater, Ogden Theatre, Gothic Theatre & Fillmore Auditorium – Denver is a city that loves music (and, according to some local publications, has more live music venues than Austin, Texas!) and one of my favorite things is to see shows & concerts that come through the area. We have a great music scene (and unique theaters full of history to catch concerts in!)–it's a great way to spend any evening year round. 
Denver Museum of Nature & Science – one thing I love to do while traveling is hit up local museums, and the Denver Museum of Nature & Science is the ultimate. It's great for young & old alike; visitors can learn about everything from dinosaurs to space to Egyptian mummies (and even dragons at the Mythic Creatures exhibit, running this summer through September 7th!). There's a planetarium for epic space exploration & a 3D IMAX theater, too.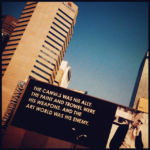 Denver Art Museum (The DAM) – one of the largest art museums between Chicago and the west coast, the Denver Art Museum (DAM) has a collection of more than 70,000 works of art divided between 10 permanent collections including African, American Indian, Asian, European and American, modern and contemporary, pre-Columbian, photography, Spanish Colonial, textile, and western American art. They also feature traveling, limited edition exhibits (and was the only United States venue to host Yves Saint Laurent: The Retrospective back in 2012!). Make sure to also check out the Clyfford Still Museum, which is right next door and features a collection of approximately 3,125 works of art from what many consider to be one of the most important painters of the 20th century. It's neat and a great way to spend a rainy or snowy afternoon!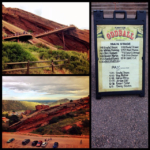 Red Rocks Ampitheatre – one of Colorado's best known attractions is also one Colorado's best known musical venues! Opened in 1941, Red Rocks Ampitheatre is the only naturally-occurring, acoustically perfect amphitheatre in the world. In other words: it's amazing and has seriously stunning views. This open-air venue has played host to such greats as The Beatles, Willie Nelson, and U2 and is the setting for hundreds of great concerts & festivals every year. It's a must for music lovers (and anyone who enjoys listening to good tunes in the middle of spectacular surroundings!). Music not your thing? Consider catching your favorite movie on the big screen at Red Rocks with Film on the Rocks, too–presented all throughout the summer by the Denver Film Society.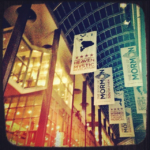 Denver Center for the Performing Arts – downtown Denver is home to an amazing theater complex featuring broadway musicals, comedy, drama, cabaret, ballet, opera, and lots more–it's the world's largest performance facility under one roof! See everything from Wicked to Book of Mormon to The Lion King (and plenty of smaller but just-as-good acts too!). They also do backstage tours every Saturday & Monday for just $8, which gives visitors a unique behind-the-scenes look on everything it takes to make a show run.
Madcap Theater – love to laugh? Vacationing with the kids? Then make sure to check out Madcap Theater in Westminster, Colorado. Madcap is 100% improv and strives to keep their comedy "above the belt", making it appropriate for nearly anyone. Due to the nature of improv no two shows are alike–so visitors get a hysterically unique experience every time. One of my very first dates with my husband was to the (now defunct) Impulse Comedy Theater in Denver and I laughed to the point of tears–comedic improv in Colorado holds a very special place in my squishy little heart. 
Comedy Works – love to laugh? Vacationing without the kids? Then make sure to check out Comedy Works. Comedy Works has two locations in Denver and each hosts headlining comedians (like Jo Koy, Janeane Garofalo, Marc Maron, Arj Barker, Patton Oswalt, Arsenio Hall, & lots more!). They also have a fully stocked bar & snacks to munch on while you laugh. This is one of our favorite things to do with friends–it's easy, it's entertaining, and it's impossible to have a bad time.
Casa Bonita – it's with incredible reluctance that I include this on my list, but I strongly feel that Casa Bonita is one of those "must see, IF JUST ONCE" attractions that makes Colorado unique. Located in a strip mall off Colfax in Lakewood, this one-of-a-kind attraction has been open since 1974! Kindly described as a "Mexican restaurant and family entertainment destination", this restaurant can seat a capacity of 1,100 and features cliff divers that perform while you eat. The good? It's unlike anything I've ever been to or seen before. The bad? The food, which is cafeteria-style terrible, but visitors must purchase a meal in order to get inside the building. But no worries! They serve "world famous" unlimited sopaipillas and honey at the end of every meal, which are (honestly) freaking delicious and perfect to snack on while watching the cliff divers & shows. There's also an arcade and Black Bart's Secret Hideout–where all good childhood dreams officially go to die. Featured on both Southpark and in Westword Magazine's "How to Survive Casa Bonita, The World's Weirdest Mexican Restaurant".
EAT, eat, eat!
Need a place to refuel? Looking for something new and fun to try? Denver has an amazing food scene with restaurants that will tempt any tastebud–below are a few of my favorite places to eat in and around the Denver area...
BREAKFAST
(delicious & creative breakfast foods)
WHERE: several locations all throughout Denver
WHAT THEY SERVE: Snooze is an AM Eatery that serves super creative (and super delicious!) breakfast and lunch fare. They're known for their adventurous adaptations of standard dishes (think Nutella Banana french toast, Pineapple Upside Down Pancakes, a Green Eggs & Hamwich, and a rueben sandwich named after a flemish baroque painter – The Peter Paul Reuben). The upside? It's really good. The downside? It's really good! They do not take reservations, and since it's a popular joint, be prepared for a bit of a wait.
TRY: Strawberry Fields Pancakes (buttermilk pancakes topped with strawberry-lavender cream, honey-ginger strawberries, whipped mascarpone and candied hazelnuts)
(globally influenced seasonal cuisine)
WHERE: 1600 W. 33rd Avenue Denver, CO 80211 (near downtown Denver, lo-hi neighborhood)
WHAT THEY SERVE: A frequent contender in Denver's "Best of" lists, Root Down is a great little place for breakfast (or lunch) (or dinner!) that serves up a "globally influenced seasonal cuisine". They pride themselves in creating a dining spot that serves all dietary needs (be it vegetarian, vegan, raw and gluten free) and the food is outstanding. My favorite is the Banana Bread French Toast (served with Chicory Crème Fraîche, Salted Peanuts, Cacao Nibs & Citrus Syrup) and the bottomless blood orange mimosas. Can't make it to the original location? The now have a second location in the third terminal at Denver International Airport so you can still get in on the deliciousness before leaving town.
TRY: Banana Bread French Toast (served with Chicory Crème Fraîche, Salted Peanuts, Cacao Nibs & Citrus Syrup) & the Blood Orange Mimosas (bottomless for $15).
(best donuts in Colorado)
WHERE: 2704 E Fountain Blvd Colorado Springs CO, 80910
WHAT THEY SERVE: Amy's is a local donut shop that exploded in popularity due to their pillow-y, sweet, melt-in-your mouth glazed donuts; they now serve nearly 100 varieties of donuts and toppings daily and each is just as good as their original glazed. My husband and I drive 40 minutes just to get them and they are worth it. The upside? They're open from 4AM to 7PM daily and keep every flavor well-stocked throughout the day. The bad? They aren't in a convenient location and lines for the donuts can get long. With creative toppings (like cotton candy, pop rocks, jalepeno, Chips Ahoy, and maple jerky bacon) mixed in with standard favorites (glazed, old fashioned, & fruit danishes), it's hard to choose which one to try. Just make sure to request a few of the original glazed, too–they always give them to you hot and fresh! My husband and I love donuts and we've tried them all throughout the front range–this is hands down our favorite.
TRY: All of them!
(fancy-pantsy gourmet donuts)
WHERE: 5301 Leetsdale Avenue Denver, CO 80246 (Denver)
WHAT THEY SERVE: Want some decent donuts but don't feel like making the drive to Amy's in Colorado Springs? This award-winning Denver donut shop prides itself in using only organic, sustainable, and local ingredients. They also pride themselves in creative combinations, and keep their flavors in a heavy rotation that changes weekly–think rootbeer float, mojito, strawberry shortcake, and "Elvis Has Left The Building" (with nutter butter fluff & chocolate covered bananas) alongside a standard glazed and chocolate glazed donut too. Check their Facebook Page to see what flavors they are serving before you go! The good? They make a heck of a quality donut. The bad? They sell out quick and once they are out for the day, that is it–so if you see a flavor you want to try, you better get there early.
TRY: The Confused Samoa Donut (caramel glazed donut topped with toasted coconut & rich chocolate drizzle).
(deliciously twisted biscuits)
WHERE: 3237 E. Colfax Denver, CO 80206 (near downtown Denver)
SERVING UP: We stumbled upon the Denver Biscuit Company late one night, several years ago, after a concert (when they only had the Biscuit bus!) and we were hooked from the first inebriated bite. The good news? They now have several brick & mortar locations to dine in and the biscuits are just as good while sober! They're almost too good–they do everything from sweet biscuits (like biscuit french toast & shortcakes!) to savory biscuits  (like the "Dahlia", with a housemade sausage patty, apple butter, fried egg and maple syrup!), too. We prefer the Colfax location, which resides inside the Atomic Cowboy.
TRY: The Dahlia (housemade sausage patty, apple butter, fried egg & maple syrup) and The Franklin (buttermilk fried chicken, Tender Belly bacon, and cheddar cheese smothered in sausage or vegetarian gravy).
(gourmet champagne brunch with a stunning view)
WHERE: 3225 Broadmoor Valley Rd Colorado Springs, CO 80906 (Colorado Springs)
WHAT THEY SERVE: Past winner of "Best Brunch in Colorado", the Cheyenne Mountain Resort hosts a gourmet champagne brunch every Sunday that comes with an impressive view. The buffet itself is extensive (with nearly any breakfast or lunch food that you can think of!) and is perfect for accommodating the most picky of eaters. The good? The food is ample and delicious, and diners get a picturesque view of the foothills of the Rocky Mountains while they dine. The bad? It's pricey ($40 for adults, $20 for kids) and the attire is a bit more formal–wear your Sunday best.
TRY: Everything!
(authentic southwestern-style eats)
WHERE: 10600 Westminster Blvd Westminster CO, 80020
SERVING UP: While this restaurant does it all, I've only tried it for brunch and it's excellent! Dishes here are zesty and full of spice, from the Fried Quail + Jalepeno Waffles to the Cowboy Burritos to the beignets (ibarra chocolate-filled ancho spiked doughnuts with cajeta dipping sauce). Put all ideas of boring and bland hotel restaurants aside–this place is anything but.
TRY: The Pinon Crusted French Toast (ajeta caramel, whipped cream, toasted pinon nuts) and the Beignets (ibarra chocolate-filled ancho spiked doughnuts with cajeta dipping sauce).
LUNCH
(creative award-winning neapolitan-style pizza)
WHERE: 1730 Pearl Street, Boulder, CO 80302 (Boulder)
WHAT THEY SERVE: No trip to Boulder is complete without a trip to Pizzeria Locale, located on busy and bustling Pearl Street. They've been featured in numerous publications (Food & Wine Magazine, La Cucina Italian Magazine, 5280 Magazine and Food Network Magazine–not too shabby!) and with good reason–their pizza is amazing. Cooked in a wood-fire oven imported from Naples, their Neapolitan-style pizza is crisp, gooey, and charred to perfection. Reservations are recommended, especially on the weekends around lunch and dinnertime. 
TRY: The Ortolana (with tomato sauce, eggplant, zucchini, peppers, onion, garlic & pecorino cheese).
(unique & contemporary American eats)
WHERE: 3350 Brighton Blvd Denver, Colorado 80216 (River North neighborhood of Denver near downtown)
WHAT THEY SERVE: Acorn is the hip & trendy little sister to one of Colorado's best restaurants (OAK at Fourteenth) serving up contemporary American cuisine with a unique and adventurous twist. Open for lunch, mid-day dining, and dinner and located in The Source (a neat reclaimed 1880's foundry turned new epicurean marketplace full of interesting things), this is a great place for relaxing lunches and cocktails. Make sure to spend some time checking out the goods inside The Source after you are done eating, too!
TRY: Crispy Egg & Applewood Smoked Bacon Salad (with cabbage, pecans, honey mustard, manchego), the Grilled Cheese (with crescenza cheese, broccoli rabe pest, roaseted red pepper & tomato soup), and the Rosie's Return Cocktail (leopold's gin, sparkling rose, raspberries,cocktail punk orange bitters, rose flower water).
(all natural fried chicken, southern-style comfort food & brews)
WHERE: 105 West Emma St. Lafayette, CO (Lafayette, near Boulder)
WHAT THEY SERVE: Craving some comfort food? Post Brewing Company is a relatively new restaurant (opened in 2014) known for both its award-winning birds and brews. It's also quickly become my husband's favorite restaurant–they serve the best fried chicken around. Their chicken is all-natural & humanely raised, dipped in buttermilk, and coated with gluten-free flour and spices–which makes the chicken perfectly crunchy on the outside and super moist on the inside. It's to die for! They also serve some tasty side dishes to go with (buttermilk cheddar biscuits, green chile mac & cheese, garlic fries, and collared greens–to name a few!); and no dinner is complete without a Whoopie Pie for dessert.  The setting is rustic with a touch of modern, and it's located in charming downtown Lafayette which has a few fun shops near by to peruse after dinner.
TRY: Everything! It's all good, I promise.
(hip all-american comfort food & drinks)
WHERE: 523 E 17th Ave Denver, CO 80203 (Denver, near downtown)
WHAT THEY SERVE: Steuben's is a great little joint with lots of character (and ample people-watching, too!). Located near downtown  Denver, they serve up traditional comfort food with a twist. Their fried chicken (served with mashed potatoes and a biscuit) is my favorite dish; their macaroni & cheese and "Steubie Snacks" are great as well. They also do creative cocktails and drinks (I like to wash down my dinner with a Black Cherry Phosphate) and they recently expanded their dessert menu as well, serving up delicious desserts like fried apple pie, cupcakes, and chocolate peanut butter cheesecake. The good? This place has something for everyone and is fairly kid-friendly, too. The bad? They only accept reservations for parties of 6 or more, and they can be fairly busy around dinnertime.
TRY: The Fried Chicken (with mashed potatoes, biscuit, gravy) & the Black Cherry Phosphate (house-made ACE black cherry soda, extinct acid phosphate, lime).
(legendary burgers, sandwiches & beer)
WHERE: 2641 East 2nd Avenue Denver CO, 80206 (Cherry Creek North)
WHAT THEY SERVE: The Cherry Cricket is a Colorado institution that can't be missed (and perfect for lunch!). Located in the heart of Cherry Creek North (near the Cherry Creek mall and plenty of upscale outdoor shopping), this "black sheep" of a restaurant has made award-winning burgers & chicken sandwiches since 1951. My favorite is the All American chicken sandwich (topped with a zesty, tear-jerking red onion & thousand island dressing) and a side of macaroni & cheese wedges. The good? The food is delicious and priced pretty nice. The bad?  Healthy-dining options are limited (so be prepared to gorge!) and they do not accept reservations. The inside ambiance can also be a little loud, rough, and rowdy.
TRY: The All-American Chicken Sandwich.
(super fresh & fast Mexican cuisine)
WHERE: 9612 E Arapahoe Rd Greenwood Village, CO 80112 (Greenwood Village)
WHAT THEY SERVE: This is my husband's recommendation for a local cheap, fast, and delicious lunch. They serve up super delicious traditional Mexican with tons of meats, fresh-made salsas, and toppings to choose from! They offer kid's meals, too. My husband's favorite is the Tomatillo Enchiladas served every Tuesday & Wednesday (while I love the chicken taco salad & nachos).
TRY: The chicken taco salad & nachos (with the salsa fresca).
(happy + healthy food)
WHERE: Numerous locations all throughout the front range.
SERVING UP: While I strived to not put chains or franchises on this list, Mod Market is an exception to the rule. Started by two Coloradans, Mod Market is a farm-fresh fast-casual restaurant strives to serve food that is healthy, delicious, affordable, and fast. The anti-McDonald's, if you will. Visitors can dine on crisp salads, sandwiches, perfectly-baked pizzas, and even some homestyle plates–most around $10. The best part? Every restaurant has fountain Boylan's Cane Sugar Soda (the black cherry flavor is the bomb!). It's a great place for a quick and healthy meal for the whole family.
TRY: The M'Rita Pizza, the Flatiron Salad, and Boylan's Cane Sugar Soda.
(a food truck fiesta every Tuesday & Thursday)
WHERE: Denver's Civic Center Park
SERVING UP: Traveling with picky eaters? Looking to try several of Denver's best food joints in one easy location? Check out Civic Center Eats! Every Tuesday & Thursday, dozens of Denver's best food trucks line up in Civic Center Park to serve a quick, easy, and delicious lunch. It's the largest gathering of food trucks in metro Denver! Check out their Facebook page to see what food trucks will be participating each day. Runs 11am – 2pm most Tuesdays and Thursdays throughout the summer & is located right in downtown Denver.
Dinner
(bbq, comfort food & cocktails)
WHERE: 1422 Larimer Street Denver CO, 80202 (Larimer Square/Downtown Denver)
WHAT THEY SERVE: Located in a basement in the heart of Larimer Square, this "slow & low" bbq joint prides itself as a nod to Colorado's Cowboy era serving award-winning meats that are rich, tender, and smoky. Their side dishes are great too–I love the mac & cheese, pretzel bites, and cornbread! Meats are served with a delicious selection of house-made bbq sauces and diners can also choose from a range of daily pies and bread pudding for dessert too–so make sure to save room.
TRY: Smoked Chicken (served with black bean & corn succotash and chimichurri sauce) and  the mac & cheese.
(a modern steakhouse)
WHERE: 1801 California St Denver CO, 80202 (downtown Denver)
WHAT THEY SERVE: Guard & Grace is an award-winning, newer restaurant owned by seasoned Denver-chef Troy Guard. Serving a steakhouse menu with a twist, the food here is comforting, delicious, and rich. The decor is beautifully modern and sleek (my favorite in all of Denver!), with big comfortable booths and tables with incredibly cozy chairs. This is a favorite spot of ours for celebrations and dining with friends! The good? They accept reservations and the waitstaff provides service that is second to none. The bad? You only get four potato rolls at the start of your meal. The hot potato rolls are freaking delicious and things get strangely awkward when you try to steal someone else's potato roll. (Isn't that what the steak knives are for? GIVE ME ALL THE POTATO ROLLS STAB STAB STAB.)
TRY: Compressed Tomato Ravioli (with tomato water, burrata, chimichurri, basil), the Oak Fired Chicken (with panzanella salad, mozzarella, marinated cherry tomato, chicken jus), and the Aloha State Cocktail (vodka, hibiscus simple syrup, lemon juice, topped with river north farmhouse ale).
(globally-inspired street food + small plates + delicious drinks with a view)
WHERE: 2030 W. 30th Ave Denver CO, 80211 (near downtown Denver, lo-hi neighborhood)
WHAT THEY SERVE: Continuously comfortable in a spot near the top of most "Best Restaurant" lists here in Denver (and most recently featured in "America's Coolest Rooftop Bars" in Travel + Leisure), Linger serves up amazing globally-inspired street food and small plates delicious enough to satisfy any appetite (including vegan, gluten-free, and nut-free options). Located in the trendy & hip Lo-Hi neighborhood (and its name coined from its former tenant–Olinger Mortuary, spooky!), Linger is my favorite spot for drinks and dinner with friends. The rooftop bar provides amazing views, too! It's a great place to eat while taking in all of Denver's beautiful surroundings.
TRY: The Pork Belly Bun (with Grilled Pineapple Jam, Sambal, Plum Sauce & Scallions), the Waygu Sliders (with Peppered Bacon, Aged Cheddar, Curried Sour Cream, Sweet Potato Waffle Fries & Chipotle Ketchup), the Sesame BBQ Tacos (with Wagyu Short Rib, Napa Slaw, Radish, Avocado & Lime), and the Apple Pie Cream Puff (with Brown Butter Custard, Roasted Apples, Whipped Crème Fraîche & Candied Celery).
Second Home Kitchen (modern home-cooking)
WHERE: 150 Clayton Lane Denver CO, 80206 (Cherry Creek North)
WHAT THEY SERVE: Located in Cherry Creek's JW Marriott, this hotel restaurant is anything but. Serving an innovative "modern home cooking" menu in a cozy (but trendy) setting, diners can nosh on everything from Tequila Carnitas Quesadillas to Chop Chop Salad to Mile High Meatloaf. They do brunch & lunch, too!
TRY: The Home Made Tater Tots (with chipotle ketchup & malted mayo) and the Chicken + Waffle (a cornbread cheddar waffle served with Stranahan's Whiskey maple syrup).
(pizza, burgers, sandwiches & more)
WHERE: 1600 15th Street Denver, CO 80202 (Downtown Denver)
WHAT THEY SERVE: Don't let the old-fashion-y name fool you: this place does an amazingly delicious pizza. And sandwich. And burger, too! Open since 1974 (and president Obama made a pit-stop here in 2014), it's a great place with lots of character with prices that won't break the bank. My favorite is the Margherita pizza – it's nothing fancy, but it's good.
TRY: The Margherita Pizza (marinara, fresh mozzarella, fresh basil & tomato).
(award-winning latin & american food with a simple twist)
WHERE: 2500 Larimer St Denver, CO 80205 (near downtown Denver)
WHAT THEY SERVE: Work & Class opened in early 2014 with amazing accolades in numerous local publications (and was recently named one of the best new restaurants in America by Thrillist.com), and it only takes one try to see why. Their mantra is "good food, no fuss": the restaurant sits inside old shipping containers and the menu contains a great selection of items for every tastebud without being overwhelming. Due to its popularity, expect your dining experience to be cozy but loud (usually loud restaurants bother me, but here it just adds to the ambiance). It's a great place to go with a group–plan on ordering several things to share & try!
TRY: The Blue Corn Empanadas (stuffed with zucchini, squash & Oaxaca cheese, served with a smoked tomato sauce), the Citrus-Mustard Braised Short Rib, the Fresh Watermelon-Lime cocktail, and the Jalapeño Cornbread.
(a retro-modern eatery & martini bar)
WHERE: 1401 Curtis Street, Denver, CO 80202 (Downtown Denver)
SERVING UP: The Corner Office prides itself on serving modern classic contemporary cuisine in a hip, fun & energetic setting. They do delicious breakfast & brunches, too (berry cheesecake waffles, anyone?)! It can get a little crowded during happy hour but it's all part of the atmosphere. Open really early (& pretty darn late, too).
TRY: The Veggie Burger (with quinoa, cheddar, black beans & grilled corn), the Roasted Tomato Soup + Ciabatta, and the Strawberry Short Shake (fresh strawberries, caramel, shortbread cookies & whipped cream).
Dessert
(I scream for this ice cream)
WHERE: 52 Broadway Denver CO, 80203 (Broadway, near downtown Denver)
WHAT THEY SERVE: There's a bit of a frosty fight happening on Denver's "best" ice cream scene, with several awesome local creameries serving up delicious chilly treats. Which to choose? I've tried them all and my favorite hands down is Sweet Action–they keep their menu interesting and changing daily (with dreamy & delicious flavors like blueberry oreo, raspberry honey, colorado margarita, and their best-known flavor: stranahan's whiskey brickle), and while the lines can get long, the cheery & colorful staff works hard to keep it all moving fast. They've also been named one of the top ice cream shops in America! Located on Broadway near plenty of local boutiques & stores, I love to get a cup of their sorbet to slurp on while shopping. Feel like a late night treat? They are open until 11pm Friday & Saturday nights (and until 10pm every other night of the week, too). Not sure what you're in the mood for? Check their website to see what flavors they are serving up daily.
TRY: The Colorado Margarita or Stranahan's Whiskey Brickle ice cream
(delicious dinner, desserts & drinks for date nights)
WHERE: 494 E 19th Ave Denver CO, 80203 (near downtown Denver)
WHAT THEY SERVE: Owned by Food Network celebrity chef Keegan Gerhard, D Bar prides itself in serving award-winning desserts and delicious comfort food. The dessert is the main indulgence at this place, with clever concoctions like the Cherry Waffle Sammie, the Cake & Shake, and Ch Ch Ch Churros. They also serve desserts to go, including cupcakes, tarts, and melt-in-your-mouth macarons. The ambiance is chic, simple, and cozy–making this place popular for Denverite date nights. They do take reservations, which are highly recommended.
TRY: The Crue Fries, Bacon Mac & Cheese, and Cookies & Milk (baked hot and fresh in your choice of flavors!).
(Boulder-based ice cream & frozen treats)
WHERE: 3455 S. University Blvd Englewood, CO 80113
WHAT THEY SERVE: While Sweet Action Ice Cream is my favorite, Glacier comes in close second for one reason and one reason only: their Salted Caramel Oreo Ice Cream is legendary. It's the stuff that dreams are made of. I would drive 1,000 miles for it! It is epic and it is amazing. They serve over 60 flavors that change daily (along with gelato and sorbet, too!) and while their original location is in Boulder, they've begun opening up some shops around the Denver metro area, too.
TRY: The Salted Caramel Oreo Ice Cream!
(gourmet ice pops) 
WHERE: 1284 S. Pearl Street Denver, CO 80210
SERVING UP: In the mood for something unusual to nosh on? Aiko Pops has quickly become one of the top-rated places to eat in Denver since opening in 2011. They pride themselves in making handmade, artisanal ice pops that are organic, gluten free, mostly vegan, and delicious. Serving up flavors like Raspberry Sweet Corn, Avocado Orange, Honey Blue cheese, Papaya with Ginseng Honey, Apple Ginger, Kiwi Mint, Bananas & Cream (and lots more!), a stop at this little shop is a must on hot summer days in the city.  
MAP & GUIDE
The handy-dandy map below contains all of the shops, restaurants, hotels, & attractions listed & mentioned above! 
& more info…
This post is just a small sampling of everything that Denver & Colorado has to offer. Check out the links below for even more trip & vacation ideas: 
Have any questions or want more information about the activities & attractions that I've listed above? Feel free to throw me a tweet or e-mail (and I'll try my best to answer ASAP!).