Outfit Of The Yesterday: A Bit of Bold Black (& A Top Taco Denver 2015 Recap, Too!)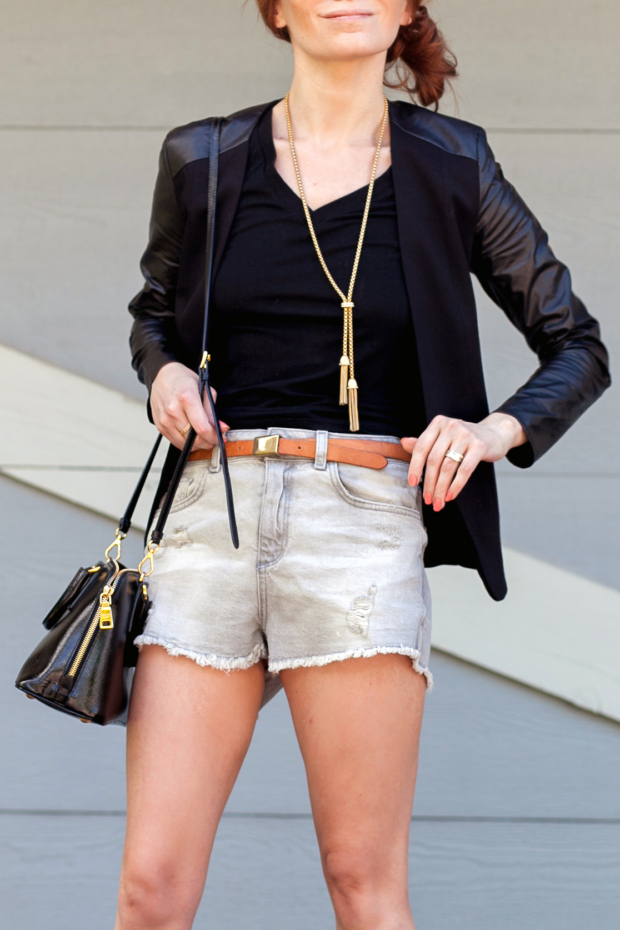 ♫: This Must Be The Place (Talking Heads Cover) – Iron & Wine and Ben Birdwell
Summertime is, without a doubt, one of my favorite times in Colorado. I know most think of snow when you think about this area, but there's just so much to see and do in the warmer months, too! One of our favorite things to do is to hit local food fests, and this past Thursday we decided to give Top Taco a try.
We did the Burger Battle last year and had tons of fun. I couldn't look at a hamburger without feeling like dying on the inside for months after, but it was a serious blast: 13 top local burger joints serving up mini sizes of their best and most-creative hamburgers to try. Unlimited. With dessert from Sugarmill. Also unlimited. And an open bar with booze & wine from local Colorado breweries and vineyards. Also unlimited, but limited, because who the heck wants to take up valuable gut space with that (GIMMME ALL THE MEAT BOMBS AND DELIGHTFUL DESSERT, PLEASE).
At the end of the night we got to vote for the restaurant that we thought had the "best burger"; we also got to spend the next several months obnoxiously gloating to all of our friends and family that oh yeah, we helped pick the best burger in Denver at some completely arbitrary awards ceremony for the low, low price of a small-yet-oddly-noticeable weight gain and $70 per person entrance fee, be jealous. And the only solution for their insane jealousy? Inviting them all along with us to this year's battle (which is August 6th–you can grab tickets here, but they are selling out quick!).

Top Taco is much the same, only this time around they had over 40 local vendors and it wasn't just a vote for the "top taco" of Denver, it was a vote for "top margarita" as well. All unlimited. We (wisely!) got a room at The Curtis Hotel for the evening as The Curtis was within adequate stumbling distance of the event, and then we got to work eating and tasting the best tacos and margaritas Colorado has to offer. Like the Burger Battle it was tons of fun–there's lots of food, entertainment, people, and it's a great way to discover and try new restaurants. And if you happen to hate food, entertainment, people, and discovering brand new awesome things, they had something there for you too–you could just get really drunk out of your mind. See? Truly something for everyone.
Both of these events are held on the grassy lawn at Sculpture Park and it did decide to straight-up hurricane for about 15 minutes right as Top Taco was starting, as it tends to do in Colorado in the summertime, making everything really muddy–so if you decide to attend any of these fests yourself, I highly recommend wearing comfortable clothing and flat shoes. Unless you're looking to provide extra entertainment to the other participants in the form of drunk mud-wrestling with yourself and your favorite stilettos, leave the tight clothing and high heels at home! These fests are not those types of events, and it doesn't matter what you wear–no one looks cute while doing their best impersonation of a human garbage can, anyway.
If you decide to attend either of these fests make sure to get tickets early, invite your best (non-judgmental) friends, don your most comfortable duds (believe me!), get a hotel room for the evening so you aren't out trying to drive after inhaling the equivalent of 100 hamburgers and/or throwing down 20 different margaritas, and be prepared to have a great time. 
And now for a completely unrelated and random outfit. Feeling a little rough & tough: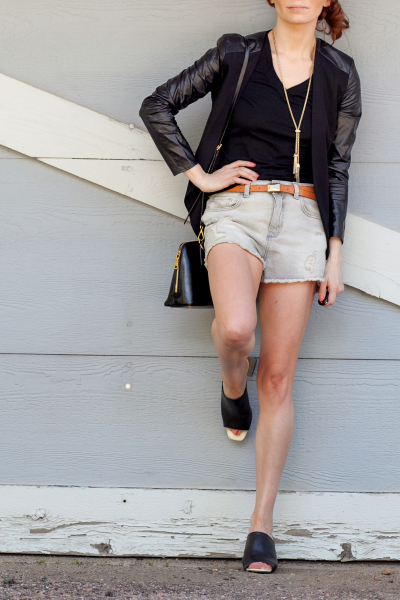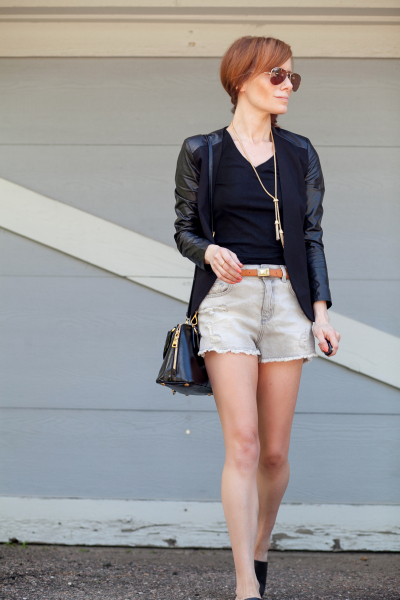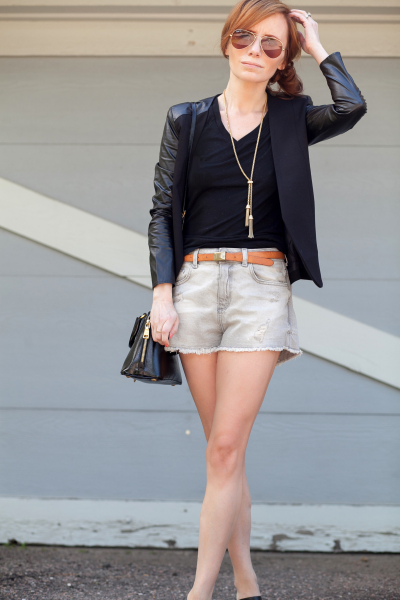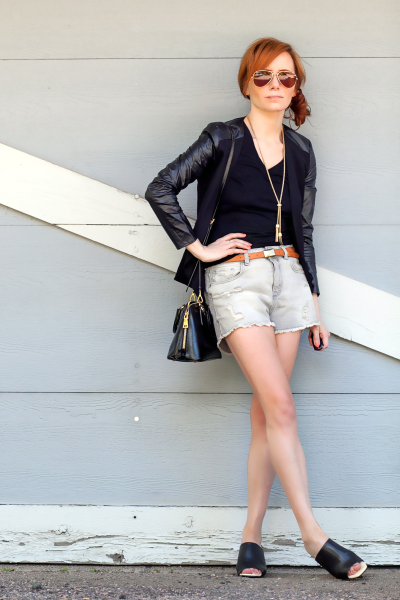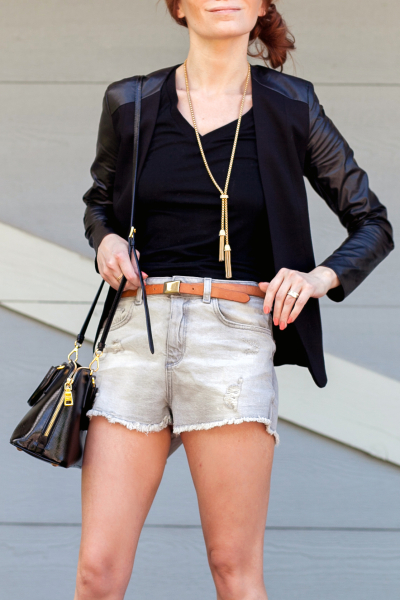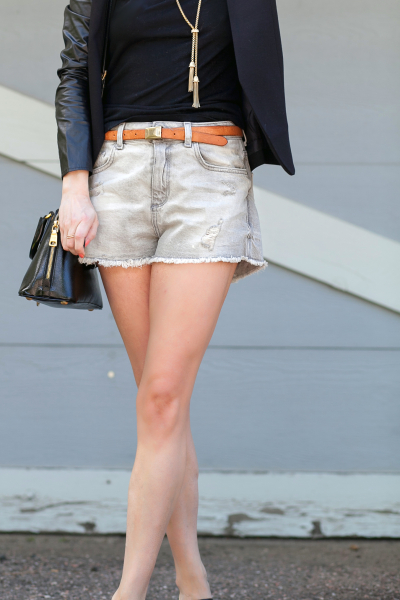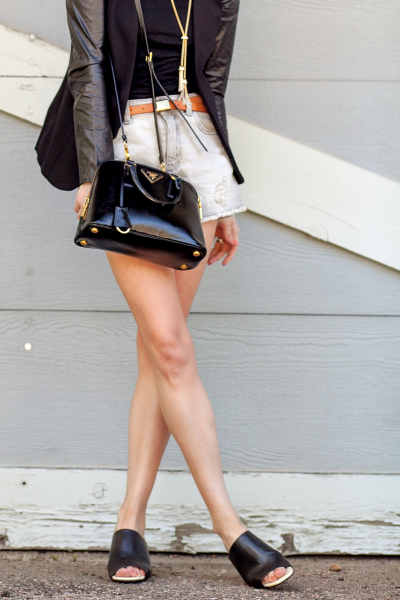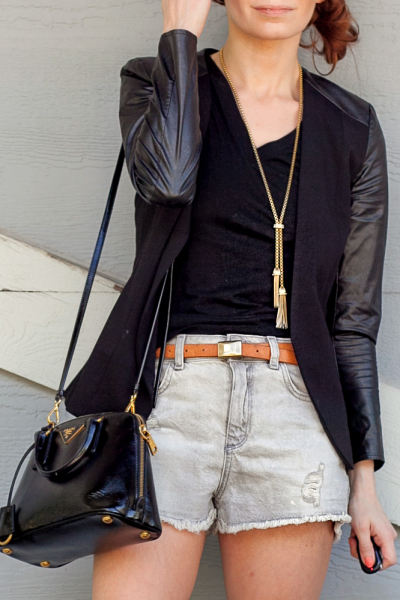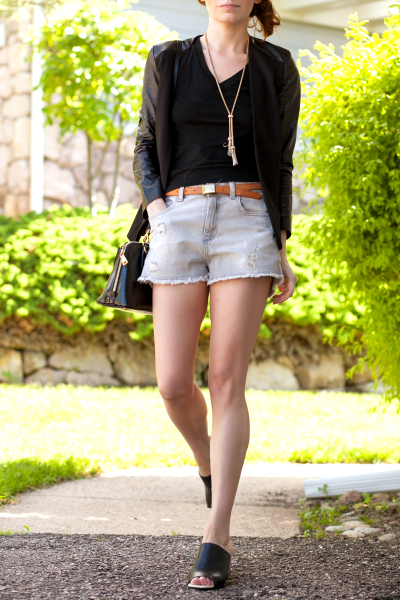 Blazer: H&M, old (similar here) (similar here) (similar here)
T-shirt: Target (buy it here – under $10 + comes in 21 colors!)
Belt: J Crew, old (similar here + 30% off) (similar here)
Shorts: ZARA, old (similar under $50) (similar under $50) (similar under $50) (similar on sale)
Necklace: J Crew, old (similar here) (similar here) (similar here)
Shoes: ZARA, old (similar here) (similar here) (similar on sale) (similar under $50) 
Bag: Prada (buy it here) (similar here) (similar under $250)
Sunglasses: Ray-ban (buy them here)