Outfit Of The Yesterday: Black + Chambray Blue + White + Dusty Pink (& The LOFT Destructed Mini Skirt)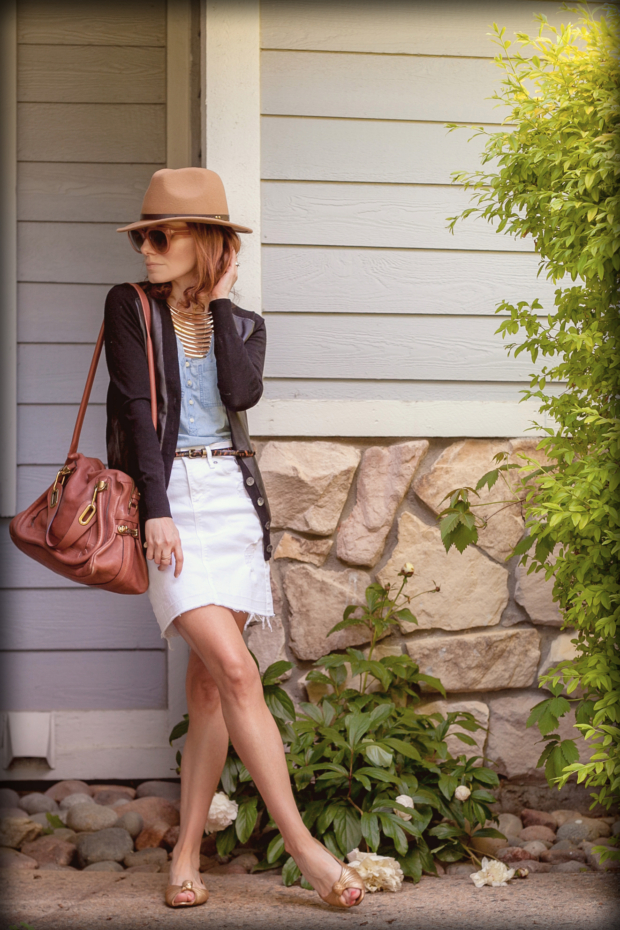 Hi guys! We are getting back to normal life after a trip to the tropics a few weeks ago (as all of you that follow me on instagram likely noted–I apologize for the bombardment of photos, but it was lots of fun!) (and so pretty!). But it's nice to be back on dry land and back into the swing of things. Summertime in Colorado is one of my favorite things, so I definitely can't complain.
A few weeks ago I was on the hunt for a cute pair of white shorts and/or jeans to wear around this summer. I think anyone who has been white shorts and/or jeans shopping knows how tricky a task that is–the fabric can't be too thick (it's summer!), or too thin (I see London, I see France; holy cripes I can't stop staring at your god awful pocket linings) (and underpants!). The fabric also has to be machine washable (I'm a spaz), hold up well while jammed and crammed into suitcases (see? spaz), and most of all–they have to fit well.
And I gave up. Mission impossible! So I went with this little denim pencil skirt from LOFT instead and it's just about perfect–the fabric is slightly thick but really stretchy, so it moves well with the body. It also feels good in the heat–I even wore it while traipsing about seven miles in 88+ degree weather in Old San Juan with no problems. It's machine washable and best of all–no unsightly pocket linings or undie sightings to be seen. It's a good little summer skirt and I'm happy I found it.
(Please ignore my hand jammed into the back of my head in every single photo. Whenever we get back from trips I like to go au naturale for a bit and apparently that also makes me really self-conscious.) (Or…I'm trying to keep my brain from falling out the back of my head?) (I dunno, honestly. I'll let you decide.)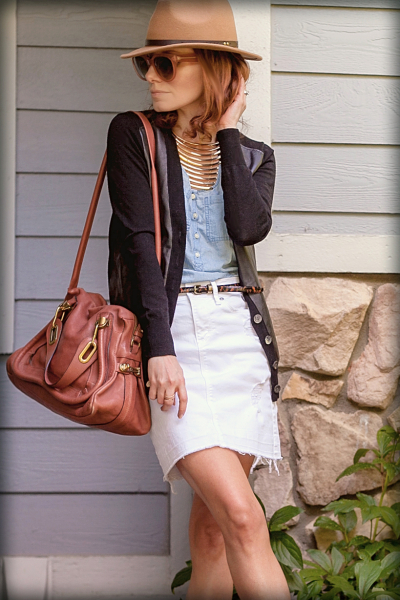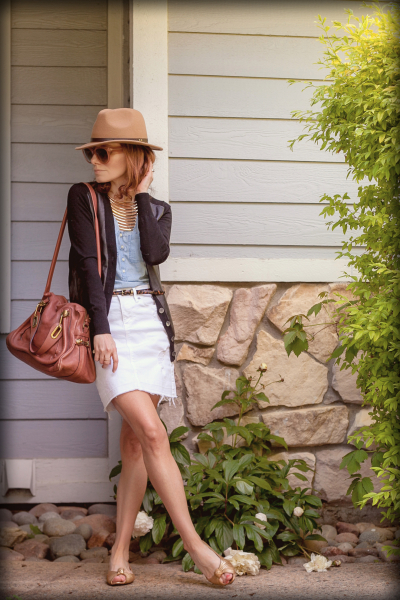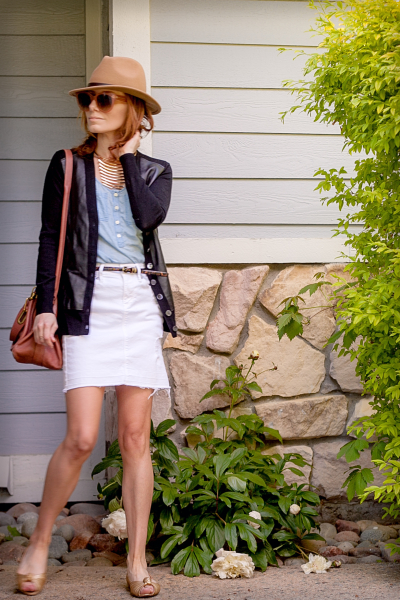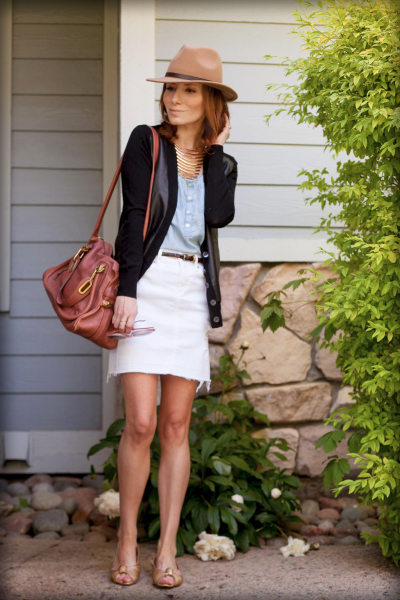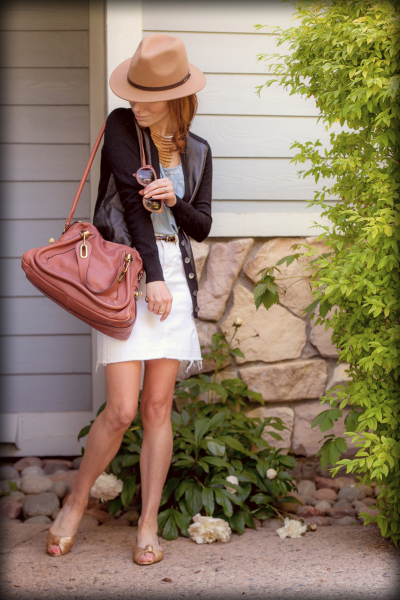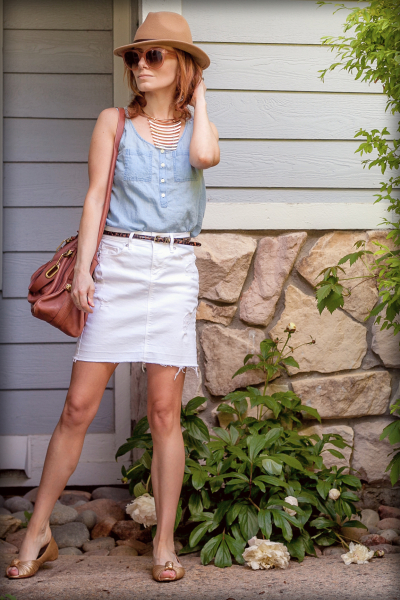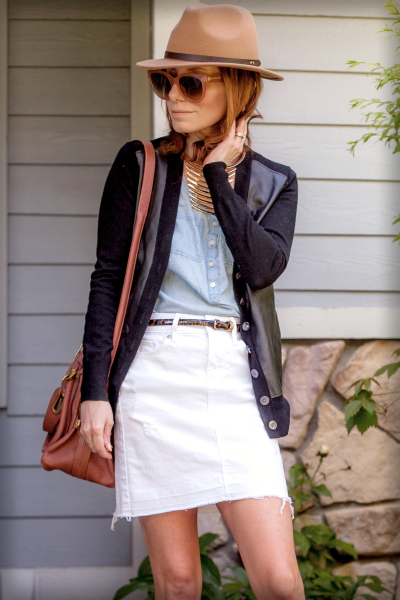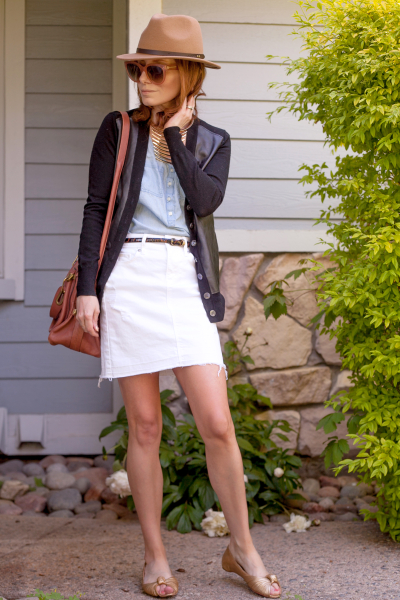 Leather Cardigan: J Crew, old (similar here) (similar here) (similar here) (similar here)
Tank: LOFT, old (similar here) (similar under $50) (similar under $25)
Skirt: LOFT (buy it here + take $25 off with code "TRAVEL15" thru tonight!)
Necklace: Baublebar (buy it here + take 20% off with code "livetwithmel")
Belt: J Crew, old (similar for $10) (similar on sale)
Shoes: Christian Louboutin 'Turban' Flats, old (similar here) (similar here) (similar under $50)
Bag: Chloe Paraty, old (similar here) (similar here) (similar under $500)
Hat: Urban Outfitters (buy it here) (another cute option here) (& here)
Sunglasses: Celine, old (similar here) (similar under $25)