7 Ways To Wear the Anthropologie Burnham Lace Top: Madewell 10″ High Rise Skinny Jeans + Camden Coat + FRYE Flynn Mid Boots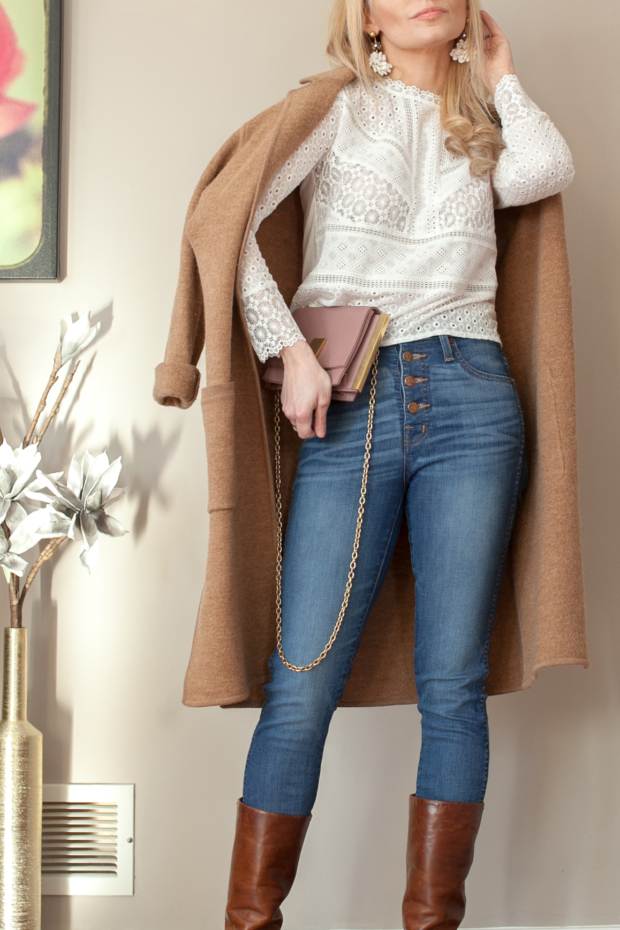 Time for Part Two of my 7 Ways to Wear the Anthropologie Burnham Lace Top blog series!
(You can see the first outfit right here – and the Anthropologie Burnham Lace Top is now 20% off, today only!)
It is also time to talk for a minute about two other things: denim & boots.
First up, denim. Being that I am only 5'2″ with a 28″ inseam (oh yeah–my legs are really short and I'm all weird torso, baby!) finding jeans that fit and fit well can be a challenging task. Add to it that I have an incredible lack of curves and a weird thing about wearing any pants that hit at or around my belly button (it squicks me out, I can't handle things squeezing me there), that means that my jeans either need to be super high rise or…super high rise. I would say super low rise too, but I already lived through the early 2000's once. No need to ever do that again.
I am a huge fan of AE's denim and have written about their jeans extensively on this blog, but I decided to branch out a few months ago and give Madewell's denim a try. They offer a plethora of sizes and inseams, and I loved the button-up fly of the 10″ High Rise Jeans, so I figured hey–why not?

And it turns out that they are pretty great. Not only are they stretchy and incredibly soft, but they have something called Magic Pockets that, according to the website, help to suck every lump and roll in and gives the wearer a streamlined look that instantly transforms them into a supermodel with 10 foot long legs, fantastic hair, an interesting instagram feed with just the right amount of pictures of food, a super cute dog, parents that really love them, and a great butt to boot.
Okay, maybe these jeans don't quite do that–but I am pretty sure that that is the overall jist. My husband yells at me for constantly skimming his e-mails and misconstruing the meaning, so I made sure to really pay attention to the description of these jeans on the Madewell website. I thought all pockets were magical, but what can I say? These Pockets are Magical.
Anyway! These jeans do seem to run fairly big and are very soft and stretchy. I sized down two sizes in order to make sure I had extra smooth suctioning power. Like all stretchy jeans they do stretch a bit with wear, but I find the stretchage to be fairly minimal.
They also wash up really well.I have washed them several times now, and the color of the denim hasn't faded one bit. They do shrink a bit in the waist if you put them in the dryer, but they snap back into their original size after an hour or two of wearing. 
And the best part of these jeans? The 10″ rise is nice and high and doesn't pinch around my belly button. They've become my go-to pair of denim lately and I will absolutely be checking out more jeans from Madewell in the future. I still like my AE denim, but these just feel a bit more polished and pretty. Sometimes, a girl needs that.

On to boots. I grabbed these FRYE Flynn Mid Pull-On boots over Christmas after spying them on the Anthropologie website briefly this past fall. I am a big fan of FRYE footwear. Their boots, flats, and shoes are incredibly comfortable, well-made, and sturdy–and these particular boots are no exception.
I was a little nervous at the unique length of the shaft (they hit mid-calf) but I've been wearing them a lot this past winter with skinny jeans and sweaters. The 3-inch heel height is a bit on the higher side, but the heel is quite chunky which makes them easy to walk in and surprisingly comfortable to wear. They also have a "special mold foam backing" which helps the boots keep their shape while wearing and prevents the leather from slouching–which is sweet. They also come in black, and I have been eyeballing getting those, too.
Enough yapping here, on to the outfit! And stay tuned for more outfits featuring Anthropologie's Burnham Lace Top over the next week. Have a great weekend, you guys!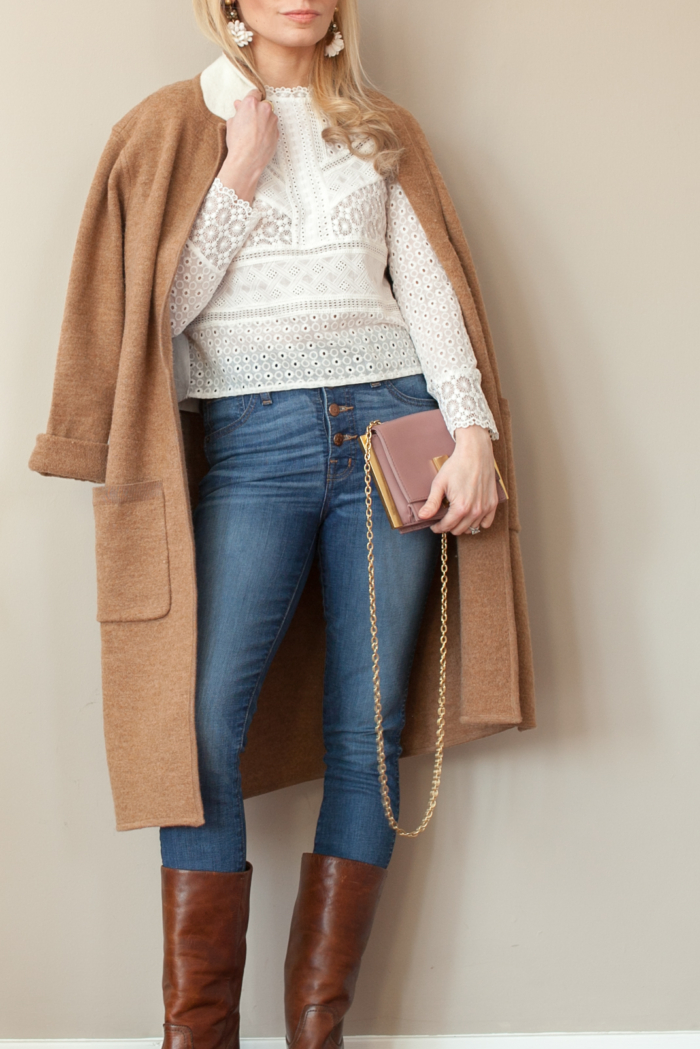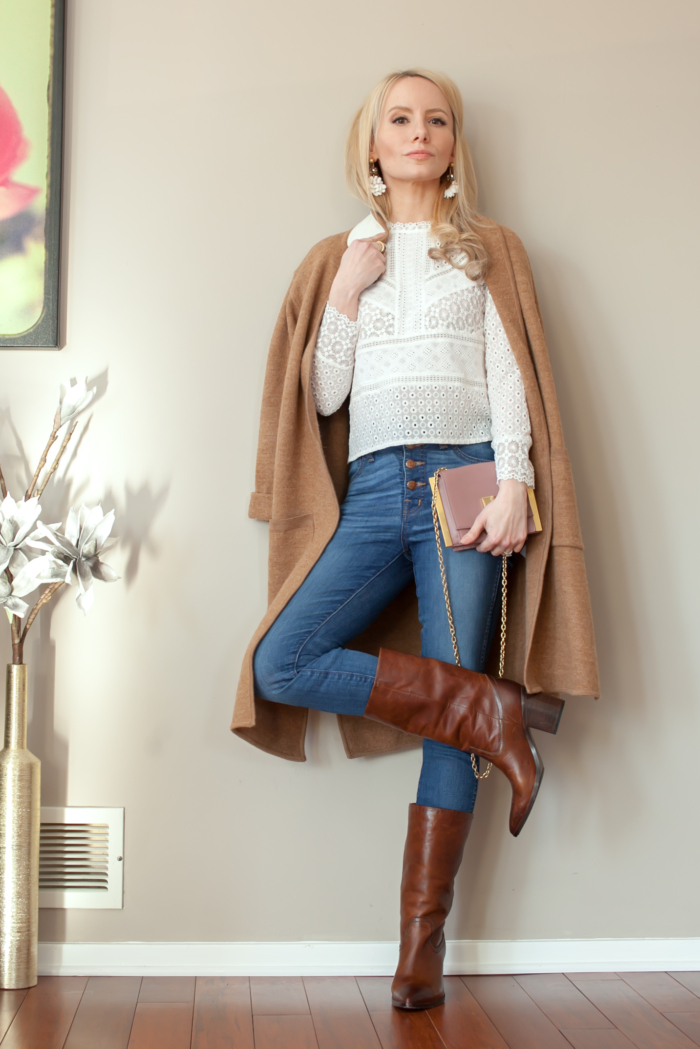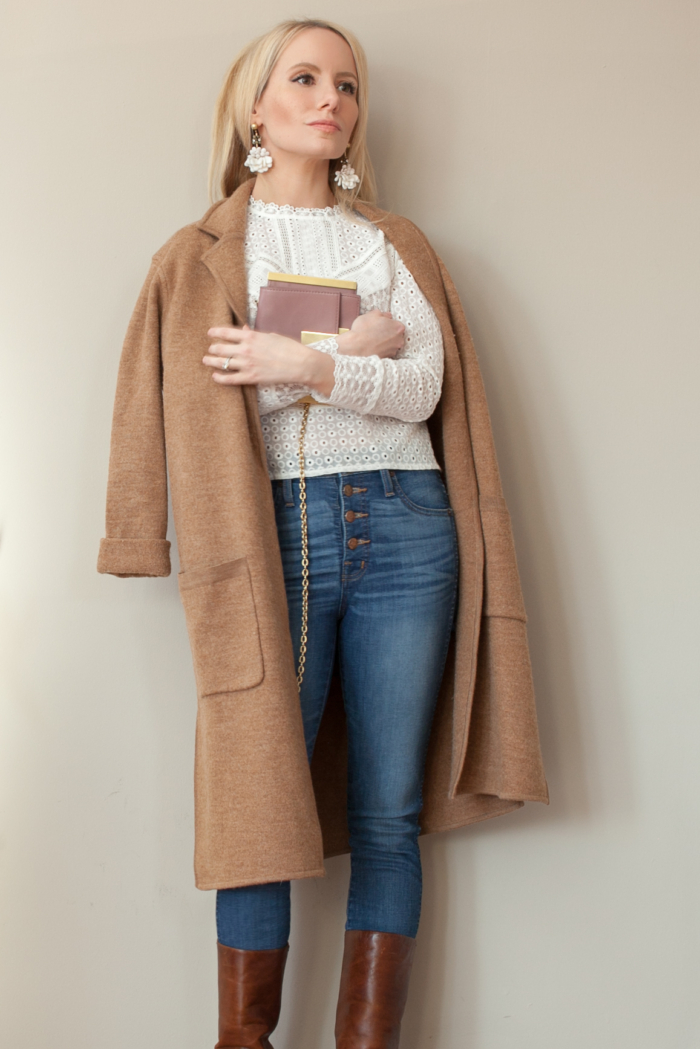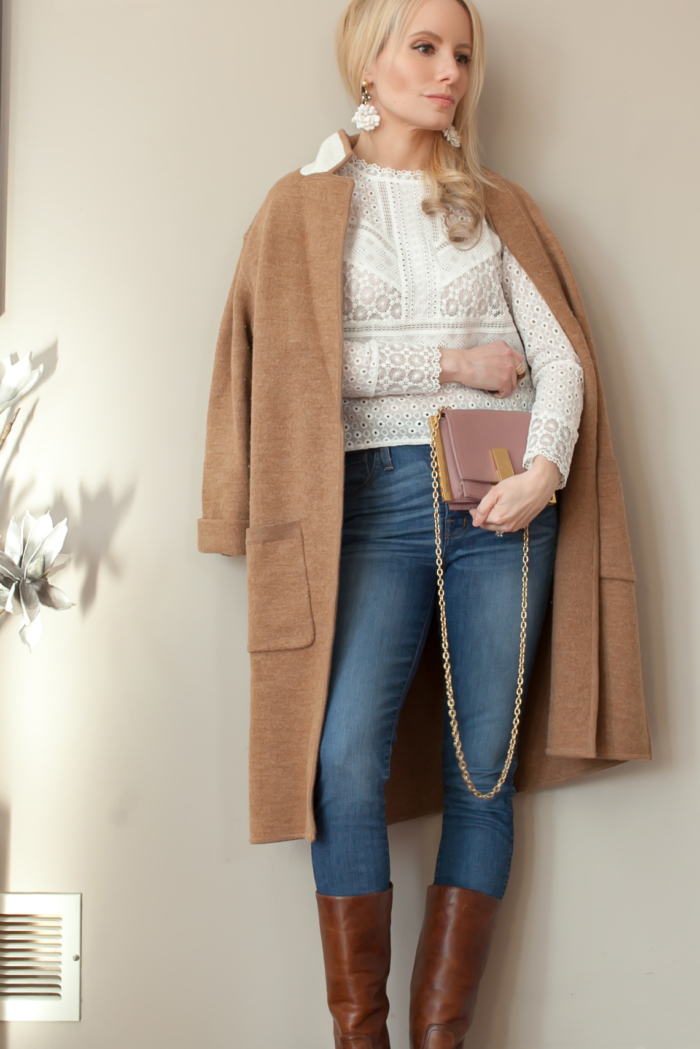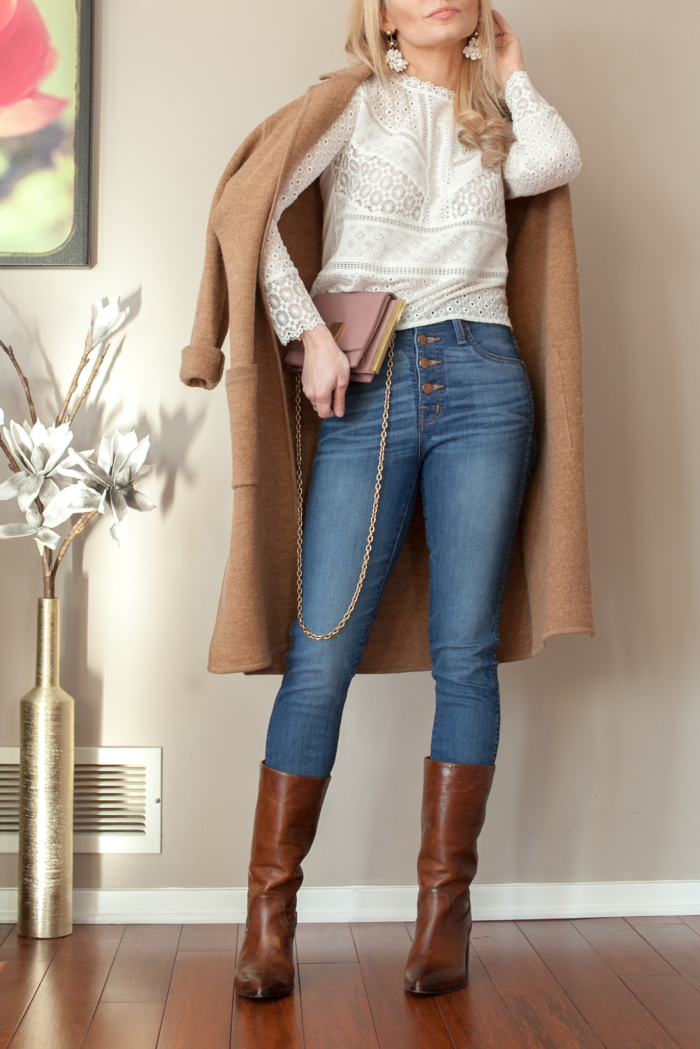 COAT: Madewell Camden Sweater Coat (buy it here) (similar now 45% off) (similar now 50% off)
TOP: Anthropologie Burnham Lace Top (buy it here) (similar here) (similar under $100) (similar under $75) (similar under $50) (similar under $50) (similar under $50)
JEANS: Madewell 10″ High Rise Skinny Jeans: Chewed Hem Edition (similar here) (similar here) (similar under $75) (similar under $50)
BOOTS: Frye Flynn Mid Boots (buy them here) (buy them here)
HANDBAG: Zac Posen Clutch (similar here) (similar here) (similar here) (similar under $30)
EARRINGS: Ann Taylor Earrings (similar under $75) (similar under $50) (similar under $50) (similar under $50) 

*Deals listed above are good for a limited time only–nake sure to check out The Big List of Daily Sales & Deals to see all current promotions & discount codes for all of the retailers featured above!