Outfit Of The Yesterday: Burgundy + Camel + Black + Mint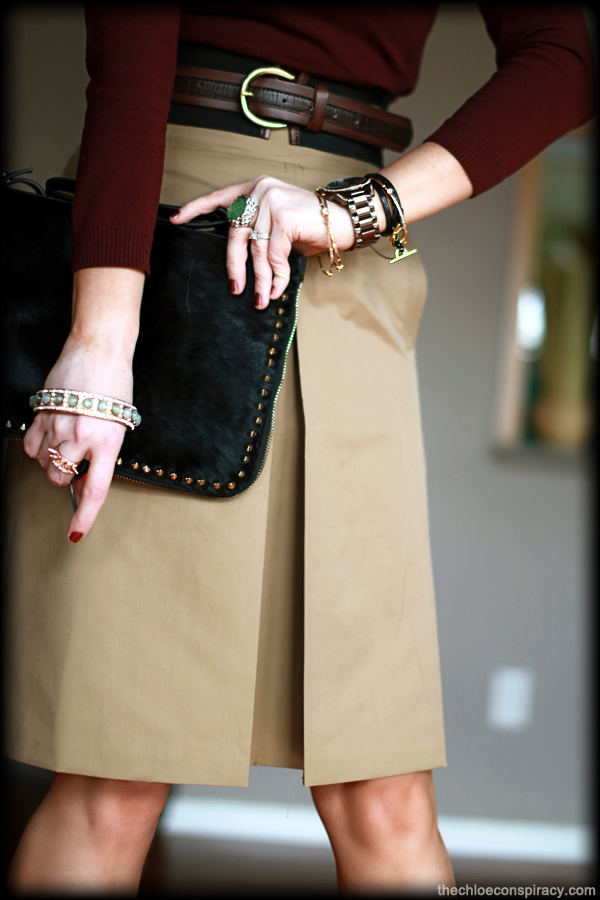 ♫: Settle – Two Door Cinema Club
I hit Banana Republic up recently during one of their 35% off deals, and was happy to find both this sweater and this skirt. While both are fall-ish in appearance, the sweater is a really nice weight (definitely not too thick; also not too thin) and it has a slightly scooped back to help set it apart from the usual boring crewnecks. The skirt is also lightweight, while still being fairly structured and crisp
One downside to the skirt is that it wrinkles somewhat easily–it's a weird sort of wrinkle, though, if there is such a thing. The wrinkles aren't like linen wrinkles (the worst sort of wrinkles of all, riiiight up there with those I-just-took-a-2-minute-nap-on-my-face-and-now-resemble-an-old-lady-Sharpei wrinkles), but I had pressed the skirt with my handheld steam iron (have I ever discussed how much I love this little thing?) just before snapping these pictures and you can still see some of the slight wrinkles in my outdoor shot. The fabric does hide the them well, however, and it isn't noticeable until you get reeeeally close.  But if you're picky and don't like appearing any sort of rumpled, this may not be the skirt for you.
I found that both items ran a little small, and so I sized up one size in each from my usual Banana Republic size. I also opted to do regular sizing versus petite–and was pleasantly surprised at how much I liked the slightly longer length of the skirt. I just wish they would make the sweater in a few more exciting colors–the "winter burgundy" hue is pretty, but the rest are pretty darn boring & bland. Hint hint, Bananer, hint.
Anyway, enough of that. Time to hop away–hope you guys have a safe & happy Labor Day weekend!
Sweater: Banana Republic (buy it here + take 30% off with code "FALLCALLS") (similar here) (similar under $25) 
Skirt: Banana Republic (buy it here + take 30% off with code "FALLCALLS") (similar under $50) (similar under $50)
Belt: Ann Taylor LOFT Contrast Stretch Belt  (buy it here) (another option here) (last worn here)
Watch: Michael Kors Blair Watch in Espresso (buy it here + take 20% off with code "SPLURGE") (similar at Piperlime + take 20% off with code "SPLURGE") (last worn here)
Mint Bangle: Forever 21 (similar here) (last worn here)
Rosegold Bangles: Seasonal Whispers Rosegold Bangles (buy them here) (similar at Target) (last worn here)
Black Wrap Bracelet: Gorjana Graham Bracelet (buy it here)
Mint Ring: Forever 21, old (similar here) (last worn here)
Rosegold Spike Rings: ASOS (buy them here) (last worn here)
Shoes: Alexander Wang Cecelia Boots in brick, old (similar here) (similar here + take 20% off with code "SPLURGE")
Bag: Zara (buy it here) (similar for $85
) (similar for $30)

Nail Polish: Butter London Autumn 2012 in Shag (buy it here)