Outfit Of The Yesterday: The Chloe Marcie Crossbody in Cashmere Grey (Spring 2013)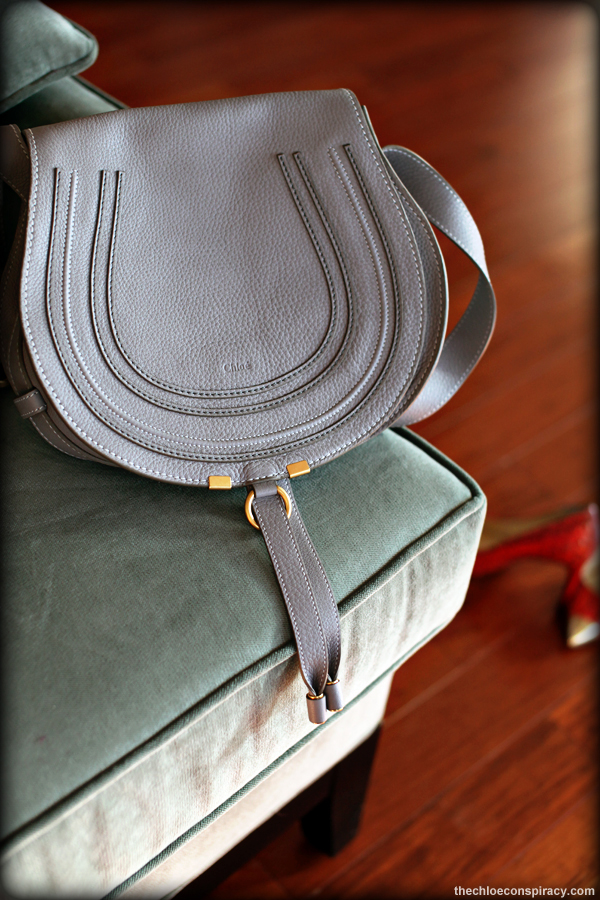 ♫: Truth – Alexander
January is arguably the most depressing month of the entire year (the most depressing day this year? January 21st, a Monday), and what with the shorter days, the bitter cold winter weather, the lack of holidays that involve an over-abundance of secret gift-giving to ourselves, and the serious observances of daily holidays like, "I'm Not Going To Take It Anymore Day" (January 7th) (appropriately followed by "Bubble Bath Day" on January 8th, I suppose), makes it fairly easy to see why.
January is a bit of a frosty foe in comparison to its dandy sister named December, no matter how long you desperately keep the warm glow of your Christmas lights crazily festooned around the house; no matter how many times you peek inside your mailbox for late happy holiday cards still slowly trickling in.
One small glimmer of hope in January, however, happens in the world of retail & fashion. The world of fashion always seems to hum along a few months ahead of everything else, and come January 1st retailers swiftly replace cold-weather clothing with the bright and bold toggery of warm-weather resort & spring wear. While it is still a bit of a mysterious event (who, exactly, are these rare, super lucky sonofapickles that get to go to a resort in December instead of visiting family in Midwestern towns where the daily high hits at 5 and soda pop, pop, pop?), it is also a welcome relief; a sight for sore eyes. January 1st means that it is time to wrap yourself in your 70% off cold-weather clearance gear and look ahead–there is a warm, tangerine-hued, sunny light at the end of this cold-weather tunnel, and perhaps it is not quite that far away.
(Liars!! It's still way too far away.)
I have always been a big fan of Chloe for a handful of reasons, and the Chloe Marcie Crossbody in Cashmere Grey (a new color for Spring 2013) has re-solidified my adoration of the brand. The bag has been restyled from the Marcie Crossbodies of seasons past, as you can see below: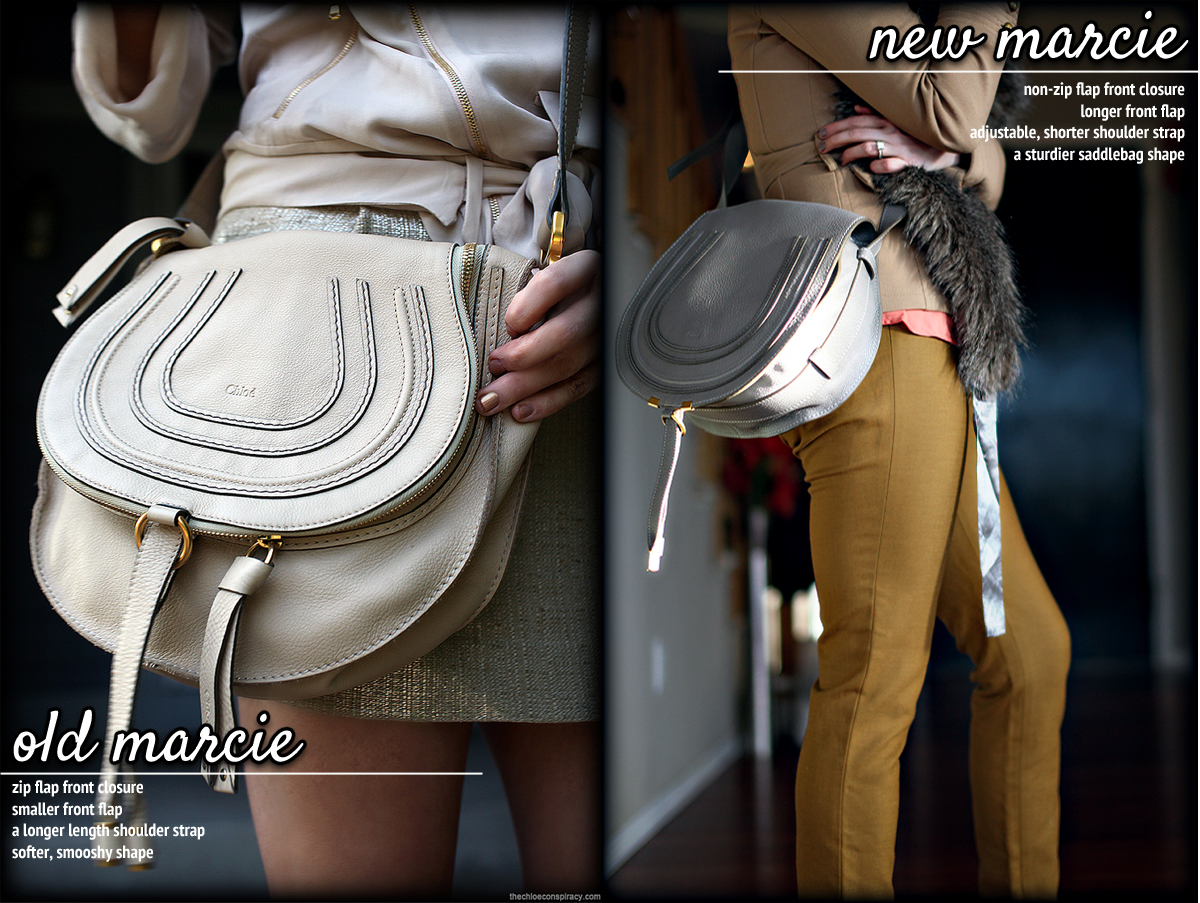 The "cashmere grey" color is the prettiest in person, with cool blue undertones instead of the usual taupe or brown. It's a versatile a color that has been popping up a lot lately for 2013, along with lots of other frosty pastel handbag hues: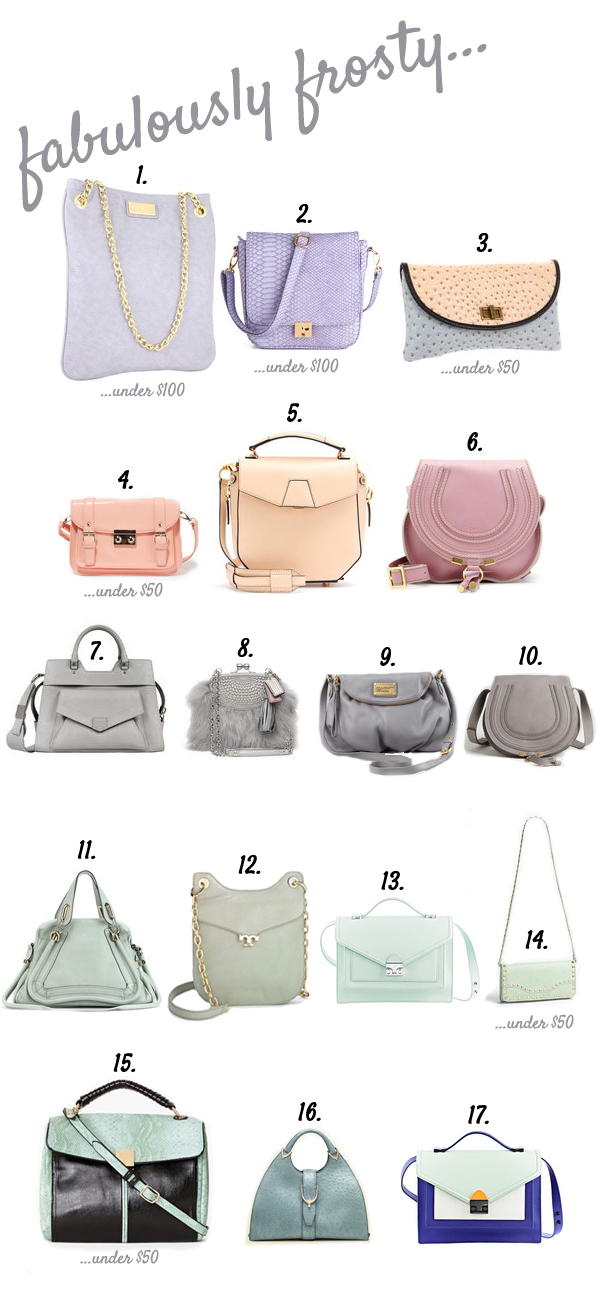 And I think that it adds an interesting contrast to warmer colors, too:
Coat: Rachel Zoe, old (similar here) (similar under $50) (similar under $100) (last worn here)
Scarf: Ann Taylor, old (similar here) (similar under $100)
Top: Forever 21, old (similar here) (similar here) (similar here) (last worn here)
Collar: Topshop, old (similar here) (similar under $50)
Pants: Madewell, old (similar here) (similar under $25) (last worn here)
Coral Pumps: J Crew Valentina Pumps, old (similar under $100) (similar under $100) (last worn here)
Bag: Chloe Marcie Crossbody in Cashmere Grey (buy it here) (similar under $500) (similar here)