Outfit Of The Yesterday: Light Blue + Orange + Mustard + Coral + Black (+ The Bailey 44 Leather Yoke Cardigan)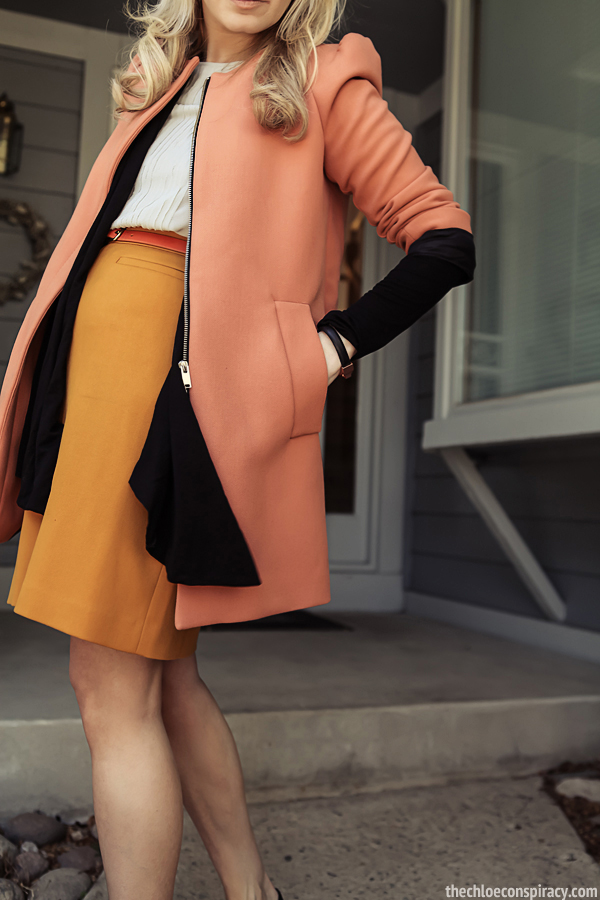 Just a quick outfit before the weekend. Bailey 44 has long been one of my favorite companies for super soft and comfy knitwear (I have tops from them that are over five years old, worn often, and still going strong!), and so I was happy when the Leather Yoke Cardigan popped up in Anthropologie in the new spring arrivals. It is a great cardigan–super soft, stretchy, and light enough to still be worn well into the upcoming warmer months. The leather yoke also helps keep the cardigan from being too plain, too "Why-Do-I-Always-Find-The-Cutest-Cardigans-At-Target-Without-Realizing-UNTIL-I-Get-Back-To-The-Dressing-Room-That-Said-Cardigans-Are-From-The-Liz-Lange-Very-Pregnant-Maternity-Collection-And-I-Somehow-Accidentally-Grabbed-Them-Even-Though-I-Will-Never-Probably-Be-Very-Pregnant-So-Then-I-Just-Feel-So-Weird-So-Weird-So-Weird", know what I mean? No 31-year old likes feeling "So-Weird-So-Weird-So-Weird" (and then suddenly being forced to contemplate major life decisions because of it) while they are also trying to (accidentally!) purchase plain jersey maternity shawl cardigans under the harsh and yellow-y lighting in Target. I think that is what your 20's are for, oh gosh.
But anyway. I like the Bailey 44 cardigan, I like it a lot. It is a nice and modern update to an easy-to-wear basic. Throw in some rose gold (Q + C, I hope you are reading!) and we are good to go. Have a good weekend everyone!
Coat: Zara (buy it here) (similar here) (a trench coat option here) (last worn here)
Cardigan: Anthropologie (buy it here) (similar here)
Blouse: Madewell, old (buy it here, color no longer available) (similar here) (similar here) (similar here)
Skirt: LOFT, old (similar here) (similar here) (similar under $50) (last worn here)
Belt: J Crew, old (similar under $20)
Bracelet: Linea Pelle, c/o (thanks guys!) (buy it here)
Shoes: Messeca New York Rose Gold Cap Toe Flats (buy them here) (similar under $50)
Bag: Marc Jacobs Quilted iPad Case, old (buy it here, color no longer available) (similar under $100) (last worn under $50) (last worn here)

Sunglasses: Prada, old (buy them here) (last worn here)
Lips: Nars Belle Du Jour (buy it here)