Outfit Of The Yesterday: Tan + Jade + Mustard + Pink (& A Review of the Prada Saffiano Vernice Small Round Top Handle Bag)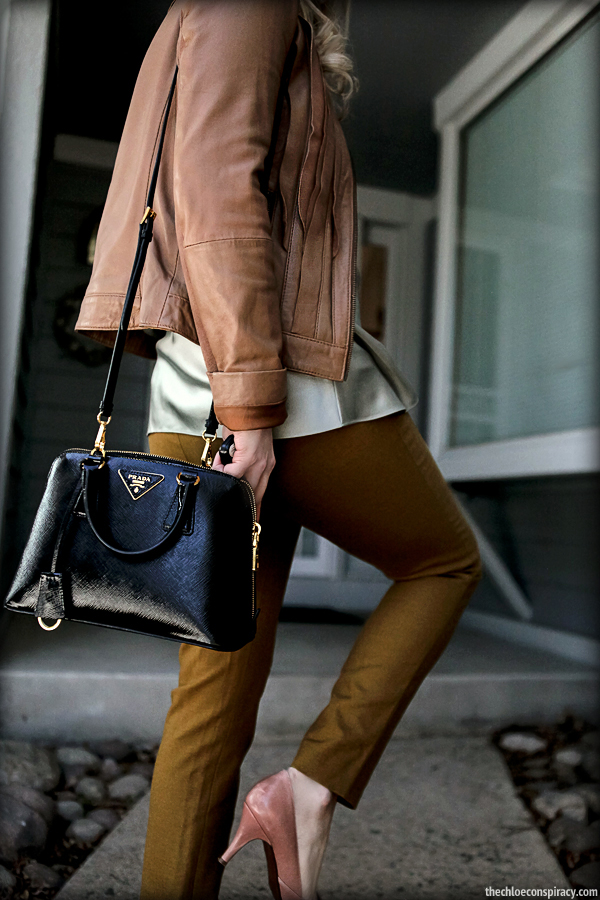 ♫: Out Of It – Fallulah
I promised a more in-depth review of the Prada Saffiano Vernice Small Round Top Handle bag, so here we (finally) go! In an attempt to add a few more classic pieces to my wardrobe, I purchased this bag back in January, and it is quickly become one of my favorite bags to carry…
First the size. I have always been a fan of smaller handbags, and this bag definitely errs to the side of being teeny-tiny. According to saks.com, it's about 10 inches side x 7 inches high–a size that probably works best for petites or those that don't have much to carry for the day. I typically carry my car keys (with lots of keys + a giant key fob), sunglasses, my iPhone, a few lip glosses, a package of gum, and an ancient 10-year old card holder from J Crew (I've never actually owned a full-size wallet, never!) during the day, and it all fits comfortably inside with even a little bit of room to spare.
 The interior of the bag has two compartments that are split with a divider/pocket right in the middle, and my J Crew card holder slips perfectly inside for easy access. That pocket also zips shut.
It's my first Prada handbag, so I wasn't entirely sure what to expect in terms of quality and design, but this bag blew right past all of my expectations. The bag itself is incredibly light, but the leather is stiff and sturdy and so the bag holds its little dome shape well no matter how much I cram inside.
The leather itself is interesting--it has a sheen to it not unlike patent leather, but where patent can sometimes look a little cheap,  the saffiano vernice leather has a slight crosshatch texture which helps to give it richness and depth. Because of this, the successful public elementary school artist in me (I can could draw a mean stick figure) would call the color of this bag "inky wet black", and it's probably one of my favorite things about the bag. It's really fun to look at.
The gold zips and Prada logo are a bold, yellow gold. The bag comes with an adjustable  long strap to transform it into a crossbody bag, and I'm wearing it in my outfit below as short as the strap will go. It is still a touch long for my height (5'2″),  so I might add a few holes with a leather hole punch down the road.
Its only flaw comes with its height and structure. Because the leather of the bag is so stiff, if I am digging for a lipgloss at the bottom of the bag I often have to take some of the other contents out to get at it–it is otherwise difficult to stick my hand in to rummage around to find those sorts of squirrely, scrappy things. This is only an issue when I'm carrying a lot in the bag.
I threw it next to my Chloe Marcie Crossbody and iPhone for scale, so hopefully that gives you guys a good idea as to its actual size.  I absolutely love it, and I forsee more little Prada in the future, woohoo:
And an outfit. And I'm going to apparently leave my holiday wreath up forever:
 Jacket: Oasis, c/o (thanks again, guys!) (buy it here) (last worn here)
Tank: T by Alexander Wang Silk Camisole in Jade (buy it here) (similar under $150) (similar under $50) (similar here in "water")
Fringe Necklace: Rachel Zoe (buy it here) (similar under $100) (similar under $50)
Jeweled Short Necklace: Ann Taylor, c/o, old (similar here) (similar under $25)
Pants: Madewell, old (similar here) (similar under $100)

Shoes: J Crew Valentina Pumps in Weathered Rose, old (similar here in "rose") (similar under $100) (last worn here)

Bag:  Prada Saffiano Vernice Small Round Top Bag (buy it here)
---