Outfit Of The Day: A Casual Friday (& Boyfriend Jeans + The J Crew Piped Foulard Shirt)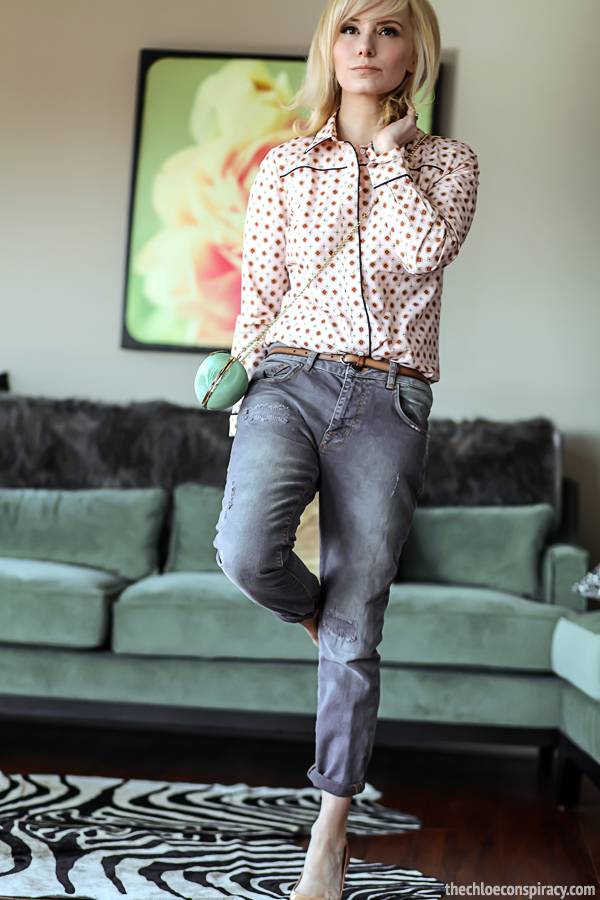 ♫:  Walk Like An Egyptian – The Puppini Sisters
A more casual outfit for today. I freaked a good friend of mine out recently when I wore jeans (he claimed he hasn't seen me in jeans in years) (he's probably right), but I really like Zara's denim line.
Well, let me clarify. I like the line as long as I can get the right size. I actually re-ordered the jeans that I am wearing below three different times–the first time the zipper was busted due to a rough transit, the second time the label SAID they were the exact same size as the first pair but they oddly fit about six sizes bigger, and the third time they were (finally!) just right. Are they worth all the hassle? I still think so–good jeans with a nice fit for petites are hard to find! The ankle length on this pair is a good inseam for us shorties, and the jeans that I am wearing below have enough stretch to make them comfy (but not too much stretch to give them a case of the saggy-sads by the end of the day). They also wash up pretty darn well.
And last but not least, the J Crew Piped Foulard Shirt. I have a lot of silk blouses, and while I love them dearly silk isn't always the best material for hot, sweaty summer days. This pajama-inspired shirt is made out of a really soft cotton that's structured while still being quite thin and breathable, and I can't wait for the weather to warm up again so I can pair it with white shorts.  Love it–it might just be one of my most favorite J Crew purchases from the past 12 months (but I'm loving the rash guards too–more on those later!).
Have a good weekend, you guys! ♥
Jacket: Topshop, old (similar here) (similar under $50) (similar under $30) (last worn here)
Shirt: J Crew Piped Foulard Shirt (buy it here) (another cute Foulard print option here)
Belt: LOFT (buy it here + take 40% off with code "FRIENDS")
Jeans: Zara (buy them here)  (similar under $50)
Pumps: J Crew Perfect Patent Pumps in Dusty Rose (similar under $100) (similar by kate spade)
Bag: Anya Hindmarch (buy it here) (similar under $100) (similar by kate spade) (similar under $75) (last worn here)