Outfit Of The Yesterday: 3.1 Phillip Lim for Target Floral Peplum Top + The Rebecca Minkoff Kiefer Trench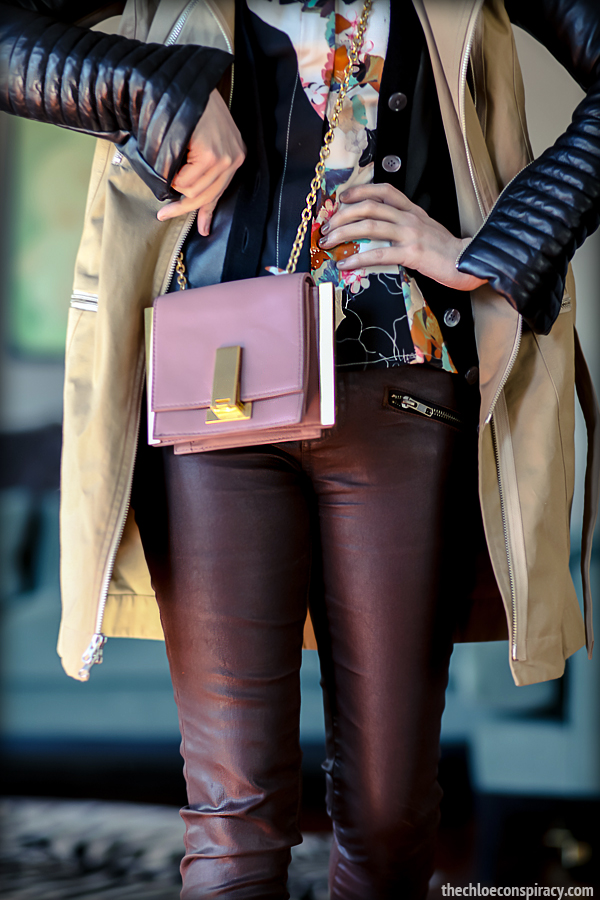 Hello again, readers! Nothing too exciting here is happening at the moment, but that's just how life goes sometimes.  I am currently battling a bad cold, and it seems like every single cold I get (my third this year) triggers a fairly bad Lupus flare with it. Hooray for having a suppressed immune system; thank goodness for warm chihuahuas, Vicks-scented Kleenex (seriously, we unknowingly bought it on accident and it's kind of brilliant), and the my old set of the Complete Calvin & Hobbes. I would also like to thank funny husbands that fetch Slurpees and give great back rubs too, because he reads here sometimes and always tries his hardest to make me feel better.
Anyway! Blah. The 3.1 Phillip Lim x Target collection launched a few weeks ago, and it was really fun staying up late shopping it with everyone via both Twitter & here. I think it is my favorite designer collaboration to date–I ended up skipping the bags (which I regret) and instead getting everything with the floral print (which I don't regret). The peplum top is probably my favorite piece.  I just love the print–it is interesting and pretty; almost too pretty to be on something cheap from Target.  Peter Pilotto is slated to be the next designer to work with Target, and he's known for some really fantastic and wild prints–that collection will hit stores February 9th, 2014. Let the countdown begin!
Did you guys grab anything from the Phillip Lim x Target collection? And if so, what's YOUR favorite piece? Share in the comments below!
Trench Coat: Rebecca Minkoff Kiefer Trench (buy it here, on sale) (similar trench under $200) (similar trench under $150) (last worn here)
Top: 3.1 Phillip Lim x Target (buy it here) (similar here) (similar under $50)
Cardigan: J Crew Collection Leather-Front Merino Cardigan (buy it here) (similar here) (similar under $100)
Pants: Current/Elliott (buy them here) (similar here) (last worn here)
Shoes: 3.1 Phillip Lim Devon D'Orsay Flats, old (a nearly identical dupe here) (similar here)
Bag: Zac Posen Loren Mini Crossbody (buy it here + take 20% off with code "FRIENDS13") (similar under $100) (similar under $50) (last worn here)