Outfit Of The Yesterday: Light Pastel Blue + Camel + Rose Gold + Black (& La La Leopard)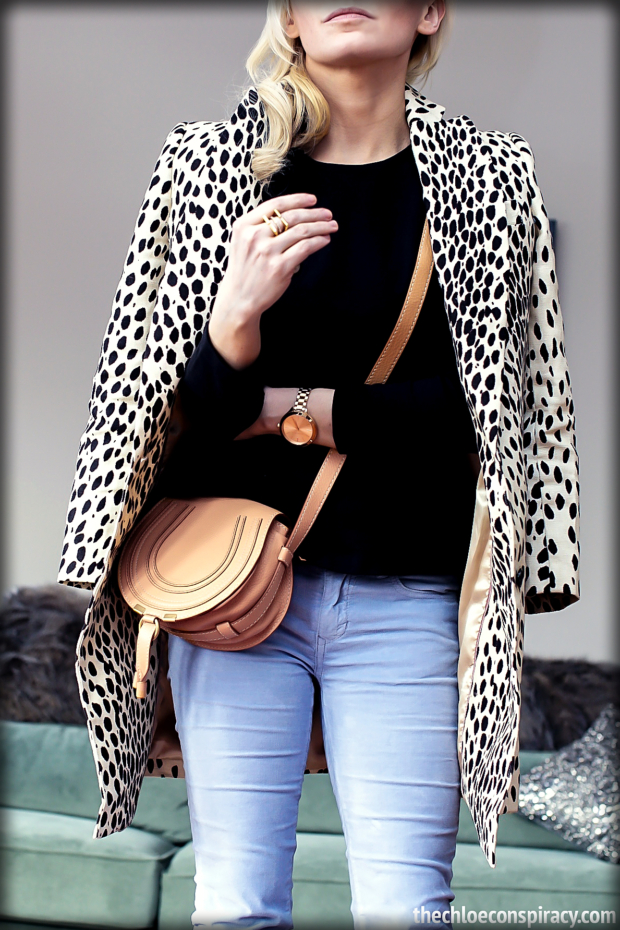 What a crazy winter it has been here in Colorado! It probably doesn't help that I have spent half of it back in South Dakota (average high: negative really freaking uff da cold, ya know); at least in Colorado we have had some bizarre days with highs in the 50's and 60's mixed in for good measure.
Which…I'm not exactly sure helps. It just reminds me how great the warm fleeting sun feels, how great spring and summer both look and smell and feel–and yet it is all still several flips of the calendar away. See those Olympic ice skaters that leap and spin and twirl on the TV? You can't even walk to your car without falling squarely on your butt (and always in front a crowd of five or ten strangers that don't even have the audacity to politely cheer and clap when you spring back up and wave the universal "I'm okay, I just want to go die somewhere!" arm flail at them), and the snow melts just enough on the warm days to turn the world into an ice palace full of bittersweet bruised egos, bittersweet bruised everything the next (predictably) bittersweet bruised cold morning. Blah. Depressing.
Anyway. On to an outfit! I wore this to a little dinner 'party' at a friend's last week.  I have never been fond of pastel blue hues and therefore don't have much of it in my wardrobe (it doesn't do a whole lot for us blonde-haired, brown eyed weebles), but I fell in love with these pastel blue pants from ZARA a little while ago and have been wearing them a lot. It's always fun working a new color into my closet, I think. It's a new adventure. A new creative challenge!
Indeed, these are depressing times.
Jacket: Emerson Fry, old (similar by Betsey Johnson) (similar by DVF) (similar here, on sale) (similar under $100) (last worn here)
Top:  J Crew Ponte Peplum Top (buy it here + take 25% off w/ code "HEART214") (similar here, on sale)
Belt: Ann Taylor, old (similar here) (similar under $25)
Pants: ZARA (buy them here) (similar here + take 40% off w/ code "SHOP40")
Watch: Michael Kors (buy it here) (similar here) (similar by fossil + cool with a turquoise blue face) (similar under $50)
Ring: Vita Fede Emma Ring (buy it here)
Heart Ring: Etsy (buy it here)
Shoes: Christian Louboutin Piou Piou Heels, old (similar Louboutins here) (similar under $50) (last worn here)
Bag: Chloe Marcie Mini Crossbody in Rose Milk (similar here) (similar here) (similar under $50)